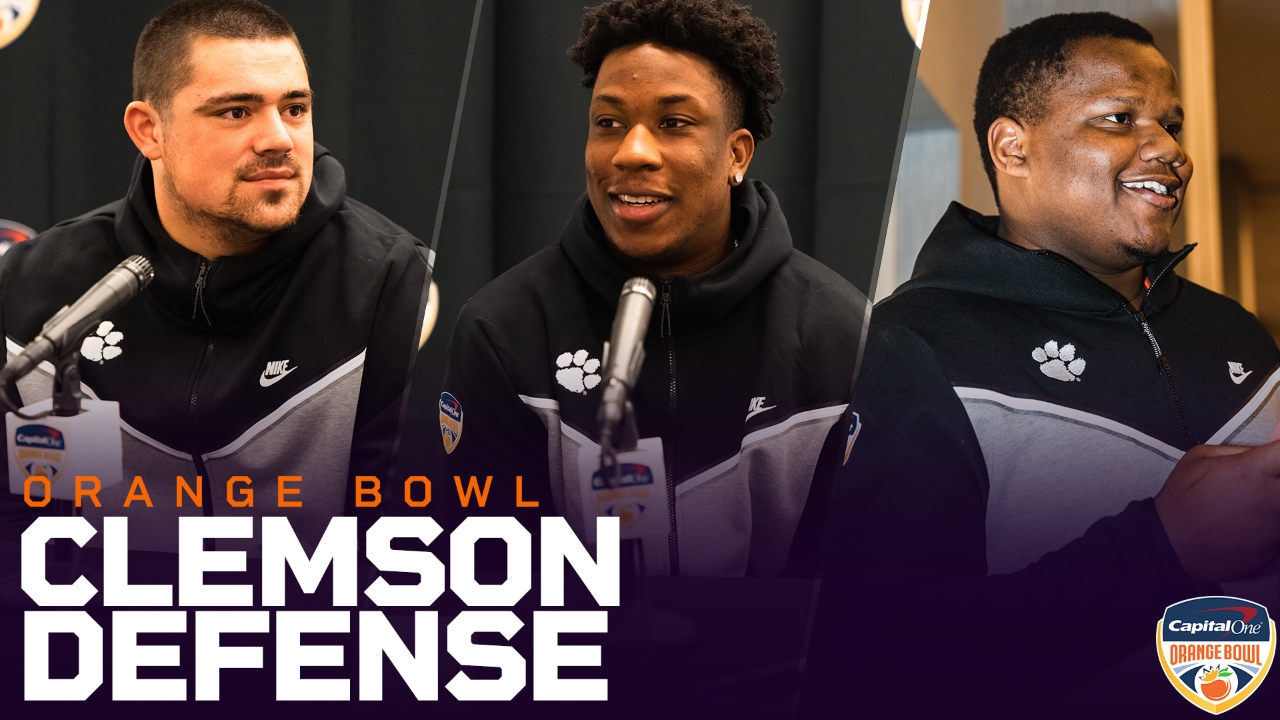 Wes Goodwin
Bryan Bresee
K.J. Henry
Tyler Davis
Barrett Carter
Jeremiah Trotter Jr.
Clemson Football
Orange Bowl Media Day | Clemson Defense Individual Interviews
---
Clemson Defensive Coordinator Wes Goodwin and select defensive players met with the media this morning at the Le Meridien Dania Beach Hotel in advance of the 89 th Capital One Orange Bowl.
Clemson Defensive Coordinator Wes Goodwin
Q. On what challenges Tennessee brings offensively…
WES GOODWIN: "Preparing for the pace… (We are) trying to create stress and practice using no huddle offense moving the ball up and down the field. (We're) trying to create stress and make it unrealistic so just our guys have a feel for what it's going to be like on Friday night."
Q. On Tennessee's coaching ability…
WES GOODWIN: "They do an amazing job offensively as a staff of game planning, figuring out your weakest links, who to attack and how to create matchups. That's what the game of football is all about - players and matchups at the end of the day and they do a great job with formations and using motions to create those matchups and give their receivers the ability to run their routes based off of leverages and a lot of choice option routes."
Q. On Tennessee's tactics…
WES GOODWIN: "They use those wide splits and try to create extra space in the seams. It's kind of unique. You don't see it very often, but it creates a lot of stress and a multitude of problems defensively."
Clemson Defensive End K.J. Henry
Q. On facing Tennessee in the Orange Bowl…
K.J. HENRY: "Myself, I was excited, number one. The last time I was at the Orange Bowl was when I was like eight or nine. My dad was coaching at Wake Forest; Wake Forest played Louisville. So I've been down here as a kid, and it was my favorite bowl I've ever been to the whole time he was at Wake Forest. So I was excited to come back. But then as you know, being a player on this team and a competitor, I'm just excited to play (with) probably one of the most, if not the most electric offense in all of college football. They have great talent in all phases. It's just a great challenge. They've done a lot of exceptional things this year. (Clemson head coach Dabo) Swinney has done a great job as far as some of the younger guys. Two years from now, this will be a playoff game, so really just understanding that's the mindset that we need to go into this thing on top of the fact that it's a New Year's Six bowl. It's a great opportunity to finish the season strong. So it's so easy to get excited for this one, but those are the things that first came to mind."
Q. On how he got his team ready for this game…
K.J. HENRY: "This time of the year, it's not too hard. We're 14 games in and guys know what they have to do. When you have such a long break, you want to make sure that the energy is up still. Some of the younger guys need the attention to detail. You come down to a new location so you have to make sure everybody's still going through their routine to get ready for a game, and then just staying locked in on the details. They've had a lot of time to prepare for us and we've had a lot of time to prepare for them. So there shouldn't be a lot of mistakes being made at this point in the preparation process. Those are the kind of things that we're trying to figure out and hone in on as we finish up, but it's been great."
Q. On if he made a decision on next year
K.J. HENRY: "No, I haven't. I have not. There's a great group coming back and I could be a part of that. I've been elbowing some of these guys around here and Coach has been teasing them all but we have some decisions to make. If everybody on the offense were to swing this thing back and a lot of the guys who're supposed to go out on the defense were to come back, it could be a very special year next year. So we'll see."
Clemson Defensive Tackle Tyler Davis
Q. On what makes Tennessee's offense hard to defend…
TYLER DAVIS: "Tempo, the players, the fact that they get to the line very fast, and they get the ball to the refs. Then, you have to get lined up and they snap it right in front of you as you're getting the call. So that makes it very difficult."
Q. On Tennessee quarterback Joe Milton III…
TYLER DAVIS: "He has a strong arm. I played against Joe in high school so I've seen it firsthand. He has a very strong arm. He can make any throw on the field and he's very athletic. He's hard to bring down."
Q. On Clemson defensive tackle, Caden Story…
TYLER DAVIS: "Caden is very athletic and very physical. He's a hard worker. He came in, and he has definitely gotten better. He's going to be a great player. He's got that dog in him."
Clemson Defensive Tackle Bryan Bresee
Q: On getting back to 100% after health issues earlier in the season…
BRYAN BRESEE: "The issue was that getting back into practice I was so limited. They were still nervous about everything and trying to just get me back in slowly. I think Monday I got back and we were playing Florida State Friday and it was like maybe I could go 10 scout team reps on Monday and then 15 the next day. I was just very limited on how much I could do and I think that was a big part of why it took me a little while to get fully back. You know Clemson definitely had my best interest with that, you know getting sick again would not have been good."
Q: On facing Tennessee in the Orange Bowl…
BRYAN BRESEE: "We were just excited to have another game. Just to be able to play football again is a special opportunity. So just being out here and being with these guys, no matter who we were playing, we're just excited to play again."
Q: On how fun it's been with this group of guys…
BRYAN BRESEE: "This is a very special team that we have here and a special brotherhood that we have. I don't think I've been on a team like this where we're all hanging out outside of football all the time. It's just a special team. Being out there with them and just knowing that everyone on the team has your back is a special feeling."
Clemson Linebacker Barrett Carter
Q: On playing in the Orange Bowl…
BARRETT CARTER: "I'm definitely excited. Any opportunity to play another game of football always brings excitement. Whether you're playing in the Orange Bowl, National Championship, whatever the game may be it's always an exciting opportunity just to play a football game. But, to be in the Orange Bowl, is such a blessing. It's a once in a lifetime opportunity. I'm just excited to finish strong with the guys and it will create some momentum going into the offseason.
Q: On Tennessee's offense…
BARRETT CARTER: "It's the fastest offense that we'll see this year. The tempo that they move at is unbelievable. As a defense, we need to control the game. We need to slow them down and make sure that they get uncomfortable and we should come out successful."
Q: On being motivated for this game…
BARRETT CARTER: "We're definitely motivated. It's another opportunity to play a game that we all love. So the motivation is always going to be there. But obviously the big emphasis has been conditioning and just getting us in shape because we're about to play a team that's fast and moves at a very high tempo. So, I would say the main emphasis is being in shape and being able to compete for 60 minutes or however long the game takes."
Clemson Linebacker Jeremiah Trotter Jr.
Q: On Clemson's defensive line…
JEREMIAH TROTTER Jr.: "(Having so much talent) is pretty nice. When you have guys up front that dominate, usually you won't get touched by offensive linemen. I really appreciate those guys. I was worried that they put in (for the NFL Draft) and I wish them the best on going on to the next level."
Q: On practicing at Inter Miami CF's DRV PNK Stadium…
JEREMIAH TROTTER Jr.: "It was a really nice facility. They had a nice weight room. We really appreciate them for allowing us to use that facility as well. I really thought it was beautiful. The one thing I noticed when I first got on the field was that grass is very nice and soft. I hate that we have to tear it out during practice but it was really nice."
Q: On the Orange Bowl experience…
JEREMIAH TROTTER Jr.: "It's been a very good experience. I'm really liking it. They're doing a great job hosting us. We appreciate everything that they've done for us as far as just going out to dinner with the guys or going to the beach. I just feel like it's a good time to just be able to connect with your teammates and build those relationships."
Never miss the latest news from Clemson Sports Talk!
Join our free email list