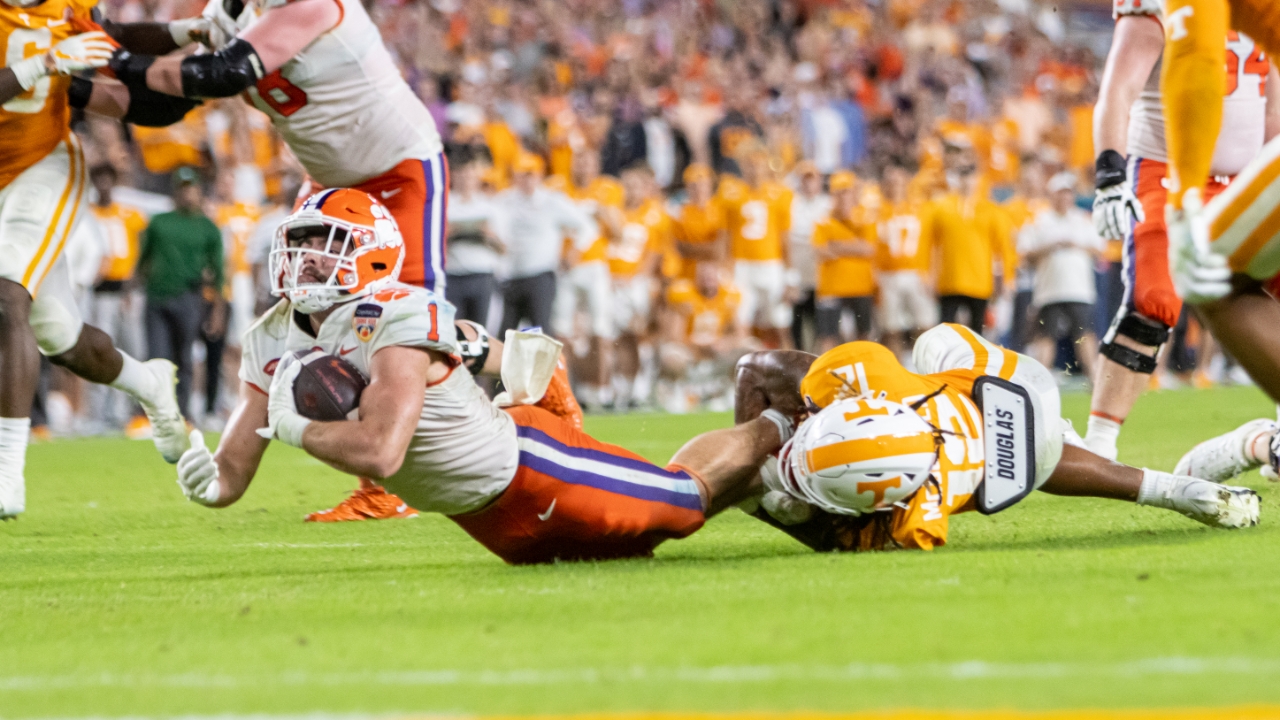 Photo by © Susan Lloyd/Clemson Sports Talk
Clemson Football
Heard in the Press Box: Orange Bowl 2022 Edition
---
Heard in the Press Box:
- "This offense just doesn't have the supporting cast to beat top-tier teams." - Clemson Media Member
- "Why isn't Shipley getting more touches? Clemson way underutilized him this season." - Tennessee Media Member
- "I thought Streeter called his best game against UNC- but he sure took a step backward today." - Clemson Media Member
Rumbled: Barrett Carter‍ finished a breakout season on a strong note with eight tackles, one sack, one tackle for loss, and a pair of pass breakups. We spoke to him postgame about his 2022 campaign in this Clemson Sports Talk exclusive:
Joseph Ngata‍‍ looks like a completely different receiver, with Cade Klubnik‍ throwing him the ball. He's more explosive and established a strong presence in the Orange Bowl, hauling in eight catches for 84 yards. He was the team's leading receiver and was often involved in the Tigers' game plan. It would make sense for him to return as a focal point in the program's Klubnik-run offense to improve his NFL stock. Ngata has yet to announce a decision on his return.
Stumbled: There are a few different directions I could go here. The offensive line struggled to protect Klubnik, and Jordan McFadden‍ performed poorly in his final game as a Tiger. The play calling on offense and deciding to fake a field goal early was suspect.
Clemson's lack of red zone execution was most concerning. The team missed field goal kicks, made mental mistakes, and only converted two of four red zone opportunities.
Senior college football writer for The Athletic, Chris Vannini, posted this wild number:
Following the loss, head coach Dabo Swinney told the media, "We didn't take advantage of the red zone opportunities... Really disappointed. You don't get any points for yards."
Looking forward: Who is coming back?
Clemson defensive lineman Justin Mascoll announced postgame he would return to Clemson next season. He recorded 19 tackles and 3.5 tackles for loss this season.
Bryan Bresee‍ will take another week or two to make his decision and said, "Just what I feel is right No. 1 and then the people around me- my family and the people I trust the most, just sitting down & talking through everything." He had 5.5 tackles for loss & 3.5 sacks this fall.
Ruke Orhorhoro‍ said he and Tyler Davis‍ are a "package deal." They will consult teammate KJ Henry and reach a decision together but will take more time before making anything official.
Never miss the latest news from Clemson Sports Talk!
Join our free email list