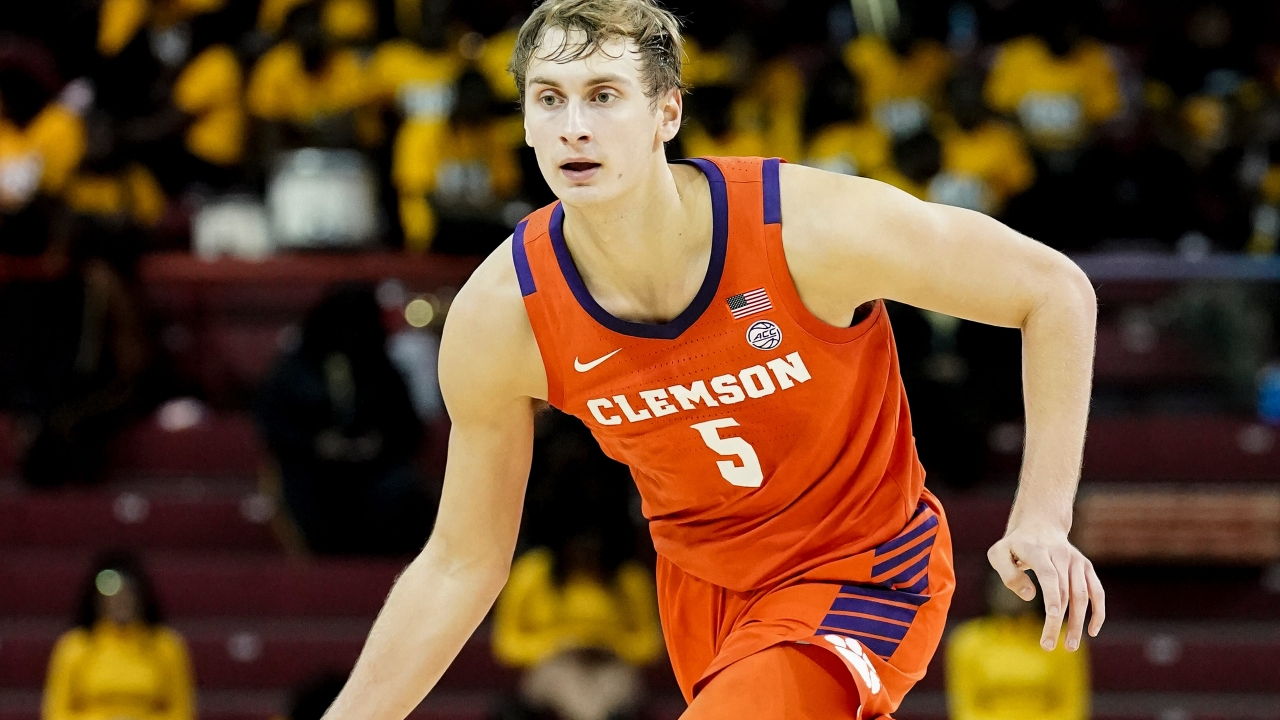 Photo by David Yeazell-USA TODAY Sports
Clemson Basketball
Tyson's Career Night Lifts Clemson Past NC State 78-64 on Friday
---
CLEMSON, S.C. – Hunter Tyson (Monroe, N.C./Piedmont) posted a historic night for Clemson University men's basketball in a 78-64 win over NC State on Friday in Littlejohn Coliseum.
Tyson led all scorers with a career-high 31 points and career-best 15 rebounds. He became the first player in Clemson history since Horace Grant to post at least 30 and 15 in a game. Grant last did it against Wake Forest on Feb. 18, 1987 (33 points and 20 rebounds).
The Tigers (11-3, 3-0 ACC) were led by Tyson, but Ben Middlebrooks (Fort Lauderdale, Fla./Westminster Academy) tallied 10 points and seven rebounds, including five on the offensive glass. It was a career-high point total for Middlebrooks.
Chase Hunter (Atlanta, Ga./Westlake) rounded out the Tiger double-digit scorers with 12 and finished with three assists.
Clemson won what felt more like a boxing match in the opening stanza, 28-21, and finished the half on an 8-3 run. The Wolfpack (11-4, 1-3 ACC) would cut their deficit to just five at 66-61 with 2:48 to play.
A 12-0 Clemson run ensued to put the game out of reach for good and the Tigers held on for a 14-point win.
Clemson finished 22-for-24 at the foul line and assisted on 13-of-25 made baskets.
The Tigers will return to the court on Wednesday, Jan. 4 when they travel to Virginia Tech. The game is slated for a 9 p.m. tip from Cassell Coliseum.
Notes:
Clemson improved to 11-3 with the win over NC State
The Tigers moved to 3-0 in the ACC
Clemson improved its mark against NC State at home to 37-33
Head Coach Brad Brownell won his 396th game in his career and is just four victories shy of the 400-win plateau
Coach Brownell improved to 12-10 all-time against NC State
Hunter Tyson scored a career-high 31 points and added a career-best 15 rebounds
Tyson is the first Tiger to total at least 30 and 15 since Horace Grant on Feb. 18, 1987 (33 and 20 against Wake Forest) and only the fourth time a Tiger player has done it (Horace Grant twice and Randy Mahaffey once).
Never miss the latest news from Clemson Sports Talk!
Join our free email list