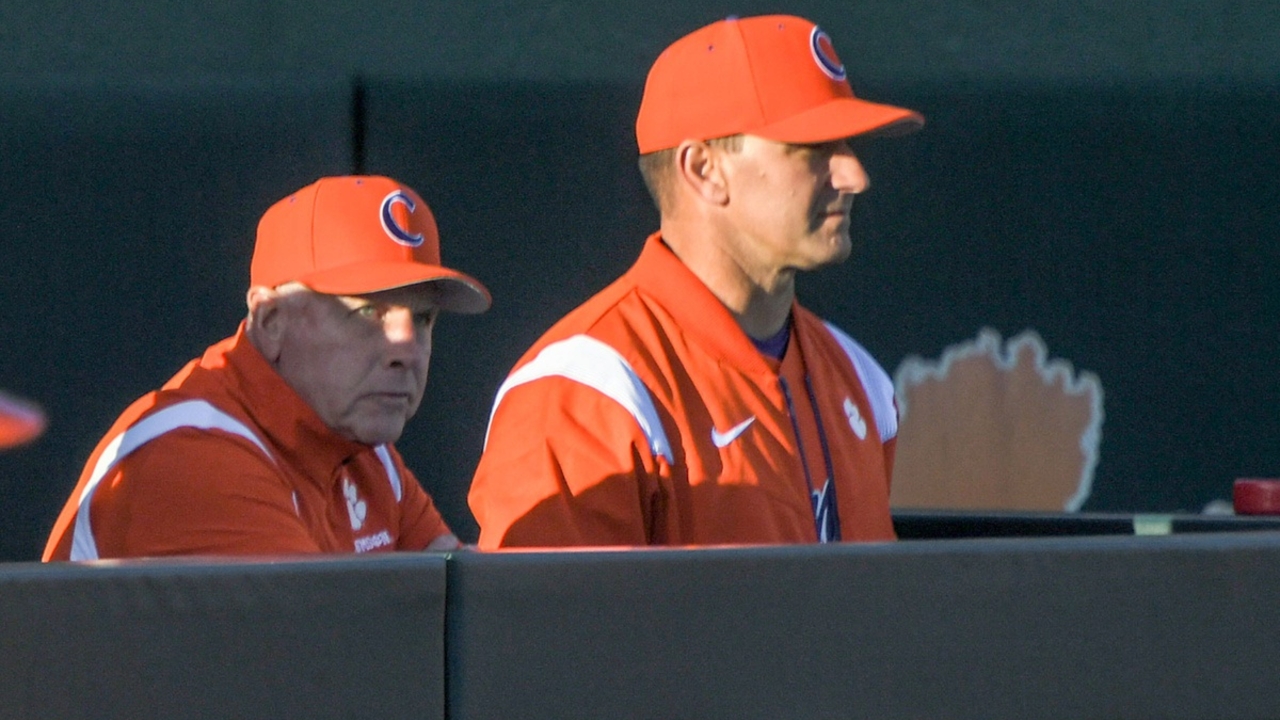 Clemson Baseball
Clemson Travels To Greenville To Face USC Upstate
---
CLEMSON, S.C. - The Tigers hit the road for the first time this season to play USC Upstate at Fluor Field in Greenville on Tuesday afternoon.

GAME SETUP
• Who - Clemson (4-3) vs. USC Upstate (6-2)
• Best Ranking - CU - NR; SCU - NR
• When - Tuesday (4 p.m.)
• Where - Greenville, S.C. (Fluor Field)
• Watch - ESPN+
• Video Announcers - Dan Scott, Tom Van Hoy
• Listen (Radio) - Clemson Athletic Network (locally on WCCP (105.5 FM))
• Listen (Internet) - ClemsonTigers.com
• Live Stats - ClemsonTigers.com
• Social Media - ClemsonBaseball

SERIES HISTORY
• Overall Record - Clemson leads 6-1 (2009-22)
• Record at Neutral - Clemson leads 1-0 (2022)

STARTING PITCHERS
• LHP Tristan Smith (CU) vs. LHP Al Holguin (SCU)

CLEMSON OVERVIEW
• Clemson, who has yet to play a neutral game this season, was swept by UCF at Doug Kingsmore Stadium last weekend.
• The Tigers are averaging 8.1 runs per game and hitting .309 with a .490 slugging percentage, .411 on-base percentage and 26 steals.
• The pitching staff has a 4.00 ERA, .272 opponents' batting average and 2.84 strikeout-to-walk ratio, and Clemson is fielding .965.

USC UPSTATE OVERVIEW
• USC Upstate, who has yet to play a neutral game and is averaging 8.5 runs per game, is led by fourth-year Head Coach Mike McGuire.
• The Spartans won one of three games at home last weekend. They are hitting .281 and have a 4.38 ERA and .957 fielding percentage.
• Daniel Gernon is batting .500 with a .607 on-base percentage, while Grant Sherrod is hitting .455 with two homers and 11 RBIs.

QUICK HITS
• Clemson is the designated visiting team against USC Upstate at Fluor Field and occupies the third-base dugout.
• Clemson has outscored its opponents 16-0 in the fourth inning in 2023.
• Tiger batters have only struck out 41 times in seven games (5.9 per game).

TIGERS AT FLUOR FIELD
• Clemson has a 29-7 all-time record in 36 games at Fluor Field in Greenville, S.C.
• The Tigers have outscored the opposition 285-143 at Fluor Field, an average score of 7.9-4.0.
• The only teams to defeat Clemson at Fluor Field are South Carolina (2010,11,14,15,21), Presbyterian (2011) and Michigan State (2015).
• Clemson has won 13 of its last 14 games at Fluor Field dating to 2015. The only loss came against South Carolina on Feb. 27, 2021.
• Clemson defeated USC Upstate 11-2 in the only previous meeting at Fluor Field on April 12, 2022.
• Clemson is 0-0 under Head Coach Erik Bakich at Fluor Field.

CANNARELLA EMERGING AS FRESHMAN
• Freshman Cam Cannarella has stepped right in to become the everyday starter in center field as a freshman in 2023.
• He is hitting a team-high .464 with a double, triple, seven RBIs, 11 runs, a .515 on-base percentage and five steals in seven games.
• He is hitting .571 with runners on base, .615 with runners in scoring position and .571 with two outs.
• He has hit safely in all seven games of his college career.
Never miss the latest news from Clemson Sports Talk!
Join our free email list