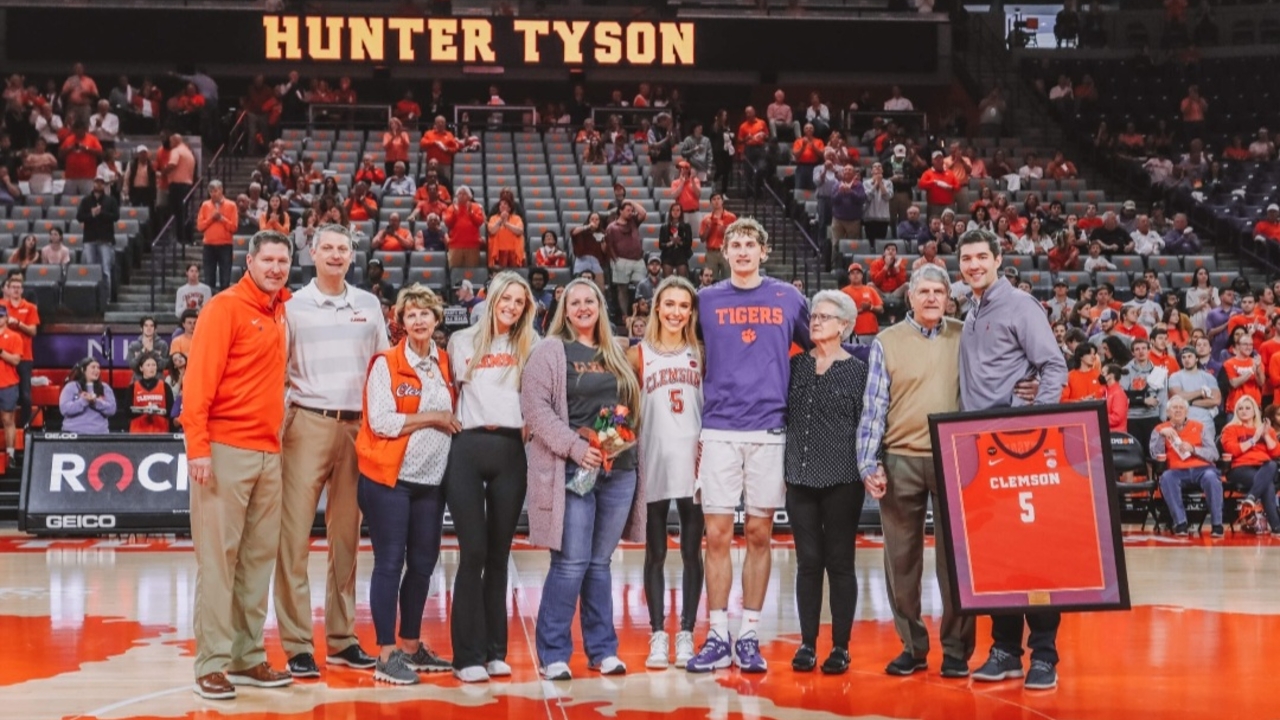 Photo by Clemson Athletics
Clemson Basketball
Hunter Tyson's return to Clemson for a fifth year wasn't just about basketball
---
Clemson will face Notre Dame (11-19, 3-16) on Saturday and it's a must-win if they hope to have a bye into the quarterfinals of the Atlantic Coast Conference tournament. Additionally, seniors Brevin Galloway, Devin Foster, Alex Hemenway, Jack Nauseef, and Hunter Tyson will be honored on Senior Night.
The Tigers won their 2021-22 home finale over Virginia Tech after Hunter Tyson hit a 10-foot jumper with 32.2 seconds remaining and Chase Hunter made one of two free throws to give Clemson a 63-59 victory.
The win over the Hokies was the fourth consecutive for Clemson and a special moment and night for Tyson, one of four seniors honored on the night. The Monroe, NC native from Piedmont High had five points and four rebounds and averaged career highs in points (10) and rebounds (5.5) in what was thought to be his final season until a tweet on March 24, 2022.
"Proud to announce I will be returning to Clemson for my 5th year!🙏🏻 Jeremiah 29:11💜 "
Tyson will be honored again on Saturday but as a graduate senior, the all-time program leader in games played (136), and a candidate for ACC Player of the Year.
The 6-foot-8, 217-pound forward leads the Tigers in scoring (15.7), rebounding (9.4), and steals (39). His scoring and rebounding are 13th and fourth, respectively, in the ACC while his .851 free throw percentage is sixth, and .488 field goal percentage makes the top ten (10th).
"I just wanted to give it one last push, everything I have, for one last year," Tyson said in a post-season interview on April 14, 2022. "I wasn't ready to leave Clemson yet. I wanted to give it one last run. I wanted to go out on a better note."
Tyson's parents, Dr. Jonathan and Torri Tyson were on board with their son's decision because according to them, Clemson has been good to him, however, there was one firm stipulation moving forward.
"I think he feels at home at Clemson," noted Dr. Tyson, the Assistant Superintendent of School Performance for Union County Public Schools and former Principal of Piedmont High, on why Hunter chose to remain a Clemson Tiger. "He really likes the coaching staff. He really likes his teammates and roommate, P.J. Hall. They're very close. I think all of those things in totality played into that decision.
"The only non-negotiable that I had in the whole process for him was I wanted him to earn his graduate degree and I did not want him just taking classes so he could keep playing basketball.''
Dr. Tyson is a career educator so naturally what transpires in the classroom gets his attention but the former Wingate University (NC) basketball player is similarly focused on Hunter's skills. He said the improved rebounding, particularly, the grabs "outside of his area" and the growth on defense, where ''he can guard multiple positions'' are noticeable enhancements to his game.
Besides leading the team and standing fourth in the ACC in rebounding, Tyson is first in the conference in defensive rebounding with an 8.13 average and second in double-doubles (14) and he's produced those numbers from the small forward position after spending the majority of his career as an undersized power forward.
Dr. Tyson observed a transformation in Hunter's confidence as well.
"I think that's something that has come with maturity," he said. "And with confidence, you got to play a little better to be someone who others are willing to follow. And so I think when he started playing a little better, he developed a little bit of confidence and I think some of his natural leadership abilities kind of came to the forefront."
During the April post-season interviews, Hall, last year's leading scorer, said he gains confidence from the guys around him and he recalled Tyson, seated to his right at the table, attempting to boost his confidence in the 75-76 OT second round 2022 ACC Tournament loss to Virginia Tech.
"At the end of the Virginia Tech game, I got Hunter in my ear yelling, "You're the toughest guy I know." Hall pauses, laughs, and with eyes raised said, "That's not true."
It was a light-hearted moment between the two roommates who both have dealt with injuries in their careers. Hall has fought through injuries this year and returned to action a year ago on Senior Night after missing three consecutive games. Tyson is probably right, Hall is tough but so is he. Tyson suffered a broken collarbone in 2021 and a facial fracture in 2020 but finished each season.
"One thing that we, as a family have tried to always steer clear of, is always providing the way out for our children," said Dr. Tyson when discussing Hunter's injuries. "I mean, we understand there's productivity in the struggle, right? And things are not always going to be easy. That's true with athletics. That's true with all facets of our lives.
"Sometimes it's just a part of the process," he added. "We think and believe that it helped him develop a lot of the resiliency that he has now. It's some of his toughness, and so we're proud of those things."
The Tyson family had, even more, to be proud of when Hunter, a four-time ACC Honor Roll member, was named the Skip Prosser Award recipient on Wednesday. The Skip Prosser Award is presented to the top scholar-athlete in ACC men's basketball.
The award is just more evidence that year five for Tyson, also a two-time ACC Player of the Week in 2022-23, has been rewarding.
"I'm really excited about next year and the success I believe we can have," Tyson said in April. "Man, I really hope I can stay healthy next year. It would be awesome. I'm really hoping that's the case."
Tyson has played in every game and leads the team in minutes played (1084). The team record improved from 17-16 to 21-9 and the ACC mark from 8-12 (10th) to 13- 6 (5th) with the 13 wins establishing a program record.
So what's left?
For Dr. Tyson, Torri, and Hunter, a master's degree, which he is on track to receive, and for everyone in and around the program, an ACC Tournament bye, NCAA Tournament bid, and maybe, the leader of the Tigers being named the program's second ACC Player of the Year joining Horace Grant, who won it in 1987.
Never miss the latest news from Clemson Sports Talk!
Join our free email list