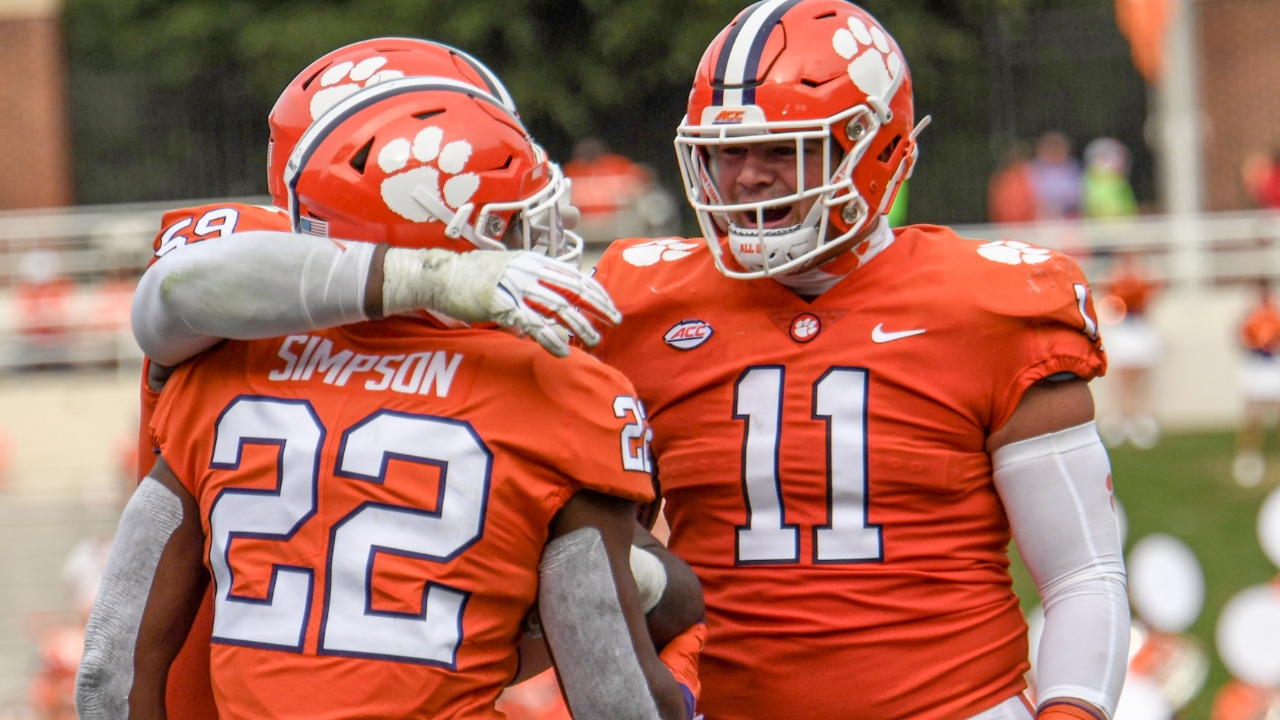 Photo by Courtesy of ACC Media Portal
Clemson Football
Clemson Pro Day: Simpson, Bresee, and Potter impress
---
Clemson hosted their annual Pro Day in the Poe Indoor Facility and showcased 14 NFL draft prospects in front of coaches and scouts. Six participants, DT Bryan Bresee‍, LB Trenton Simpson‍, TE Davis Allen‍, DE KJ Henry, WR Joseph Ngata‍, and OL Jordan McFadden‍,‍ are projected draft picks on ESPN's post-combine big board.
Observations:
Trenton Simpson‍ showcased elite athleticism. He weighed in at 6'2, 234 pounds and posted a 40.5-inch vertical jump, the best of the day – and his career. Simpson's elite athletic tools have turned heads this spring. He ran a 4.43-second 40-yard dash at the NFL combine. Simpson's agility stood out during Pro Day, where he ran a 4.24-second 20-yard shuttle and 7.06-second three-cone drill. Both times were the best of the 11 participants.
Simpson spoke with the Giants and Titans the most during Pro Day. He went to dinner with the Steelers last night and will fly to Houston to meet with the Texans tomorrow.
Myles Murphy‍ attended Pro Day but did not work out. He didn't participate in drills or run a 40-yard dash at the NFL combine or Pro Day but plans to perform in a private workout on April 4. During Pro Day media availability, Murphy said he is waiting to work out because he tweaked his hamstring the night before the NFL Combine.
During his Pro Day press conference, Murphy said he hopes to prove more to NFL teams throughout the spring draft process.
"I want to prove how fast I really am," Murphy said. "They see the speed on the field, but I don't think a lot of that speed is recognized for what it really is."
Murphy said he met with the Steelers, Patriots, and Ravens last night. Murphy had conversations with the Giants' defensive line coach during Pro Day. He will visit the Saints on April 14.
- Bryan Bresee‍ added to his impressive resume and built on a strong NFL Combine performance at Pro Day. Bresee recorded 28 bench press reps, ran a 4.45-second 20-yard shuttle, and a 7.41-second three-cone drill. He weighed in at 6'5, 302 lbs. The All-ACC defensive lineman's performance solidified his status as a projected first-round draft pick.
Clemson kicker BT Potter‍ entered Pro Day hoping to showcase his leg strength. He connected on a 55-yard field goal and hit the roof of the Poe Indoor Facility twice during kickoff drills. Potter noted that he's never hit the ceiling since he's been at Clemson.
Potter finished his Clemson career as the program's leader in made field goals (73), PATs (234), and points by a placekicker (453). Potter added that he'd been talking to the Jaguars, Rams, Vikings, and Steelers the most during the predraft process.
All 32 NFL teams attended the event. Some notable attendees include Steelers head coach Mike Tomlin and GM Omar Khan, Panthers GM Scott Fitterer, and Giants defensive coordinator Don Martindale.
Tomlin has attended Clemson Pro Day several times in recent years. Local media members from Pennsylvania told us that the franchise has notable needs on the defensive line and off-ball linebacker spots, and the Steelers are interested in Bresee and Simpson. The team spoke with both at the combine.
Top moments:
1. Trenton Simpson‍'s 40.5-inch vertical jump:
2. Bryan Bresee‍'s impressive agility drills:
3. BT Potter‍ hits a 55-yard field goal:
Full list of attendees:
Offense: TE Davis Allen‍, WR Joseph Ngata‍, QB Hunter Johnson‍, OL Jordan McFadden‍, TE Luke Price, K BT Potter‍.‍
Defense: DT Bryan Bresee‍, DE KJ Henry, LB Trenton Simpson‍, LB Jesiah Carlton, LB Keith Maguire Jr.‍, DL Jabriel Robinson, CB Elijah Rodgers‍.
Never miss the latest news from Clemson Sports Talk!
Join our free email list