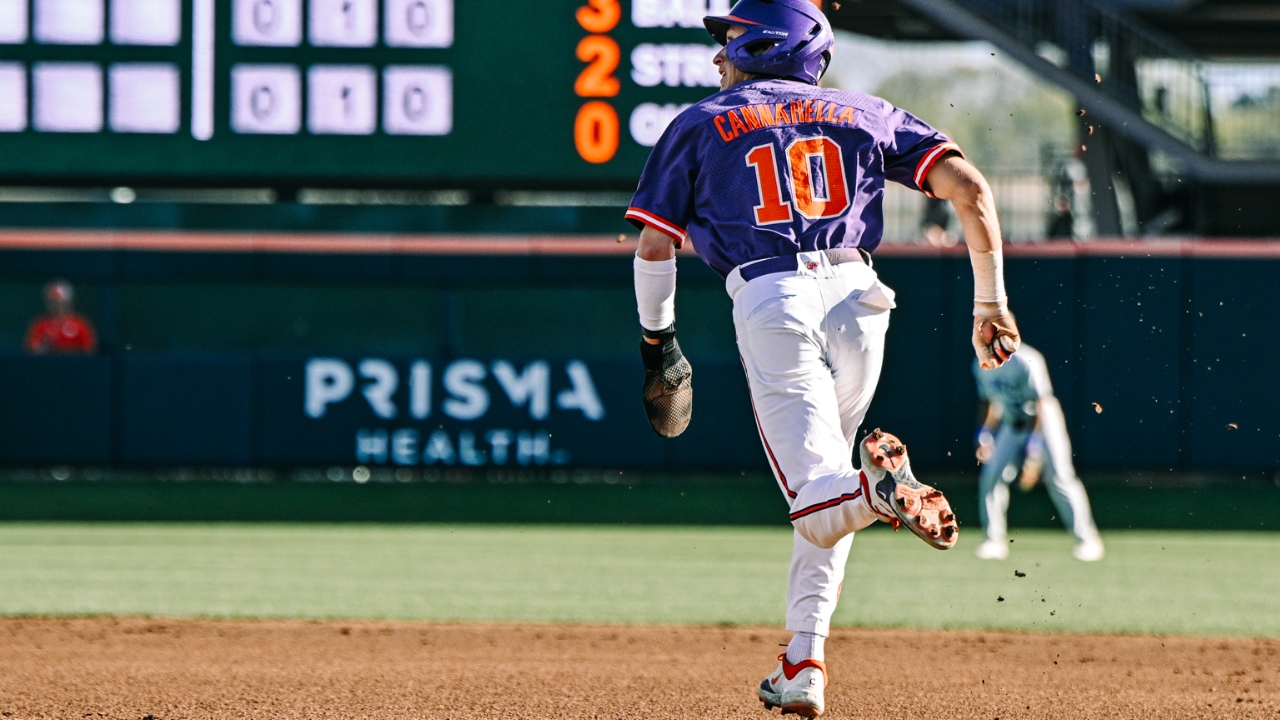 Clemson Baseball
Tigers Defeat Duke 14-9 In Game 2 Of Doubleheader
---
CLEMSON, S.C. - The Clemson Tigers scored 14 runs in the first four innings and totaled 18 hits in the game to defeat Duke 14-9 in the second game of a doubleheader at Doug Kingsmore Stadium on Saturday. The Tigers, who evened the series 1-1, improved to 12-7 overall and 1-1 in the ACC. The Blue Devils dropped to 12-7 overall and 2-3 in ACC play.
Cam Cannarella led the Tiger offensive attack by going 5-for-6 with two doubles, two RBIs and three runs. It marked his second five-hit game in the past two weekends. Nathan Hall and Caden Grice added three hits apiece.
Hall blooped a two-out, two-run single in the first inning to put the Tigers on the scoreboard, then Riley Bertram scored late in the frame on a double steal. Andrew Fischer led off the top of the second inning with a homer, then the Blue Devils tied the score 3-3 in the frame with two more runs thanks in large part to four walks in a row.
In the bottom of the second inning, three singles in a row, including one by Cooper Ingle to extend his hitting streak to 13 games, helped the Tigers plate a run, then Alex Stone led off the top of the third inning with a home run and the Blue Devils added an unearned run in the frame to take the lead. Clemson answered again with five runs in the bottom of the third inning, highlighted by Grice's run-scoring double and Cannarella's two-run double, to build a 9-5 lead.
Jay Beshears' two-run homer in the top of the fourth inning cut Clemson's lead in half, then Jacob Jarrell crushed a three-run homer, his third of the year, on an 0-2 pitch. Later in the frame after Cannarella's fourth hit of the game, he scored on Will Taylor's single. Grice belted a solo homer, his first of the year, in the fifth inning. In the sixth inning, Beshears blasted a solo homer, his second of the game, then MJ Metz led off the seventh inning with a homer, Duke's fifth of the game.
Casey Tallent (1-0) earned the win in relief by tossing 1.2 innings, while Nick Hoffmann pitched the final 4.2 innings to record his first save of the year. Jason White (2-1) suffered the loss.
The series concludes Sunday at 1 p.m. on ACC Network Extra.
Never miss the latest news from Clemson Sports Talk!
Join our free email list