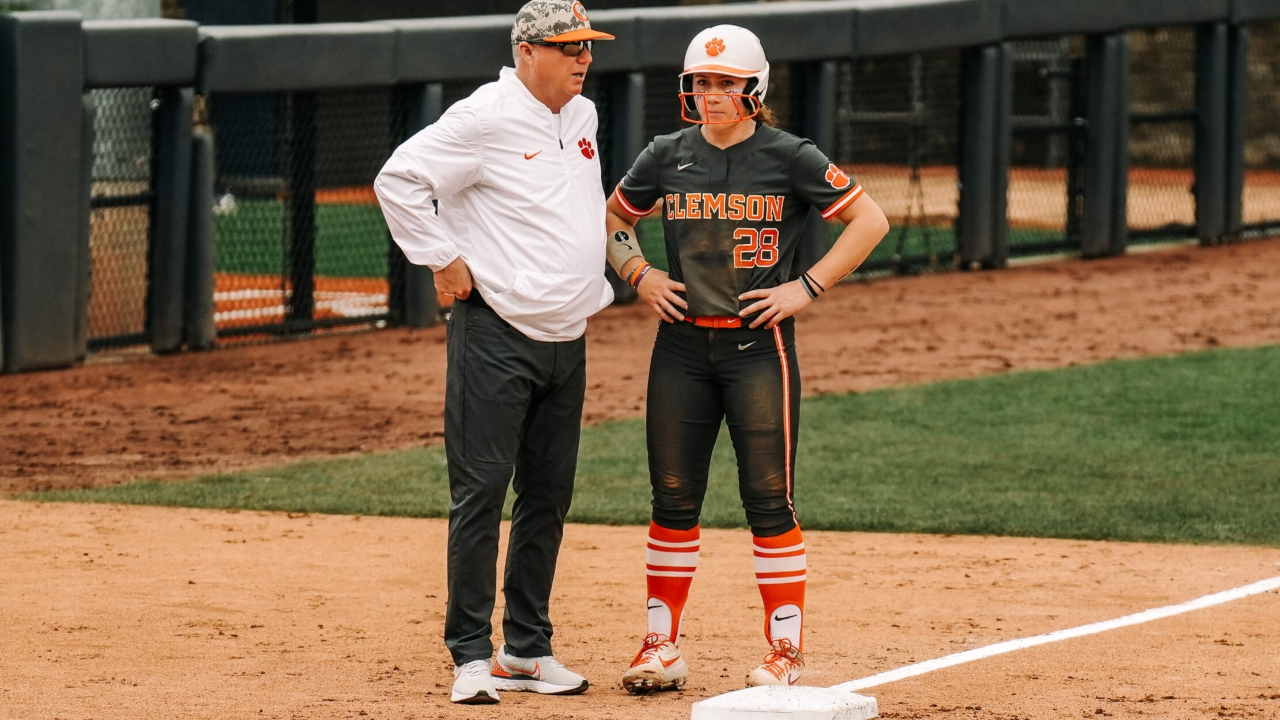 Tigers Stun Yellow Jackets, 13-0, to Sweep Series
---
ATLANTA, Ga. - The No. 5/5 Clemson softball team erupted for eight runs in the top of the fifth inning to propel the Tigers to a 13-0 run-rule victory over Georgia Tech on Sunday afternoon at Mewborn Field. The Tigers improve to 32-1 (9-0 ACC), after clocking their 13th run-rule victory and 14th shutout of the season. Georgia Tech falls to 16-15 (2-7 ACC) after the loss.
Being under a weather delay didn't slow down the Tigers' offense from finishing with nine hits in five innings of work led by Maddie Moore, Valerie Cagle and Aby Vieira each tallying two hits. Cagle, Caroline Jacobsen and Alia Logoleo each hit a home run. Logoleo led Clemson with three RBIs, while McKenzie Clark, Jacobsen, Moore and Cagle tallied two each.
Jacobsen didn't let the rain dampen her fire, picking up Sunday afternoon where she ended Saturday. With two outs, Jacobsen took advantage of a 3-1 count to blast a two-run homer out of left center to plate Cagle in the process. This was Jacobsen's ninth home run of the season and third of the weekend series.
Clemson went back to work in the third inning as Moore led off with a double off the wall in left center. Jacobsen put two runners on after getting hit by a pitch to allow Logoleo to send a three-run shot over the fence in center field to extend Clemson's lead to 5-0 after three.
In the fifth, Cagle was hit by a pitch to open the inning. Ansley Houston, who was running for Cagle, was joined on the base path by Logoleo, who was also hit. Vieira found the gap in left field for an RBI double to plate Houston and put runners on second and third. Ally Miklesh drew a walk to load the bases, and Reedy Davenport drew a five-pitch walk to score Logoleo and make it 7-0 in favor of the Tigers.
Clemson didn't slow down as Clark and Moore hit back-to-back doubles that plated two runners each time. Getting through the entire lineup brought Cagle back to the plate as the Yellow Jackets switched pitchers. Without a second glance, Cagle drove the fourth pitch of her at bat out of dead center for a two-run homer to make it 13-0 and secure the five-inning win. That marked Cagle's team-high 11th home run of 2023.
Cagle started in the circle in the series finale and threw five innings with four strikeouts while only giving up one walk and a hit. The redshirt junior improves to 15-1 after tossing her 11th-complete game and fifth solo shutout on the year.
Up Next
The Tigers return to McWhorter Stadium on Tuesday, March 28 hosting in-state rival South Carolina in the Palmetto Series presented by S.C. Education Lottery. First pitch on Tuesday is scheduled for 6 p.m. on ACCNX. Fans should be advised that tickets are no longer available online for the South Carolina game, but a limited number of tickets will be held for purchase at the gates of McWhorter Stadium on a first-come, first-serve basis.
Never miss the latest news from Clemson Sports Talk!
Join our free email list