Photo by Clelin Ferrell/Instagram
Clemson Football
NFL Draft: Clemson Power Rangers Revisited
---
On April 25, 2019 in Nashville, TN, Clemson defensive end Clelin Ferrell, defensive tackle Christian Wilkins, and defensive tackle Dexter Lawrence were selected in the first round of the 2019 NFL Draft. The trio became the first group of defensive linemen from one school picked on day one since North Carolina State's Mario Williams (No. 1), Manny Lawson (No. 22), and John McCargo (No. 26) in 2006.
Ferrell was first off the board at No. 4 to the Oakland/Las Vegas Raiders, Wilkins, second and No. 13 to the Miami Dolphins, and Lawrence, No. 17 to the New York Giants.
Two days later, defensive end Austin Bryant, the fourth starter on the Tigers' ultra-talented defensive line and outstanding defensive player of the 2018 Cotton Bowl, was drafted 117th in the fourth round by the Detroit Lions.
The quartet was a dominant force in college football and Clemson's version of The Power Rangers.
Ferrell (Green Ranger), Wilkins (White Ranger), and Bryant (Red Ranger), 2015 signees, and Lawrence (Pink Ranger), a 2016 signee, won ACC Championships and appeared in the College Football Playoffs every year, and initially helped Clemson win its first national title (2016) since the program's lone championship in 1981.
But after the disappointing 24-6 Sugar Bowl loss to Alabama in 2018, Ferrell, Bryant, and Wilkins, fresh off phenomenal seasons, decided to forego the NFL draft and team with Lawrence one final time in hopes of winning a second national championship.
That mission was accomplished by finishing 15-0 and thrashing Alabama 44-16 in a no-doubt 2019 national championship game victory.
The Rangers signed standard four-year rookie contracts with first-rounders, Ferrell, Wilkins, and Lawrence, having a team option for a fifth-year extension.
Where are they now?
Wilkins, a starter of 26 of 30 games, finished his third season with 4.5 sacks and 89 tackles, tying the single-season record for interior linemen. Miami struggled to a 9-8 record in 2021 and head coach Brian Flores was replaced by Mike McDaniel.
"A guy like Christian Wilkins who has been highly productive but hasn't been that notable as far as popularity," said McDaniel about Wilkins, who the Dolphins gave a fifth-year contract worth $10.7 million for 2023. "I'm projecting that he has a standout year, more so in the stat line than ever before. [He's an] extremely talented player, intelligent player, real good hands and feet technique."
McDaniel was right. Wilkins, a team captain, recorded a career-high and NFL record 98 tackles for an interior lineman and added 16 tackles for loss in 2022 but somehow the young coach was unaware of the 6-foot-4, 310-pounder's rendition of the worm, a popular 80's dance, which brought him national attention a year earlier.
In three seasons, Lawrence averaged 48 tackles and three sacks while constantly facing double teams through 48 games (41 starts).
"I'm just getting more knowledgeable about my position, understanding how to manipulate things and how to win more, type of thing," Lawrence replied when asked how he was approaching the 2022 season. "That's what I've got to do as a defensive lineman is just learn the position and grow from there."
The 6'4, 342-pound team captain, responded with his first pro bowl season – career highs in tackles (68), sacks (7.5), tackles for loss (7), and quarterback hits (28) – and unleashed the 'Sexy Dexy' dance.
Lawrence, who received $13.2 million over four years in 2019, declined the fifth-year option worth $12.4 million for 2023 and is currently holding óut for a long-term deal.
Ferrell signed a four-year, $31.2 million contract in 2019, started 20 of 45 games in his first two seasons, but barely saw any snaps in 2021. Conversely, Bryant spent two years essentially rehabbing a torn pectoral muscle and 2021 was his best season (28 tackles and 4.5 sacks in 14 games with five starts).
Both were optimistic ahead of the 2022 season with new coaches, Josh McDaniels (head coach) and Patrick Graham (defensive coordinator), in Las Vegas and Detroit in year two under head coach Dan Campbell and defensive coordinator Aaron Glenn.
"I think my role on his defense would definitely be something that really just does whatever is asked," Ferrell said after a preseason practice. "I think that's something that was my skill set that you know, I had an ability to do. You know Pat is very multiple at what he does. So a lot of things, not even just me. But every guy in a defense is asked to do multiple things. So there's really just being able to be versatile. I think that's probably the biggest thing for anybody on the defense."
The Raiders declined the fifth option, a 1-year, $11.5 million contract, for Ferrell days before the NFL's May 2 deadline.
"I'm going into my fourth year, and y'all know my story. I've dealt with injuries," said Bryant during training camp. "I finally got a good two offseasons of being healthy. Finally, in a scheme where I feel like fits the way I like to play. Finally, in a culture where we get to work hard, have fun, and be ourselves."
Despite their optimism, both knew they had to fight for playing time and maybe their careers.
After having a great camp, Bryant, had to compete with Aidan Hutchinson, the second player picked in the 2022 NFL Draft, and Charles Harris for snaps. Ferrell saw the field more in 2022, including four starts, and but was still stuck behind Maxx Crosby.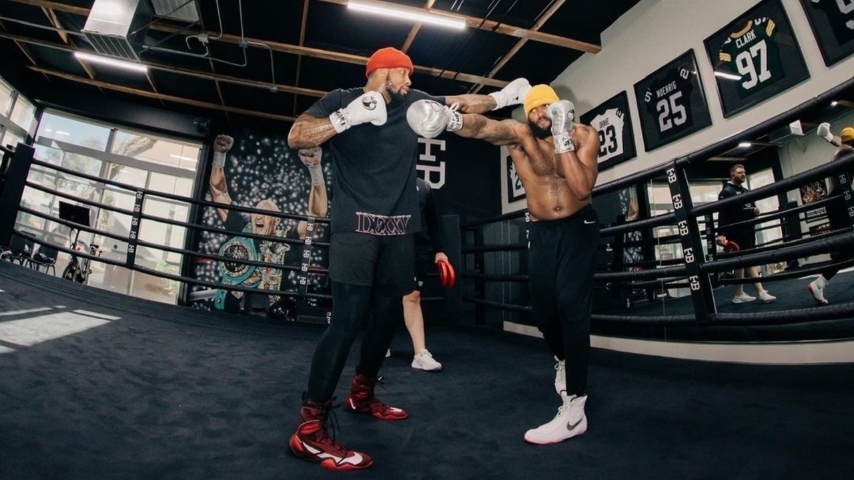 Austin Bryant/Instagram
Neither landed the right punch or combinations to avoid free agency, however, the battle continues for them in a familiar place. Ferrell and Bryant will morph together in Levi Stadium, where they won their second national championship.
The San Francisco 49ers signed Ferrell to a 1-year, $2.5 million ($1.8 million guaranteed) deal in week one of free agency and Bryant to a 1-year, $1.1 million ($550,000 guaranteed) deal in the following week.
Never miss the latest news from Clemson Sports Talk!
Join our free email list