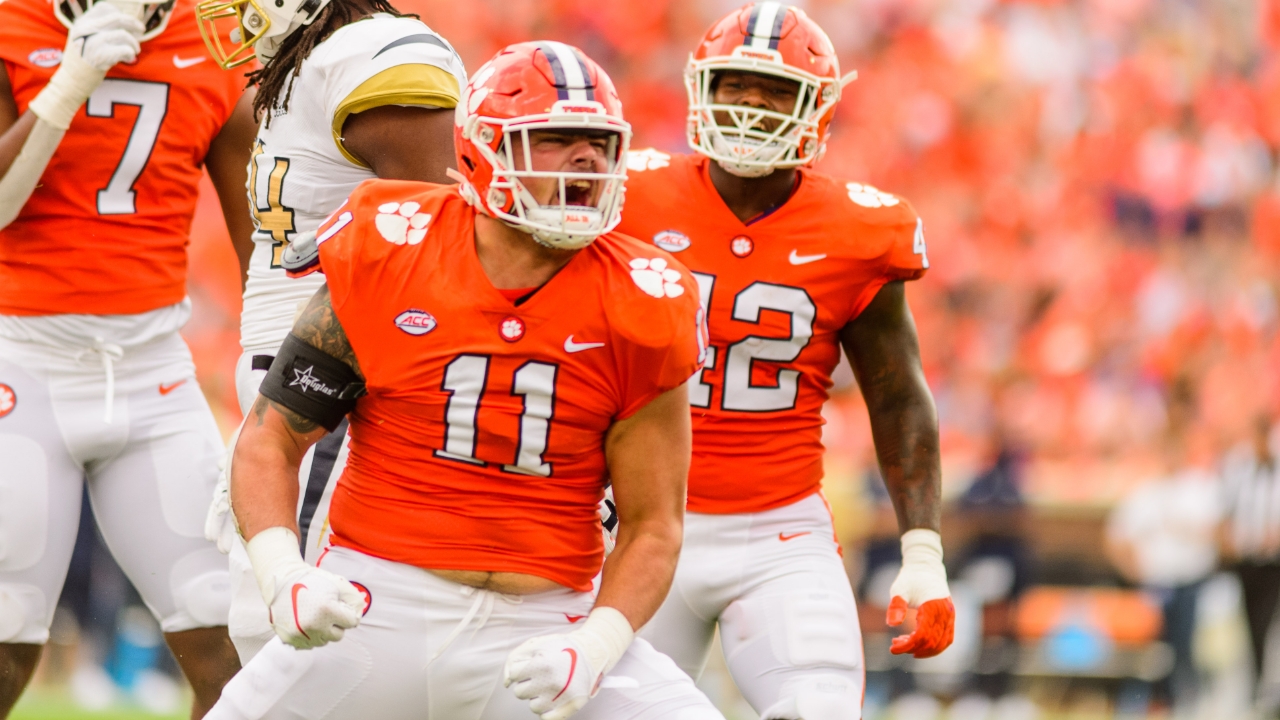 Photo by © David Grooms/Clemson Sports Talk
Clemson Football
New Orleans Saints draft Bryan Bresee 29th overall
---
Bryan Bresee was selected by the New Orleans Saints with the 29th pick of the 2023 NFL Draft. Bresee's selection came right after the Bengals selected Myles Murphy 28 giving the Tigers back-to-back selections in the draft.
Bresee became the 73rd player in Dabo Swinney's head coaching tenure to be drafted into the NFL, including the 17th first-round pick of Swinney's tenure.
Bresee became Clemson's 38th first-round pick in NFL Draft history.
Bresee became the seventh Clemson defensive lineman selected in the first round since 2015, joining DE Vic Beasley (No. 8 in 2015), DE Shaq Lawson (No. 19 in 2016), DE Clelin Ferrell (No. 4 in 2019), DT Christian Wilkins (No. 13 in 2019), DE Dexter Lawrence (No. 17 in 2019) and Murphy (one pick earlier).
Bresee became the fifth Clemson player selected by the Saints all-time, joining RB Cliff Austin (1983), DT Tony Stephens (1988), WR Gary Cooper (1990) and LB Stephone Anthony (2015).
Bresee became the highest-selected Clemson player in Saints history, surpassing Stephone Anthony's selection with the No. 31 overall pick in 2020.
Bresee became Clemson's first No. 29 overall selection in school history.
HEAD COACH DABO SWINNEY:
"Bryan is a guy that could be a Pro Bowler for years to come. He has that in him. And I'm just excited for the Saints because his best football is in front of him. He's really gotten himself healthy, but this kid has been through so much. He had a great freshman year, missed his second year, got hurt, tore his ACL, and then he comes back and obviously his sister passing, he missed a lot of time and then he had a kidney issue. When this guy is on the field, everybody in the stadium notices. I mean, that's just who he is, and he's been that way at every level of football of his life from pee wee to middle school to high school to college. It won't be any different in the pros; when he's on the field, everybody will notice him. And the good news for him is, again, he is a high-value, first-round type talent that was available just based on where he is in his development.
"This guy is the ultimate gym rat. He absolutely loves football. He's passionate about practice, he's strong and he's just a guy that I think his teammates are going to love. He's got a great spirit to him every single day. I think if he can stay healthy, he's got a great future in front of him as a pro football player."
DEFENSIVE RUN GAME COORDINATOR/DEFENSIVE TACKLES COACH NICK EASON:
"What they're getting in Bryan is a great young man who comes from a great family, who is very competitive, very tough, very disciplined. He's very smart and he loves the game. He exemplified all of that throughout my time at Clemson and before and that's why he's going to be one of the NFL's greats for years to come. They have not seen the best of Bryan Bresee yet."
Never miss the latest news from Clemson Sports Talk!
Join our free email list