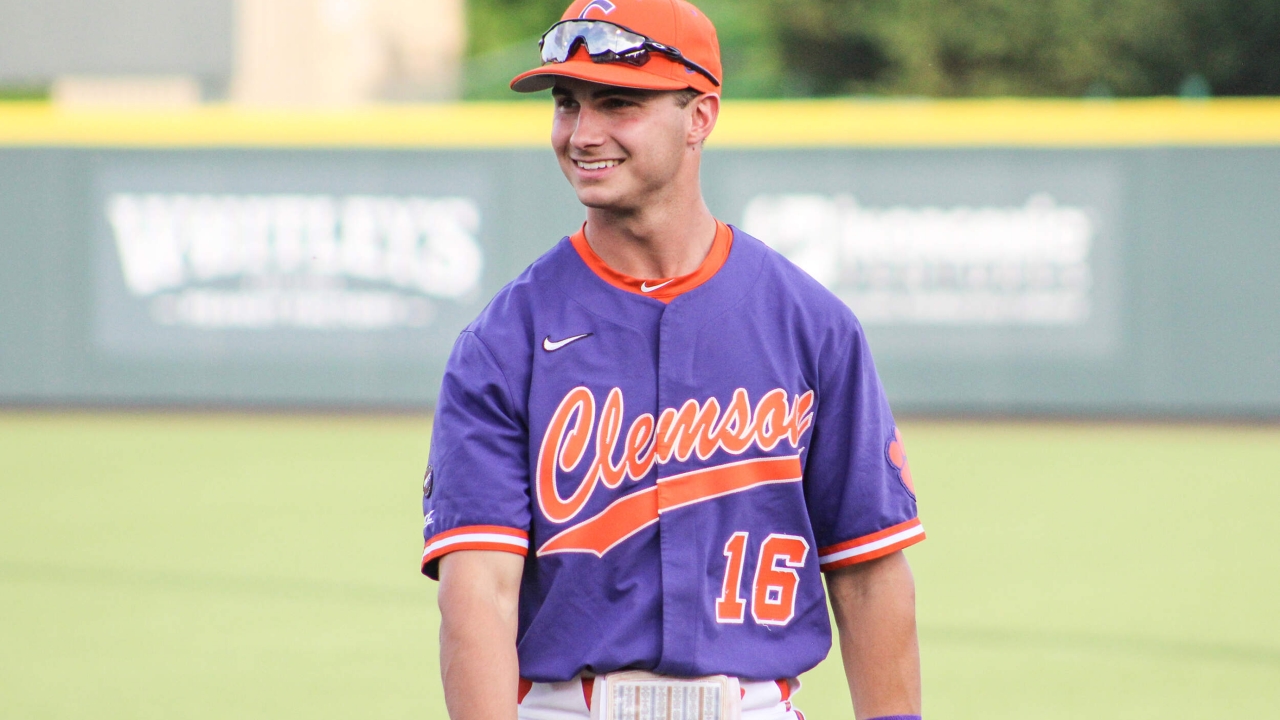 Clemson Baseball
No. 10 Clemson Scores Late To Down Hokies 9-8
---
BLACKSBURG, VA. – Will Taylor's infield single scored the go-ahead run in the ninth inning and the Tigers tacked on four more runs in the frame in No. 10 Clemson's 9-8 victory over Virginia Tech at English Field on Saturday night. The Tigers, who took a 2-0 lead in the series, improved to 34-17 overall and 16-10 in the ACC. The Hokies fell to 29-18 overall and 11-14 in ACC play.
Carson DeMartini's leadoff homer in the second inning scored the game's first run, then Clemson answered with four runs on five hits in the third inning. Caden Grice's run-scoring single tied the score, then Riley Bertram's two-out, two-run single gave Clemson the lead. Blake Wright followed with a run-scoring double.
The Hokies narrowed Clemson's lead to 4-3 in the bottom of the fourth inning on Christian Martin's two-run single. Brody Donay tied the score in the sixth inning on a run-scoring single. In the top of the ninth inning, Taylor's infield single scored a run to give Clemson a 5-4 lead, then Billy Amick ripped a run-scoring double to double the lead. Wright added a bases-loaded walk and Benjamin Blackwell laced a two-run single to close out the five-run frame.
Chris Cannizzaro hit a two-run homer in the bottom of the ninth inning, then Garrett Michel followed with a solo homer. Pinch-hitter Eddie Eisert ripped a run-scoring double, but the Tigers shut the door with a game-ending double play with the bases loaded on an interference call at second base.
Nick Clayton (6-0) earned the win in relief, while Tristan Smith recorded his third save of the year. Brady Kirtner (1-1) suffered the loss.
The series concludes Sunday at 3 p.m. on ACC Network.
Never miss the latest news from Clemson Sports Talk!
Join our free email list