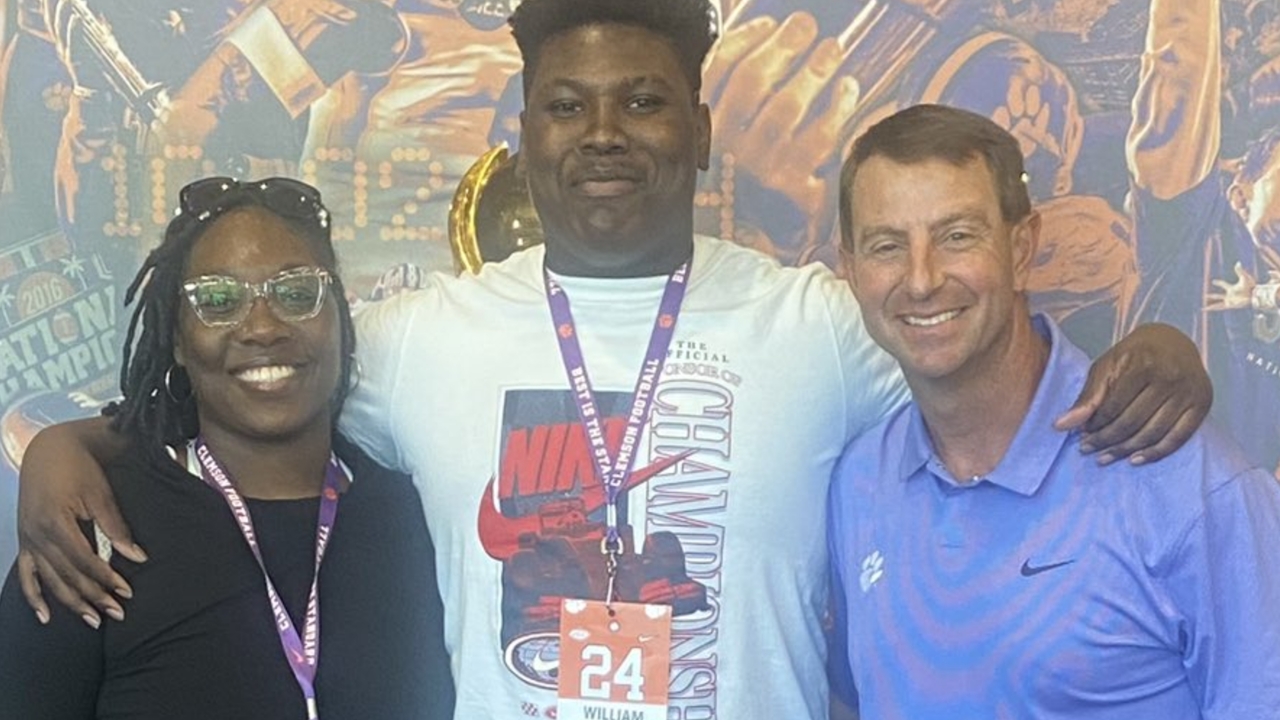 Clemson Football Recruiting
Clemson or Tennessee: Where will 4-Star William Satterwhite commit today?
---
It's commitment day for four-star, top-200 offensive lineman William Satterwhite‍. He's a 6'3, 300-pound interior offensive lineman from Akron, Ohio, and plans to announce his decision at 3:00 p.m. (Eastern Time).
Satterwhite's recruitment began midway through his junior year and heated up in January when Tennessee offered him. Clemson extended an offer in April when he came to campus for a spring practice visit.
The Tigers and Volunteers turned up the heat down the stretch in Satterwhite's recruitment and are his top two schools heading into commitment day.
The case for Clemson: Satterwhite doesn't mind that Clemson jumped into his recruitment late - he understands the program's lengthy background check process and appreciates that Clemson doesn't offer many recruits.
The four-star spoke highly of Clemson's coaches and likes that the staff is close and knows each other's families. Satterwhite mentioned that Clemson offensive line coach Thomas Austin's coaching style is very similar to that of his high school coaches because "He doesn't cuss at you and curse you out. He just criticizes you and helps you get better. And critique the little things that need to be fixed."
The Clemson OV: Satterwhite's most recent visit was to Clemson's early June official visit weekend. He was part of a scavenger hunt team that included Austin, new three-star Clemson commit Ronan O'Connell‍ and four-star Clemson lean Fletcher Westphal‍. Satterwhite reflected on his official visit, "It's cool seeing all the top guys in the country enjoy Clemson. Also hectic, too, because everyone's trying to see everything. And just not a lot of time for individual time with the coaches because everyone's everywhere, talking to the different recruits."
The Ohio native took two visits to Clemson this year. Satterwhite said that if he commits to Clemson, it would be "because it feels like my high school. It feels 'up north' to me. I feel comfortable, home vibes. And I really like the coaching staff."
The case for Tennessee: The Volunteers entered Satterwhite's recruitment in January. The four-star is impressed with the coaching staff's early success in turning the program around and creating a new culture around Tennessee football.
The Tennessee OV: The four-star said that Tennessee's official visit felt more "personal" because it was smaller, and he got more individual time to speak with the coaching staff. The Volunteers are trying to sell Satterwhite on the potential to see the field soon, "They're losing a lot of guys next year, I think up to six senior offensive linemen. So you're getting a chance to play early."
After his Tennessee official visit, Satterwhite told Clemson Sports Talk, "It's more like a Southern family appeal. Everyone's close together. There's not a lot of drama down there on the campus."
When asked about the difference between the two programs, Satterwhite said, "Tennessee had a better year, of course, than Clemson. But I feel like Tennessee - they play better competition each year being in the SEC. Better opportunity to get drafted sooner; scouts are watching you ... I feel like ACC, Clemson- they're the best in their conference. So you stand out more often. Just being on top of the conference."
Satterwhite also noted that he doesn't watch much college football. He didn't watch Clemson or Tennessee growing up. He said, "Southern football, it's all new to me."
My prediction: This is a close race, but I think Satterwhite is a Tennessee lean. Clemson reminds him of home - but the Vols are selling him on early playing time and a chance to play in the nation's top college football conference. The Vols got involved in his recruitment earlier, had the last official visit, and spent more time with him 1-on-1 on visits. After 3:00 p.m. tomorrow, I believe Satterwhite will be a Tennessee commit.
Never miss the latest news from Clemson Sports Talk!
Join our free email list