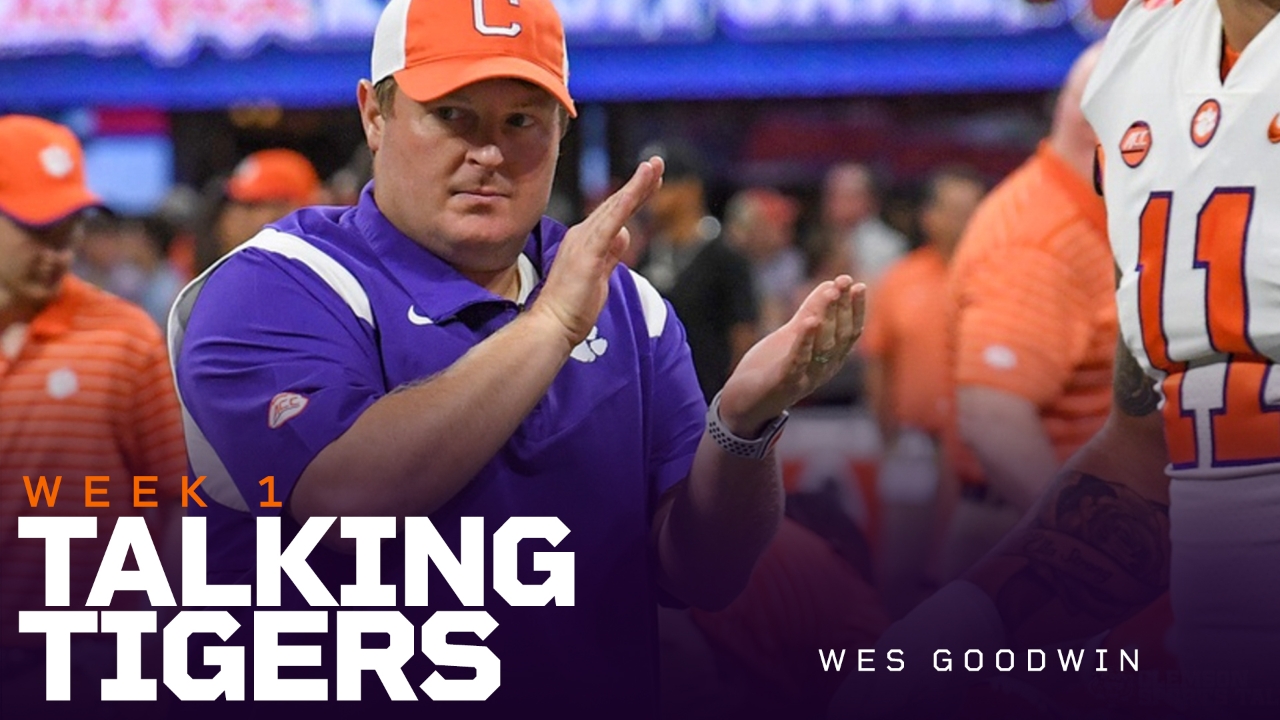 Clemson Football
Goodwin: 'It doesn't take them long to figure out if you're full of crap'
---

---
Entering his second year as the Clemson Tigers defensive coordinator and linebackers coach, Wes Goodwin is ready to showcase a defense that aims to reclaim its dominance after a slightly wobbly 2022 season.
Goodwin, stepping into the sizable shoes of former defensive guru Brent Venables last season, faced skepticism from fans and analysts alike due to his lack of experience in such a prominent role. The skepticism intensified after the defense allowed 20.9 points and 334.4 yards per game compared to 14.8 and 306.3, respectively, in 2021.
The drop-off may be troublesome to people outside the program, but head coach Dabo Swinney trusts Goodwin, and his players have all expressed their belief and trust in him as well. Player after player, including All-American linebacker candidate Jeremiah Trotter Jr. and fifth-year defensive tackle Ruke Orhorhoro, have confidently backed the second-year coordinator this offseason.
Goodwin was told the players 'rally around' and 'talk lovely' about him in interviews, and he asked how it felt knowing he had their support.
"I mean, that's the most important thing is having the belief and trust in the locker room," he replied. "It doesn't take them long to figure out if you're full of crap or you are who you say you are. And for them to have my back and believe and trust in how we're doing things. Hopefully, they feel they can ask and approach me and figure things out and know that I'm there for them on a daily basis."
No. 9 Clemson is set to kick off their season in Durham, North Carolina, on Monday night against a talented and experienced Duke squad that finished 9-4 overall and 5-3 in the ACC a year ago. Overall, the Blue Devils present a challenge for Clemson, particularly on offense, where they averaged 32.8 points and 415.7 yards last year.
"I always like those big games starting the season, and they have 19 starters returning," said Goodwin about the challenge his defensive unit will face on Labor Day. "A lot of experience offensively-- starts with the quarterback. He's a savvy guy, and (it) just goes from there. Their left tackle is super talented and tough. Then, running back. They've got guys that have played a lot of ball. Calhoun's a really dangerous receiver in the slot and No. 8, [I] also got a lot of respect for him."
Quarterback Riley Leonard orchestrates the offense for offensive coordinator Kevin Johns. The junior passed for 2,979 yards with 20 touchdowns and rushed for a team-leading 699 yards, resulting in another 13 touchdowns. He's protected by left tackle Graham Barton, a preseason All-ACC Athlon Sports selection, and his favorite targets are wide receivers Jalon Calhoun (62 catches, 873 yards, four TDs) and #8 Jordan Moore (60 catches, 656 yards, 5 TDs).
The Blue Devils also have a dangerous running back trio of Jordan Waters (566 yards, 8 TDs), Jaquez Moore (508 yards, 5 TDs), and Jaylen Coleman (480 yards, 4 TDs) that joined Leonard to help place Duke second in the ACC in rushing touchdowns (31) and third in rushing yards per game (184.15).
"Those guys are really well coached," added Goodwin. "Coach Johns does a great job as an offensive coordinator, and it will be a huge challenge. We'll find out early where we're at defensively."
The Tigers' defense appears to be in great hands with Goodwin at the helm and Trotter, Orhorhoro, Xavier Thomas, three-time All-ACC selection Tyler Davis, preseason All-American linebacker Barrett Carter, Jim Thorpe Watch List nominee Andrew Mukuba, and others to lead a unit expected to among the best in the country. The returning players are disappointed in how they finished teamwise and as a defense last season and are motivated to live up to the reputation of the past.
What has Goodwin seen from the players in fall camp?
"I think the experience and leadership of that group showed during camp every day."
"I think the experience and leadership of that group showed during camp every day," he said, "I think physicality, tackling, technique, and fundamentals were greatly improved on a daily basis. I see guys playing with a lot of confidence, a lot of belief, understanding where their help is. (The) knowledge allows them to play a lot faster."
As the players and faithful fans eagerly await the matchup against Duke, there's a young player who's caught the attention of Goodwin, coaches, teammates, and those who closely follow the program – freshman defensive tackle Peter Woods. He has not only impressed with his skills but also Woods' relentless work ethic. Named as a co-starter alongside NFL prospect Orhorhoro, Woods' ascent speaks volumes about the commitment and potential he brings to the table.
"He earned the right to be listed that way, and that's how coach [Nick] Eason and the staff feel," Goodwin affirmed, speaking highly of Woods. "He showed up well beyond his years, obviously, and is really talented. He's a grinder. He works hard and plays with unbelievable effort. I think the effort separates him from a lot of people as well. He's continued to earn that right to be listed that way."
The stage is set, the preparations are meticulous, and the Tigers are ready to roar once again. With Goodwin and a promising mixture of experience and emerging talent, Clemson's defense is poised to reclaim its position among the elite units in college football, and it all starts in primetime at 8:00 pm EST on ESPN.
Never miss the latest news from Clemson Sports Talk!
Join our free email list