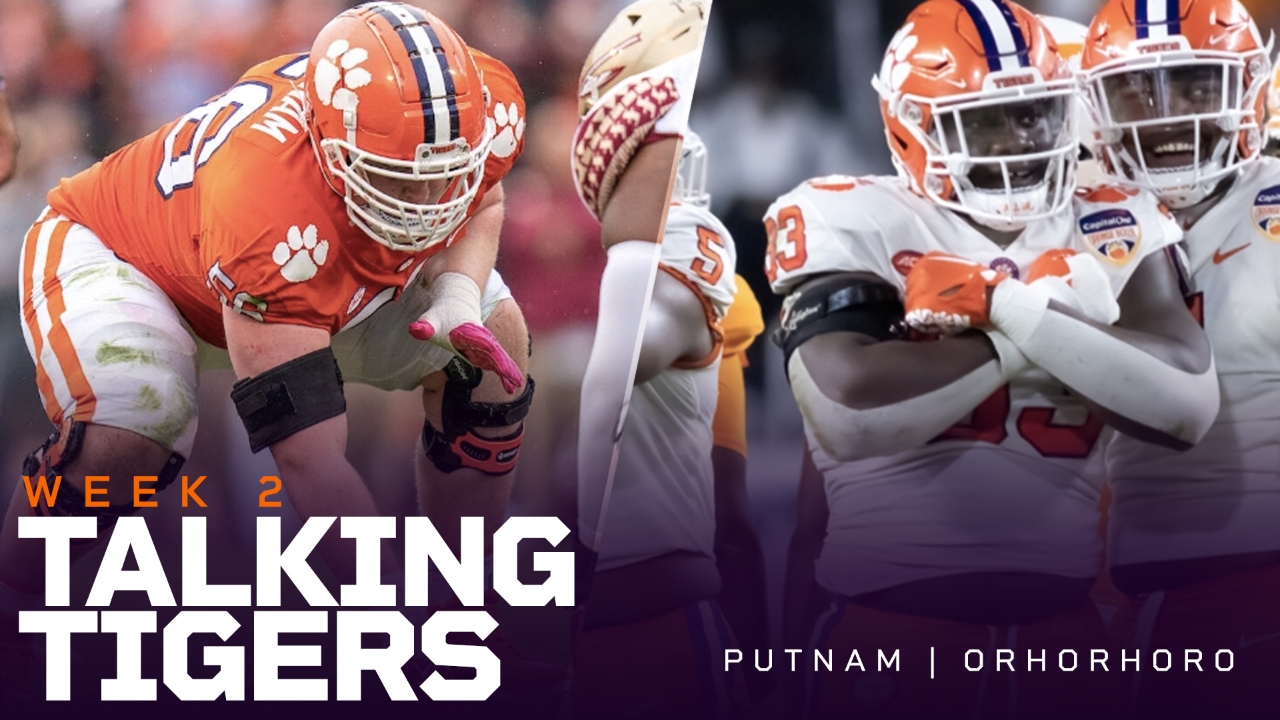 Clemson Football
Talking Tigers: Will Putnam and Ruke Orhorhoro
---

---
Will Putnam
On the offensive line play: "Overall, I think our performance as a unit was encouraging. I knew Coach Swinney challenged us to be physical up front. That was the name of the game. After reviewing the film, I think we did that. With that being said, there were some mistakes that were made as well. Overall, I was encouraged. I was pleased, but like anything else, there are some plays as a unit that we wish we could get back."
On getting back to work: "I think the schedule is a little bit different than normal. This week was a little bit different. Today would be our 'Mental Monday', but since we played a game, it's a little bit different. With our loss, which was nothing short of disappointing, we've got to bounce back. It's a mix of reflecting on what we did-- what we did wrong and what we did well. Then also looking forward to Charleston Southern. We can't go back and change what happened on Monday. All we can do is look forward and try to improve. I think it's important for our team to move on. Our focus right now is just playing good football."
On the hardest part of the loss: "I think the hardest part is that it's disappointing. Losing any game. Here at Clemson, we have high expectations. That's very fitting from the past success we've had. It can be a little bit different, but just keep moving forward is very important."
On what the team can be: "I still think we can prove that we are one of the best teams in the country."
R‍uke Orhorhoro
On the Duke game result: "We definitely could've played better. There's always stuff you can fix. If we were as dominant as we should've been, we would have won that game. Credit to Duke, they played their butts off. Things like this happen, and some of the greatest advice I've gotten from great players that have been through this program is you gotta have amnesia. We watched the tape, saw what we need to do better, and now I have amnesia."
On the game tape vs. Duke: "I feel like as a defense and as a defensive line, we missed a couple of tackles. We had some mental errors, but all the stuff is fixable. Like Coach Swinney says to me, I think we lost to Clemson. All credit to Duke. We lost some battles that we can fix. Everything I saw from watching the tape is very fixable. We have a lot more football left to play."
On recovering from the loss: "Tough losses like this open a lot of people's eyes. I feel like it opened our eyes tremendously. It's just so many things you can learn from it. No loss is really a loss; it's a learning moment. I always take the losses that we've taken over the years to learn from them."
On the first home game on Saturday: "I'm so excited to see our fans and to walk through the new Tiger Walk. Some of my closest friends like Jalyn Phillips‍ and Tyler Davis‍, their name is on the Tiger Walk - it'll be cool to see."
JUST ARRIVED! : Clemson Tigers Nike Unisex Zoom Pegasus 40 Shoe
Never miss the latest news from Clemson Sports Talk!
Join our free email list