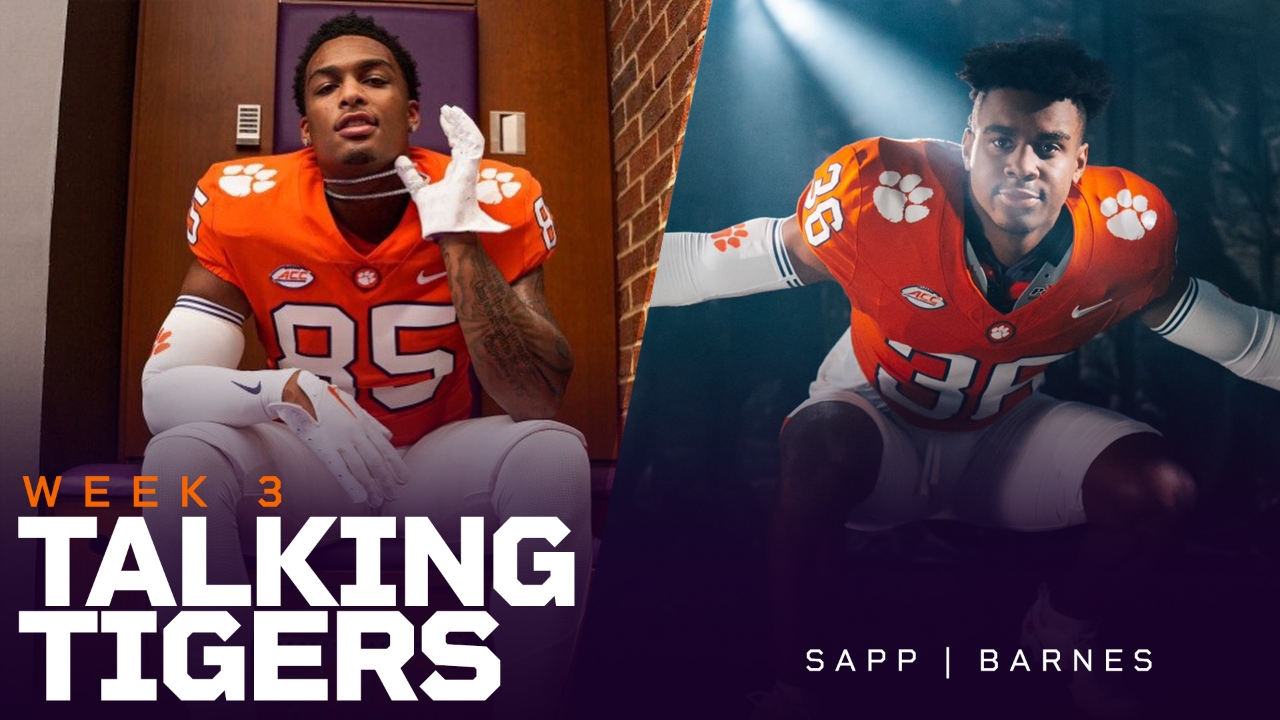 Clemson Football
Talking Tigers: Josh Sapp and Khalil Barnes
---

---
Redshirt freshman TE Josh Sapp and freshman safety, Khalil Barnes, caught up with the media on Monday. Watch the videos or take in a few notes on what the duo discussed in Tiger Town.
Josh Sapp
On his dad (Patrick Sapp) seeing him score: "He was just excited. Being a father there. Playing there. Just seeing me score. He was excited for me. We enjoyed that moment for sure."
On Cade Klubnik: "He's our QB. He's a great leader for us. It's just good that we have his back. I know he has our back. He pushes us. Just working together. We work together well. Just continue to have each others' back. I'm going to always have his back for sure."
On Klubnik's leadership style: "He's a good vocal leader. Leads by example, for sure. He's always keeping us together. Keeps the offense going. Keeps the defense going, too. Just an all-aournd great leader.
---
Khalil Barnes
On committing to Clemson: "When I committed to Wake, it was just something that I dreamed about. I told myself before the season, I wanted my recruitment process to be over, so it was one of those things– I felt comfortable there, I really liked the coaching staff, I liked what they were doing with the program, but all my visits I had taken that spring and summer, like Clemson, I felt like had been the most honest with me and Coach Conn especially. I came to camp and had a real good day. Him and Coach Swinney were real heavy on me and then I had a meeting with him."
On being recruited as an athlete: "Notre Dame wanted me to play receiver, Oklahoma said come in and see where we need you, and a couple smaller schools wanted me for a receiver, but one of my coaches in seventh grade told me I was a power five defensive back and at that point I did not care about the DB stuff. But when my recruiting process started to pick up and teams started looking at me for DB, I just changed to straight DB. Getting into the recruiting process, when teams were trying to talk about receiver, I just wasn't interested anymore."
On starting in the game Saturday: "It was a blessing. I try not to think about how big it was until after the game, because I just wanted to focus. I didn't want to be the guy that gets in there and the whole vibe and the whole defense kind of off. I didn't want to be that liability. Last week, Mukuba really helped me with preparation– we spent a lot of time talking and we were in the film room and he was right beside me telling me things to look for… It was a blessing for sure and something I have dreamed of, but it didn't really hit me until after the game."
On the team atmosphere: "I think that they have an inside scoop the whole time. As soon as I got the offer and decommitted, Peter (Woods) said 'You gonna be here this weekend?' and I hadn't even told the coaches that I was coming that weekend, so I was wondering how he knew. But it was everybody, we are a real tight group."
On Peter Woods' talent: "Peter is a man of many talents. If he wasn't in football, he could be on American Idol or something. Peter can sing. You'll be shocked. He'll probably give y'all something, I don't know. You gotta ask him to give you something. I had heard all the hype about Peter, but never really seen him play– at our first spring practice, just kinda seeing him going out there– I was nervous and I had already had a few practices in Miami. He came out first spring practice and looked like he had been here for years and I ain't ever seen anything like that, so I am happy he is on my team and not anybody else's team."
Never miss the latest news from Clemson Sports Talk!
Join our free email list