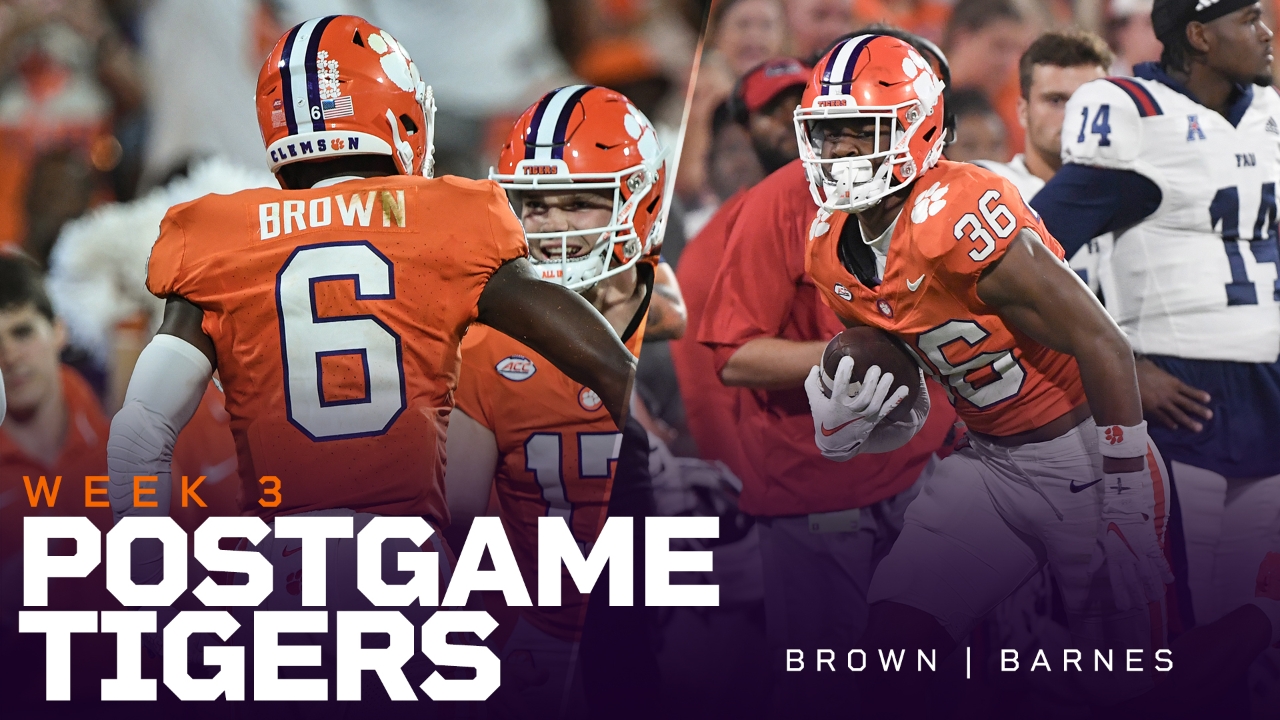 Clemson Football
First touchdown 'very special' for upstate native Tyler Brown
---

---
Freshman wide receiver, Tyler Brown, and freshman safety Khalil Barnes caught up with the media after a 48-14 win over Florida Atlantic under the lights in Death Valley.
Tyler Brown
On the first touchdown play and the route: "That post route play, he (Klubnik) actually changed the play. He's so smart man. He changed the play from what it was. He saw the post was gonna be wide open. We have been practicing that all week and it happened. It was supposed to be a box fade, but he changed it to a post last minute and we made it happen."
On scoring that first touchdown: "I was kind of waiting on the referees signal, because I did feel that goal post. But when he gave me that signal, that's when it hit me and those lights went off."
On growing up in the area and playing in his first night game: "Very special man, my first one – my first night game. Coming off last week's game… we just have to keep growing as a team and I feel like we are doing that."
On the growth of the team and the confidence they are building: "We're growing man. We're growing each and every day – day in and day out. Seeing us grow gives us real confidence. Cade [is] playing some of his best games and seeing him grow as a player and a person, is just amazing to see and we're gonna keep pushing for sure."
Khalil Barnes
On his play: "It was a pretty good game. First start, night game in Death Valley. My emotions were high. At first, the game felt fast but it slowed down. It was a good game. Glad we came out with a W."
On FAU: "Tonight we just showed the crowd our preparation. This week we really prepared well. After that Duke game, we understood that it was us against the world. Playing for each other. That's what we showed on the field."
On the upperclassmen helping him: "Just film study. The guys like J.P. and R.J., even Mukuba all three of them being vets. Picking out my class schedule so I could go in there and watch film. Preparation and having those guys help me prepare."
On the young guys: "I joke around with the summer enrollees, I say I'm a super-freshman since I came in January. Our class, a lot of the guys in our class, came here to try and get Clemson a championship. Work, practice hard, play hard. We don't look like we are young out there, because the older guys really help us prepare. I really appreciate them and their guidance."
Never miss the latest news from Clemson Sports Talk!
Join our free email list