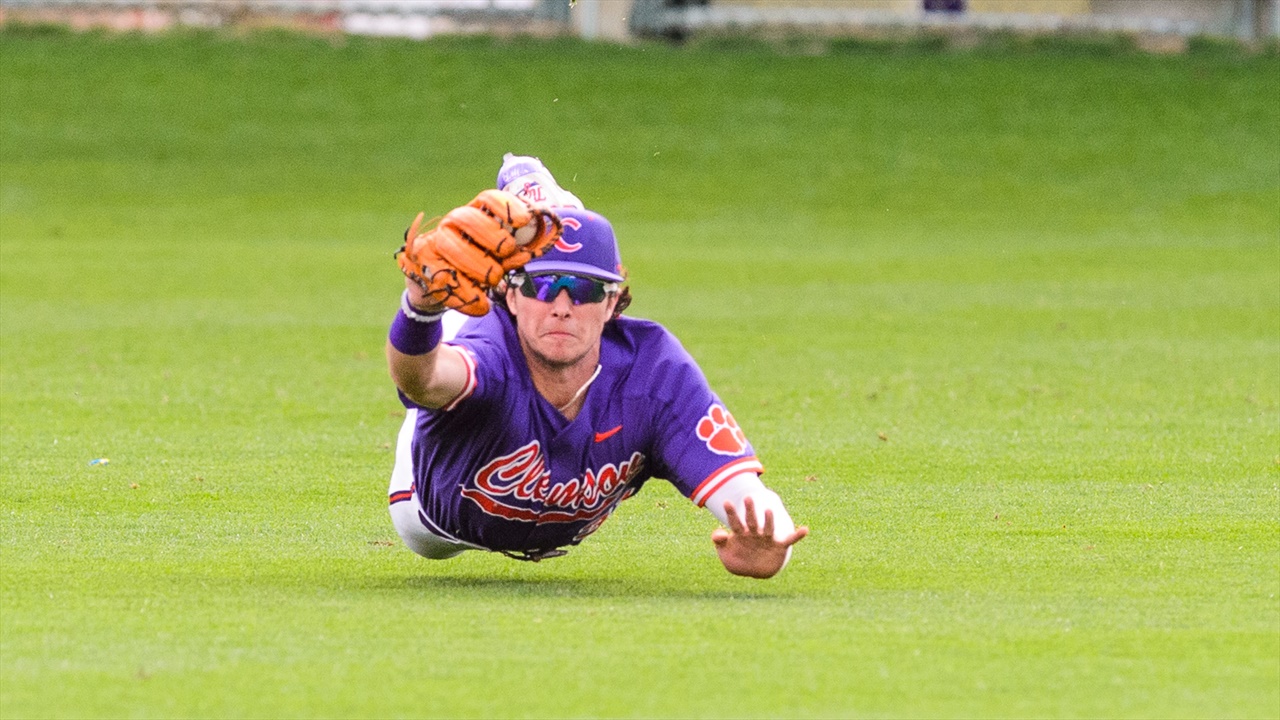 Photo by © David Grooms/Clemson Sports Talk
Clemson Baseball
Clemson Baseball - By the Numbers
---
---
Fresh off a sweep of what will likely end up being a solid Dallas Baptist team, Clemson (7-0) takes on the 3-5 Winthrop Eagles while the rivalry series with South Carolina (6-2) looms this weekend.
The sweep of Dallas Baptist may mean more to the Tigers in May, when resumes are being scrutinized, than it does now.
When a sweep gains the lede on Baseball America it means folks are taking notice. As nice as it feels in late February, the sweep of Dallas Baptist may mean more to the Tigers in May, when resumes are being scrutinized, than it does now.
For any team, much less one that lost all 63 starts from 2017, the Clemson pitching staff has been remarkable and a potent Dallas Baptist team scratched out only 4 runs over the weekend.
Pick your favorite starter, as they've been almost unhittable the first time through the order, and showed much improvement the second time (and subsequent) through over the weekend.
NOTE: This only measures batting average, not on base or slugging percentage.
Both Jacob Hennessy and Jake Higginbotham made it deep into their starts, combining for 13 1/3 shutout innings.
A hidden gem has been Carson Spiers, who has appeared in 4 games, faced 12 batters and recorded 12 outs (1 double play), given up a single hit, with 6 strikeouts and 0 walks, while stranding all 4 runners he's inherited.
Middle relief was an issue at times for Clemson last season and while 4 appearances does not a season make, Spiers has been shut down good to date.
Pitching
Leading Off
Monte Lee mentioned it on the pregame show Saturday and I'll continue to bring it out here. The Clemson pitching staff has been fantastic at getting the lead off batter out - almost 80% of the time - and that means the opponents don't score often and when they do, it's typically single runs.
The sample size is small, but growing and it'll be telling to see how and if this metric changes as the season progresses towards ACC play.
Clemson has displayed a balanced attack offensively with every position contributing at times, with 2 notable exceptions: The Tigers have received very little offensively from second base and catcher positions.
Jordan Greene and Grayson Byrd have split time at second and both have struggled at the plate, leading to Justin Hawkins, typically a 3rd baseman, to start at second in game one of Saturday's doubleheader. Hawkins fared no better, striking out in all 3 of his plate appearances (he did reach base on a passed ball).
I expected big things at the plate from Kyle Wilkie this spring, based on his solid finish to 2017. That hasn't happened, but Wilkie's been solid behind the plate and any offense is a bonus for the staff.
How good have the Tigers been? A couple years back, Drew Wharton hitting 3 home runs in a series would have likely led this article, now it's barely mentioned. Wharton had 0 hits in the opening series, but still managed 3 RBI in his first 14 plate appearances. That all changed with his home run Friday and then his back to back 3 run shots on Saturday and Wharton finds himself second on the team in RBI with 11.
Batting
Quality At Bats
Raise your hand if you thought Robert Jolly would lead Clemson in quality at bat percentage. Not the biggest, fastest, strongest, or most highly recruited, Jolly has been consistent over the first 7 games, totalling 10 hits and 7 walks.
This metric is calculated different ways by different teams and at times can be subjective depending on who is measuring the at bat. I don't know the formula that Clemson uses, but am using a common one and my observations. For these reasons, this should be used as a guideline and not considered a perfect measure.
The goal was to capture as much data as possible to better understand decisions made by the coaching staff.
Defense
I mentioned the defense last week and it should be mentioned again as the Tigers have committed only 4 errors over 7 games and have a .988 fielding percentage. This is likely to change as strikeouts will go down once ACC play begins which means more chances in the field, which generally leads to more errors.
That said, this team has sparkled in the field led by a couple of circus catches from freshman Bryce Teodosio and solid play at first from Chris Williams.
Actual vs. Expected Record
Three early season blowouts (Furman, 2 vs. Dallas Baptist) mean the Tigers expected record is a bit ridiculous, but that single digit loss colmun in the current expected season record sure is pretty.
| | | | |
| --- | --- | --- | --- |
| Actual Record | Expected Record | "Luck" | Expected Season Record |
| 7-0 | 6-1 | +1 | 48-8 |
After three one run games in the opening series, Clemson had 3 blowouts last week, along with another 1 run win.
The Tigers 4-0 mark in one run games is reminiscent of last years start when the Tigers sprinted to a 7-0 record in one run games before finishing the season at 9-4 in contests decided by 1 run.
Upcoming Schedule
| | | | |
| --- | --- | --- | --- |
| Date | Opponent | Location | Current Record |
| 2/27 | Winthrop | Clemson | 3-5 |
| 3/2-3/4 | South Carolina | Cola./Gville/Clemson | 6-2 |
| 3/6 | Wofford | Clemson | 3-4 |
| 3/7 | Michigan State | Greenville | 2-5 |
| 3/9-3/11 | Georgia Tech | Clemson | 5-2 |
Seven games into a 56 game schedule (about 13%) we've seen a Clemson team win close and win big. Another challenge awaits this team this weekend, with 2 of 3 away from the friendly confines of Doug Kingsmore Stadium, including a trip to Columbia on Friday.
Very Early Resume Review
It's never too early to review the resume and sweeping Dallas Baptist did wonders for the Tigers young resume.
| | | | | | | |
| --- | --- | --- | --- | --- | --- | --- |
| Record | RPI | SOS | RPI 1-50 | RPI 51-100 | RPI 101-150 | RPI 151-297 |
| 7-0 | 13 | 58 | 3-0 | 0-0 | 0-0 | 4-0 |
That said, this early in the season RPI and strength of schedules tend to flucuate wildly from game to game and week to week, meaning this is a starting point and it's still early to draw conclusions about this team.
*Baseball resume information via WarrenNolan.com.
Never miss the latest news from Clemson Sports Talk!
Join our free email list