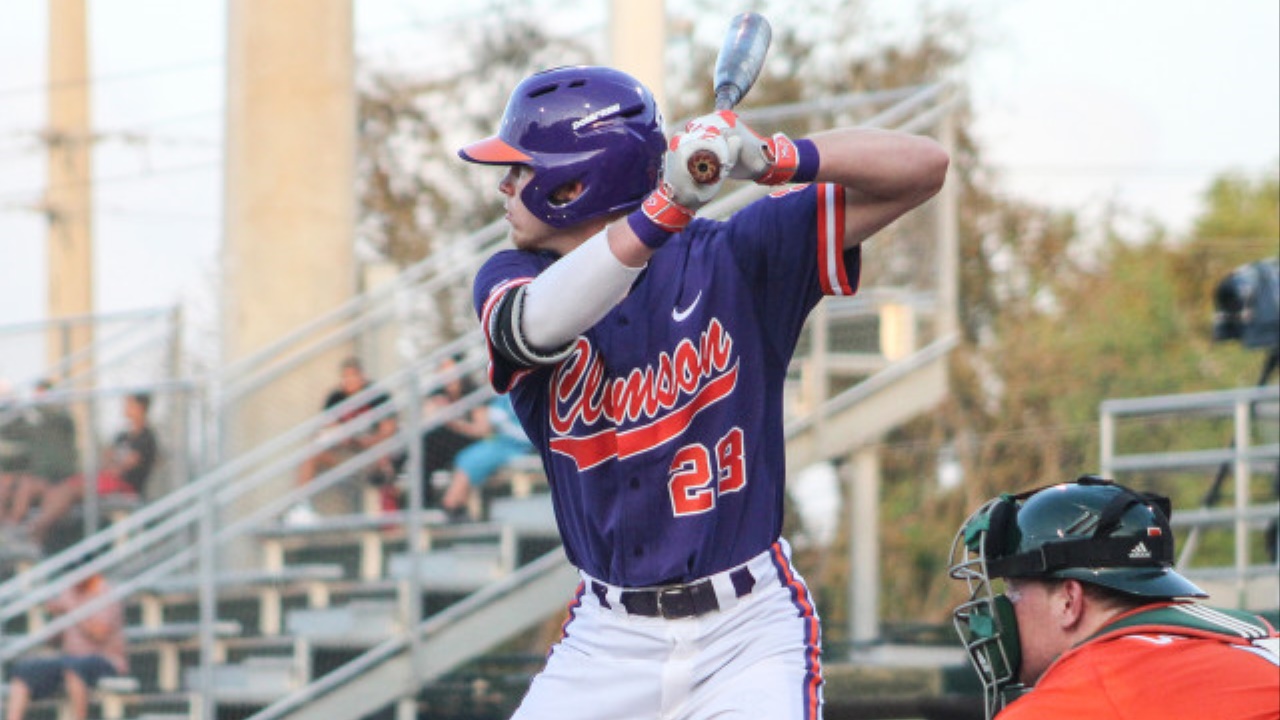 Photo by www.ClemsonTigers.com
Clemson Baseball
Clemson Baseball By The Numbers - South Carolina Series
---
---
The 8-0 Clemson Tigers travel to Columbia to begin a 3 game series with in-state rival South Carolina tonight at Founders Park at 7 p.m. The traveling series then makes stops in Greenville and Clemson on Saturday and Sunday afternoons, respectively.
It could well be that by seasons end the starting pitcher the Tigers miss the most from 2017 is mid-week starter Tyler Jackson
While the Gamecocks (6-3) have struggled a bit early, suffering losses to VMI, Charleston Southern and a Furman team Clemson throttled, the Tigers have won close games (5-0 in one run games) and blowouts (3-0).
As much angst (I'm as guilty as anyone) that was displayed by the Clemson faithful over the loss of Pat Krall, Charlie Barnes and Alex Eubanks, it could well be that by seasons end the starting pitcher the Tigers miss the most from 2017 is mid-week starter Tyler Jackson. Sam Weatherly struggled against Winthrop in his second start, after lasting only 3 against Furman the previous week (likely by design). It should be noted that Jackson, too struggled in one of his early starts before becoming one of the most reliable pitchers on the staff over the season. Jackson was also a senior, while Weatherly is a true freshman.
Travis Marr fared worse, allowing all 3 inherited runners to score and giving up 3 runs and 6 hits of his own in only 2/3rds of an inning.
Huggins and Clark give Monte Lee two left handed options out of the pen
As disappointing as those outings by Weatherly and Marr were, I continue to be encouraged by Ryan Miller, Ryne Huggins, Carson Spiers and Mat Clark.
Huggins and Clark give Monte Lee two left handed options out of the pen, which allows flexibility to use one of the two (Huggins so far) earlier in the game than may have happened in the past, allowing for better match-ups later, as evidenced by Mat Clark coming on in the 10th Tuesday.
As with most everything on this page, it needs to be pointed out that the sample size is small and it's a long season. Given that both Clark and Huggins are (redshirt) freshmen you expect some inconsistency as the long season develops, but so far both have thrown well when called upon.
Pitching
NOTE: This only measures batting average, not on base or slugging percentage.
Leading Off
Eight of Clemson's 9 runs against Winthrop were scored in innings when the leadoff batter reached base, the only exception being Patrick Cromwell's 9th inning jack.
The sample size is small, but growing and it'll be telling to see how and if this metric changes as the season moves towards ACC play. I mentioned last week that this is a metric that Monte Lee pays attention to and that's why it's tracked here.
On Tuesday I pointed to two positions (second base and catcher) that hadn't produced offensively through the first 7 games. Ask and you shall receive, as Grayson Byrd and Kyle Wilkie played huge offensive roles in the win.
On the other hand, the Tigers are winning without much from Logan Davidson and a relatively small amount from Seth Beer. It should be noted that while the batting averages for these two aren't where we expected, they tend to get on base a lot via walk or hit by pitch. Check out the quality at bats metric below, that shows a more complete view of performance at the pate.
My biggest concern about Davidson is that he's yet to tally an extra-base hit across 38 plate appearances. His home runs came in bunches last season, so things could change in a hurry, but it's worth keeping an eye on. I also wonder if moving Davidson from the leadoff spot may change things up a bit for him, at least short term.
Drew Wharton's move from 2nd to 6th in the lineup has paid off handsomely, as Wharton is 8 for 18 (.444) with 4 home runs since the change.
Batting
Quality At Bats
It's a jolly old time at the plate as Robert continues to pace the team - and it's not particularly close.
This metric is calculated different ways by different teams and at times can be subjective depending on who is measuring the at bat. I don't know the formula that Clemson uses, but am using a common one and my observations. For these reasons, this should be used as a guideline and not considered a perfect measure.
The goal was to capture as much data as possible to better understand decisions made by the coaching staff.
Defense
We saw a few cracks on Tuesday with an error by Beer and some other plays that could have gone either way. The defense has been better than expected to date and it'll have to remain that way if the Tigers want to play into late June.
Actual vs. Expected Record
Five 1 run wins in 8 games means "luck" has been on Clemson's side to some extent and that's reflected in the numbers below.
| | | | |
| --- | --- | --- | --- |
| Actual Record | Expected Record | "Luck" | Expected Season Record |
| 8-0 | 6-2 | +2 | 45-11 |
There's no doubt about it, 5 one-run wins in 8 games is unusual and at some point that will turn, just like it did last season.
Upcoming Schedule
| | | | |
| --- | --- | --- | --- |
| Date | Opponent | Location | Current Record |
| 3/2-3/4 | South Carolina | Cola./Gville/Clemson | 6-3 |
| 3/6 | Wofford | Clemson | 3-5 |
| 3/7 | Michigan State | Greenville | 2-5 |
| 3/9-3/11 | Georgia Tech | Clemson | 6-2 |
| 3/13 | Charleston Southern | Clemson | 4-4 |
We mentioned the Gamecocks early struggles, but this series is a different type of challenge for Clemson with 2 of 3 games scheduled away from the friendly confines of Doug Kingsmore Stadium, including a trip to Columbia today.
Very Early Resume Review
It's never too early to review the resume, so here's the latest:
| | | | | | | |
| --- | --- | --- | --- | --- | --- | --- |
| Record | RPI | SOS | RPI 1-50 | RPI 51-100 | RPI 101-150 | RPI 151-297 |
| 8-0 | 14 | 67 | 3-0 | 0-0 | 1-0 | 4-0 |
This early in the season RPI and strength of schedules tend to fluctuate wildly from game to game and week to week. This is a starting point and it's still too early to set expectations for this team.
*Baseball resume information via WarrenNolan.com.
Never miss the latest news from Clemson Sports Talk!
Join our free email list