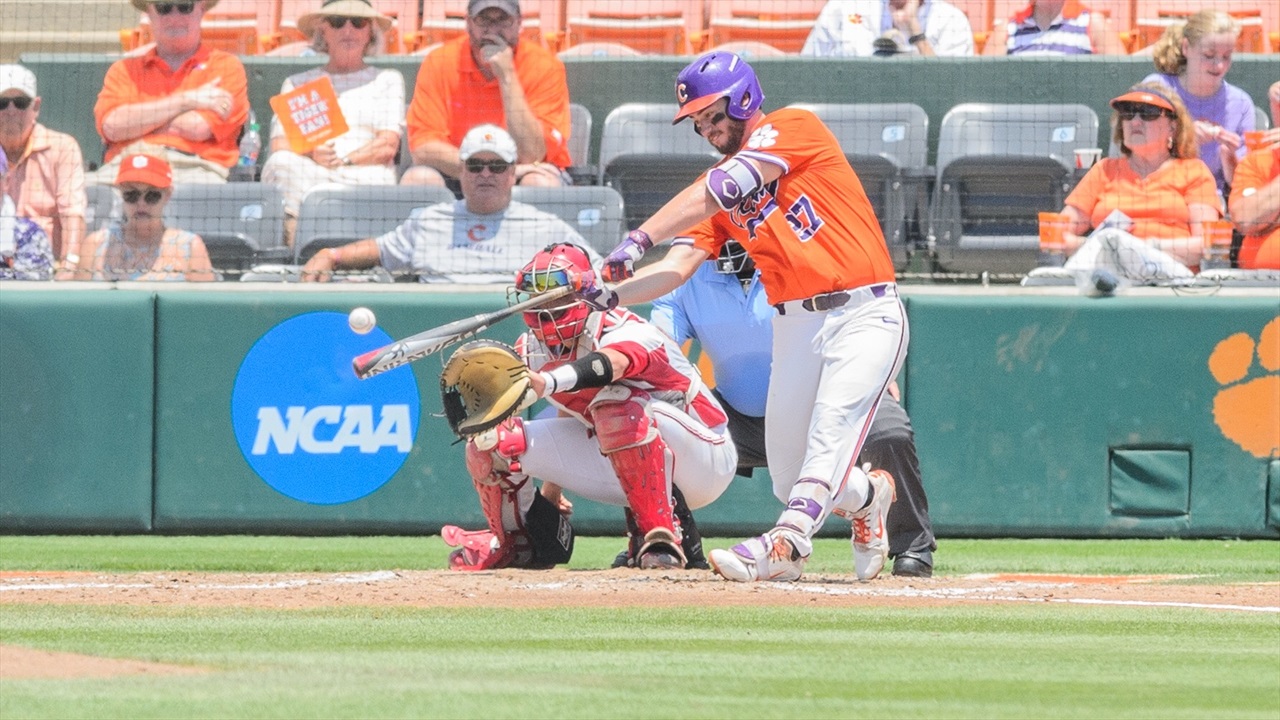 Clemson Baseball
Tigers survive scare from the Red Storm, advance to Regional championship
---
CLEMSON -- With its back against the wall, it took a little longer than expected for Clemson to show some sort of life.
The Tigers were down early, but as they so often do, responded when they needed to most. Now there's another game to be played in a matter of hours.
Clemson survived a St. John's scare with a 9-8 victory to advance to the Regional championship thanks to some clutch runs with two outs and the relief performance of Ryan Miller's career.
But if it weren't for a bit of wind in the ninth inning, Clemson's hopes of making it back to a rematch against Vanderbilt would have vanished. A four-run rally in the ninth highlighted by an Anthony Brocato three-run blast put St. John's in a position to steal this game.
Instead, two hard-hit balls fell harmlessly at the warning track and Clemson's record in one-run games improved to 16-6.
The sound you heard once the game concluded was a collective exhale from Clemson fans everywhere.
"We needed every run we could get," head coach Monte Lee said. "It may be the first time as a head coach that I have coached a game where we have given up two big innings and won. It's next to impossible statistically to give up two big innings in a ballgame and win the game."
The Red Storm came out ready to play and treated Clemson starter Jacob Hennessy like he was tossing slow-pitch batting practice in the first inning. It was Hennessy's first start since May 11th against Austin Peay due to an injury with his throwing arm.
It didn't last long.
A double and a two-run home run gave the Red Storm all the momentum early. A towering shot two batters later from Luke Stampfl that hit the top of the Chapman Grandstands gave the 3,000-plus fans in attendance a sinking feeling.
And who could blame them? The Tigers needed a quality outing from their starter with an already depleted bullpen. Hennessy's not-so-quality start only lasted 2.1 innings as he gave up four hits and three runs.
On the other side, St. John's got the start they could only dream of. Starter Jeff Belge was having the game of his young career as he shut down batter after batter in Clemson's powerful lineup.
Belge had a no-hit bid going until Seth Beer promptly ended it with a solo home run, his 22nd of the year. But Belge would only give up two hits until the sixth inning came around.
The sophomore tied his career high with nine strikeouts and was looking for his tenth with Kyle Wilkie at the plate with a full count and two outs. On the ninth pitch of the at-bat, Clemson finally broke through as Wilkie belted a double to tie the game up.
"The one thing that Kyle does better than anybody on our team statistically is he hits with runners in scoring position," Lee said. "He's the best hitter in our lineup with runners in scoring position. He hits I think .400-plus with runners in scoring position… Any time Kyle comes up with runners on base, you feel pretty good about it."
From there, Clemson began to turn it on offensively and scored at least one run from the sixth inning on to finish the game out. Seven of Clemson's nine runs came with two outs and St. John's was left wondering what could have been.
Because after Hennessy's horrendous start, it was up to Miller to be Clemson's hero and put the pitching staff on his back. He gave up ten hits in 5.2 innings of relief, but was able to do everything he could to keep St. John's off the board after its big first inning.
He exited in the ninth inning to a standing ovation. The seniors' teammates swarmed him with huge hugs and told him they loved him. Lee had nothing but the best things to say about the pitcher who helped keep Clemson's season alive.
"I don't know If I'll ever get the chance to coach a pitcher who has done more for a team that Ryan Miller has," Lee said of the man who sat to his left. "Ryan Miller is the best pitcher, probably, that I've ever coached. For him to be able to do what he has done for this team this year, you look at how many games we've won on his shoulders; it says an awful lot about him… We would not have won the game without him."
Clemson now gets another crack at the Commodores in a rematch of last year's Regional final. Spencer Strider will get the start for the Tigers at 6:00 PM in hopes of a lot better of an outing than their last two starters.
Their season depends on it.
"Momentum is always based on your starting pitching," Lee said. "That's the bottom line… It's so true. Strider needs to be good for us. I think our lineup will be ready to go. Hitting is contagious. A lot of hitting is confidence… I'm sure that our lineup will feel pretty good going into the nightcap."
Let's play two, shall we?
Never miss the latest news from Clemson Sports Talk!
Join our free email list