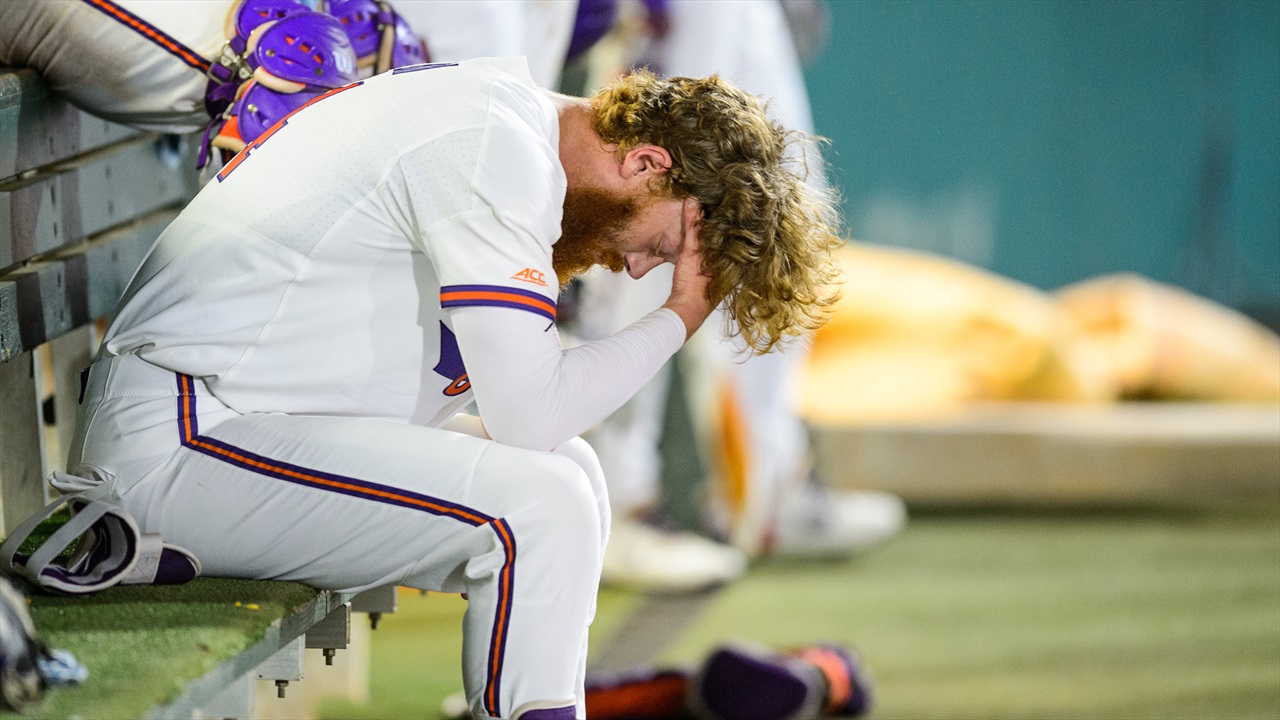 Photo by © David Grooms/Clemson Sports Talk
Clemson Baseball
All Brakes, No Gas: Clemson fails to get out of its home Regional for third straight year
---
CLEMSON -- There was something kind of poetic in the way Vanderbilt swiftly ended Clemson's season on Sunday night.
In the seventh inning, a tired Travis Marr came into pitch against Stephen Scott. A dark cloud had moved over left field and behind it was a purple and orange sunset.
As Marr wound up for the pitch, a lightning bolt streaked across the sunset sky. At the exact moment, Scott belted the sixth home run of the night for the Commodores with a thunderous swing that made you think Thor had appeared.
He touched home plate to give Vanderbilt a 12-5 lead and was greeted by his teammates. Heat lightning continued to flash, and Clemson fans started to head towards the exits.
The sun was setting on Clemson's season. Monte Lee's team that had been known for the long-ball was getting beaten at their own game.
The Commodores hit nine home runs to hammer Clemson 19-6 in what was the final game in the Clemson Regional. Nine. The only reason anyone could remember the number was because it tied an NCAA Tournament record for most home runs in a game.
Jordan Greene had the words "All Gas" written on his sleeve for Clemson's opener against Morehead State to represent the aggressive, "all gas, no brakes" mentality of his team's offense. In the end, it was all brakes as Clemson ran out of gas in front of its home fans for the third consecutive year.
"This is a tough loss, and they don't get any tougher any time you lose a game to end the year in your home Regional," Lee said. "To lose in the fashion that we did, to get beat the way we did, was extremely tough."
It was an onslaught from the very start. Lee said after Clemson escaped the Red Storm that you can't afford to give up two big innings and expect to win. By our count, Clemson gave up four as lightning struck again, and again, and again.
True freshman Spencer Strider needed to give his team all he could, but the theme of the weekend was Clemson's lack of starting pitching. Not including Brooks Crawford's start on Friday night, Clemson's next three starters allowed a combined 11 earned runs in eight innings of work.
Strider only lasted 2.1 innings, allowing four hits, three of them being home runs, and gave up five runs.
When all was said and done, Saturday night's loss proved to be a killer as Clemson simply ran out of arms.
"Strider needed to go deep. That's the bottom line," Lee said. "You're not going to win a lot of baseball games when you take your starting pitcher out three out of the four games as early as we did. It's tough to do because you are having to pitch and stretch guys out who are used to throwing one or two innings."
Clemson had its chances, though and with all of its struggles still could have taken the lead with one swing when the bases were loaded in the bottom of the fifth. Logan Davidson and Seth Beer stepped to the plate with one out but stranded all three runners to end the inning.
Vanderbilt would load the bases the very next inning and take advantage of its opportunity. Connor Kaiser, the Regional's Most Valuable Player, smacked a grand slam to open the floodgates. His ten RBIs also tied an NCAA Tournament record.
If Clemson was going to go down, it was going to go down swinging. All-Region catcher Kyle Wilkie made sure of it as he hit a two-run home run in the 6h inning. He'll carry a 28-game hit streak into next season as one of Clemson's captains.
But Vanderbilt answered everything Clemson threw, and a Regional championship turned into a curtain call for many of Clemson's seniors and players who were heading to the MLB Draft.
Beer got the final at-bat of the night. The fans left in Doug Kingsmore Stadium stood the entire time as he flew out to left field to end his Clemson career and his team's season.
"We weren't the team that played the best and Vanderbilt was," Lee added. "They were the better team. I don't know what else I could say about it."
A season-ending loss is always a difficult pill to swallow, especially losing in a home Regional to the same team as the year before. There are sure to be frustrations from the fan base after failing to get to a Super Regional for the eighth consecutive season and falling at home for the third straight year.
But Lee wanted to defend the players on this year's team and make sure everyone knew that this loss wasn't indicative of the year Clemson had.
He started listing off accomplishments: 47 wins, Atlantic division champions, a home Regional, 16 one-run wins (a school record), and 98 home runs. He made sure the players got the respect they rightfully deserve.
"It did not end the way we wanted it to end… Yes, it was tough for all of us," Lee said. "But give our guys the credit they are due."
Lee then defended the makeup of his team and had nothing but the best things to say about the players who are leaving and the mark they've left on Clemson's program. Two seats to his left sat Chris Williams, who hit a home run in his final game.
Williams decided to come back to Clemson for one more year when he could have been a quality draft pick a season ago. He was fighting back tears knowing his career at Clemson had just ended.
"My past three years here have been nothing short of amazing. I'm extremely grateful to have had this opportunity to have come to such an amazing school here in Clemson," Williams said.
"I wouldn't trade anything for it. Today was a little disappointing, but there is nothing to be disappointed about."
Never miss the latest news from Clemson Sports Talk!
Join our free email list