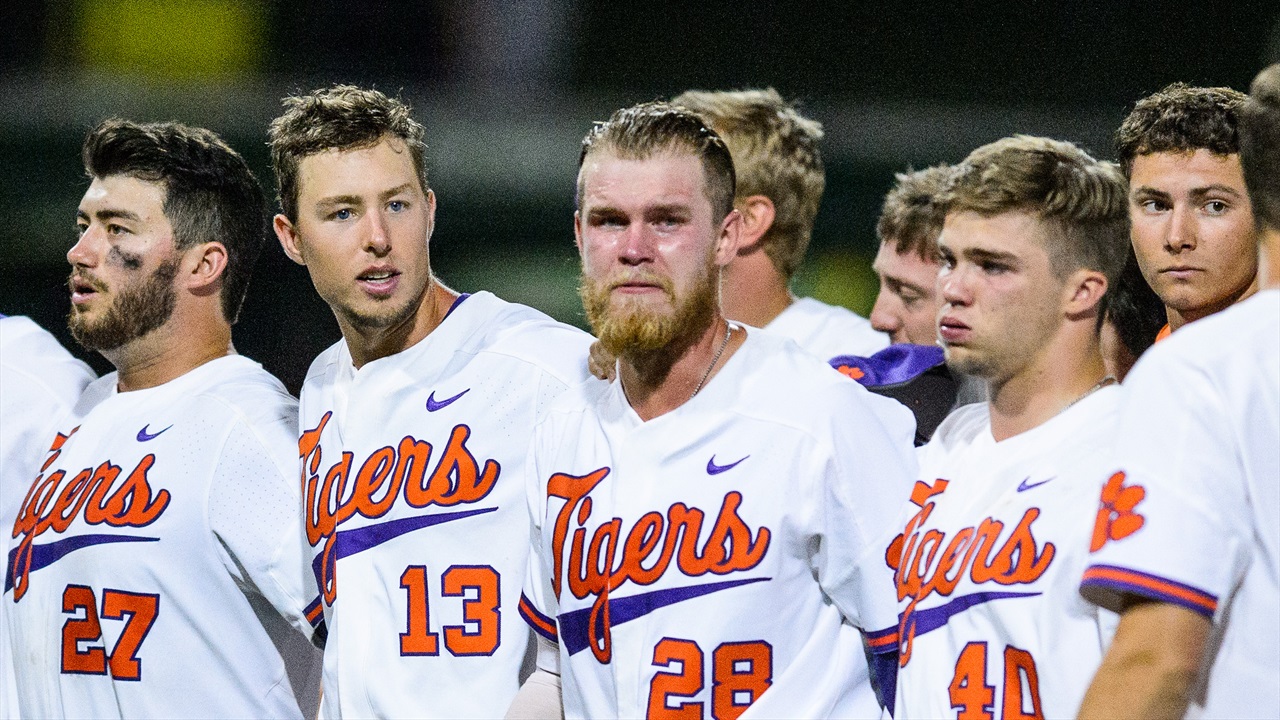 Photo by © David Grooms/Clemson Sports Talk
Clemson Baseball
Draft Beer: Seth Beer's swing of emotions on Draft Day summed up as a 'dream come true'
---
Join the only website that combines full coverage of the Clemson Tigers with a two-hour radio show that airs Monday through Friday from 4-6 PM.
Try Clemson Sports Talk Premium for $1 or get your first year at our promotional $49.95 rate
---
Tears.
That's what fell from the eyes of Seth Beer as he walked toward his home dugout in Doug Kingsmore Stadium for the final time.
It was the final at-bat of Clemson's season, and Beer did the honors of hitting a weak pop fly to foul territory. The ball harmlessly fell into the glove of left fielder Pat DeMarco finishing off a 19-6 beatdown of Clemson in its home Regional.
Fans left in attendance wanted to see Beer's final moments in a Clemson uniform. As he stepped into the batter's box in the top of the ninth, he received a standing ovation. Those same fans stood his entire at-bat as his chapter at Clemson came to a close.
"It was the ending of something incredible and special in aspects that I can't describe," Beer said.
"It was the ending of something incredible and special in aspects that I can't describe."
24 hours later, tears fell again. This time, for a completely different reason. A childhood dream of being drafted into Major League Baseball had just come true.
It's amazing the swings of emotions that you can feel in a span of 24 hours. One minute you're at your lowest. The next, you're on top of the world. It applies to both sports and life.
For Beer, it was no different.
He barely got any sleep the night after his team's season ended. The thought of not being able to play baseball with his teammates again was unbearable. The thought of "what's next?" might have also had a little something to do with it.
Family, friends, and teammates gathered around the player's lounge in Doug Kingsmore Stadium Monday night to celebrate the moment Beer's dream come true. The entire day in itself felt like it lasted a lifetime.
All the talks of a possible destination for one of college baseball's best power hitters caused a lot of anxiety. All of the commercial breaks in between didn't help, either.
But finally, the moment Beer had been waiting for arrived. Many mock drafts had him being selected by the Boston Red Sox with the 26th pick, but it wasn't until that pick came and went when Beer's agent gave him the heads up that the Houston Astros were about to select him.
Like clockwork, the phone rang. The player who we've seen handle pressure situations as good as anyone had a bit of a hard time answering the call. He walked outside to answer and on the other end of the call was a member of the Astros organization.
"The Houston Astros are going to pick you at 28. Congratulations, Seth," is all he needed to hear before the tears of joy began to fall. The kid who hasn't missed a pitch of the World Series for as long as he can remember was going to be a part of the defending champions.
Then came the real moment. The moment every athlete dreams of. Beer's been playing out the vision of Major League Baseball commissioner Rob Manfred calling his name on draft night in his head since he was in sixth grade.
"It finally happening was just an incredible experience and I am just so blessed to be picked by this great organization," Beer said.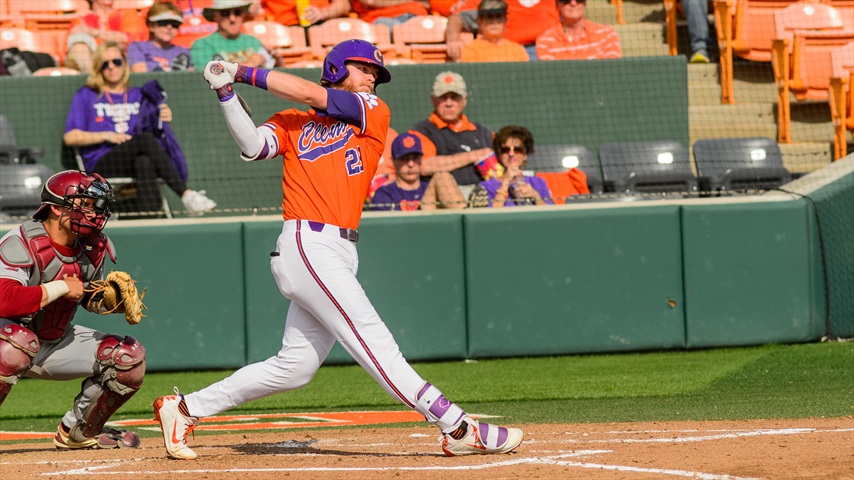 © David Grooms/Clemson Sports Talk
As of Thursday, Beer has not officially announced he is signing with the Astros, but everyone, including his head coach, believes he will take the opportunity.
The 28th pick's slot is valued at 2.4 million dollars. That could help make the decision a little easier.
It didn't take long for Beer to experience the jubilation of being drafted by a professional sports town. His phone began to blow up with congratulatory texts from people around Clemson and a couple of Houston locals who have some Clemson allure.
Houston Texans stars and former Clemson legends Deshaun Watson and DeAndre Hopkins were one of the first to reach out to Beer. Watson sent him a text saying congratulations that even Beer's father, a huge football fan, couldn't believe. Next was Hopkins, who sent a direct message via Twitter saying that the two would link up once Beer made it out to H-Town.
Pretty cool.
Beer was a highly touted prospect out of Lambert High School and could have easily been drafted then. He was actually very close with the Houston, area scout. But the 18-year-old from Forsyth County decided to enroll early to Clemson.
At that same time, Clemson head coach Monte Lee had just been hired. Lee was told that the first player he needed to call was Beer to make sure he was still going to come to Clemson. The two talked on the phone for hours about the game of baseball and life in general, and it didn't take long for Lee to realize the impact Beer would have on his program.
The two were about to go through something extremely new together.
There's no question Beer has left his mark on Clemson's program and on his head coach. Lee ran out of words to describe what Beer has meant to him. The countless hours in the batting cages, the leadership in the dugout, and the product on the field can be summed up as legendary.
"You don't get a chance to coach guys like Seth Beer but once in a lifetime."
Beer stepped on to campus three years ago, and the Tigers have won at least 40 games every season since. An ACC championship and three consecutive home Regionals are a few of the most notable accomplishments Clemson has had since he's been here, including a 47-win season which hasn't happened in 12 years.
"We certainly wouldn't be in the position we are in if it weren't for him," Lee said. "If you are looking at Clemson baseball, you are looking at Seth Beer. He is definitely the guy that represents our program as good as anybody.
"You don't get a chance to coach guys like Seth Beer but once in a lifetime."
Beer's individual career at Clemson has put him in conversations as one of the greatest baseball players to ever play at Clemson. His freshman he won the Dick Howser Trophy which is presented to the best college baseball player in the country. He batted .370 with 70 RBIs to quickly put him on the scene as one of the best hitters in the country.
And come on, the name is just too good.
In his final season, he hit 22 home runs, accomplishing his goal of hitting at least 20 which he had not done yet. In 2018, Clemson was 20-2 when Beer hit a home run.
He hit 56 home runs over the course of his Clemson career, and so many of them came at times when Clemson needed his bat the most. He's now just the 14th player in Clemson history to be selected in the first round of the MLB Draft.
Beer couldn't pick just one favorite moment he's had while at Clemson. Just like his home runs, there have almost been too many to count.
The home run he hit his freshman year at Georgia that was hit out of sight. The home runs that flew into the Cajun Cafe or the Chapman Grandstands. The come-from-behind wins, the ones where his team wasn't supposed to win, are the ones that will always stick out to him.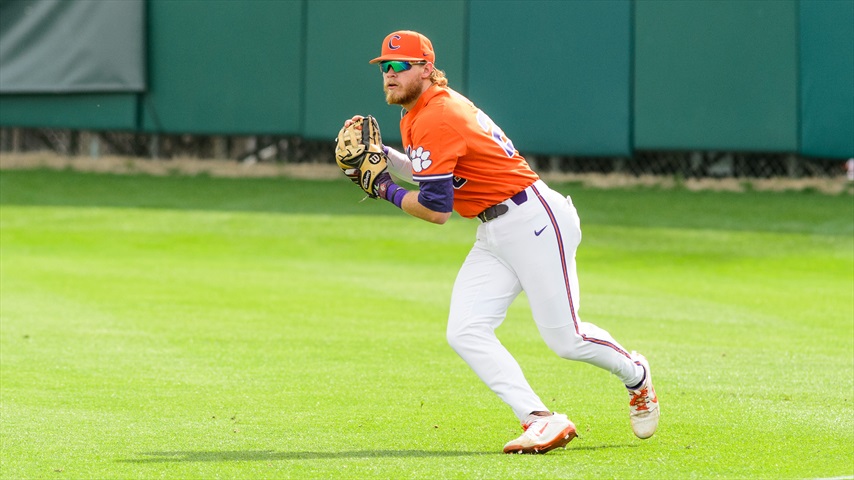 © David Grooms/Clemson Sports Talk
And yes, the home run he hit in Columbia with a full count and two outs, down one run in the ninth inning is right up there. He still can't put into words the feeling he felt that afternoon.
But the one moment he will never forget was his last one.
The last out was a dagger to his heart. Beer loves Clemson and has poured everything he has into Lee's program, and he knows his teammates have too.
As Beer walked off the field for the last time on that brutal Sunday night, his teammates met him halfway. Every one of them lined up and embraced Beer with a hug.
"This is a brotherhood for life," Beer said. The swing of emotions began to hit him again.
"I'm going to remember everything about those guys and everything we have experienced together. I'm just so happy and blessed to be able to come through Clemson during this time."
Never miss the latest news from Clemson Sports Talk!
Join our free email list