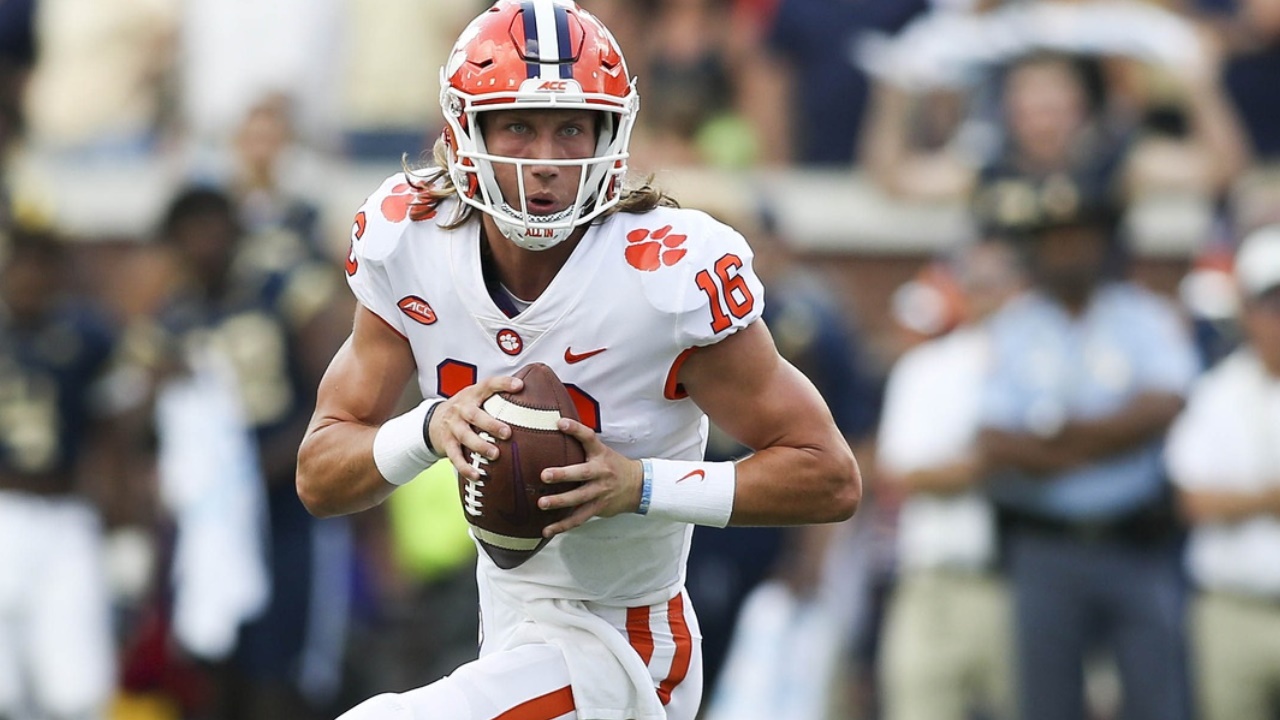 Photo by © Brett Davis-USA TODAY Sports
Clemson Football
The buzz escalates
---
ATLANTA -- The main point of emphasis on the Clemson coaching staff's mind this week in preparations for Georgia Tech:
Make the most of your opportunities.
Back in his home state, Trevor Lawrence was waiting in the wings and heard the message loud and clear.
No. 3 Clemson dominated Georgia Tech 49-21 for its fourth consecutive victory against the Yellow Jackets. This was only the third time in school history that Clemson's senior class swept Georgia Tech.
But it was the true freshman that did the damage with four touchdown passes on the afternoon.
"I think we took a step forward as a football team today," head coach Dabo Swinney said.
"I think we took a step forward as a football team today," head coach Dabo Swinney said.
After a week where Clemson's offense coughed the ball up three times and had trouble finishing drives, the Tigers wanted to establish a rhythm early - make a statement.
But it was the same type of start for Clemson with Kelly Bryant at the controls. Instead of taking the ball on its first possession right down the field, Clemson ran five plays and was off the field in almost an instant.
The next drive: a three-and-out. Just like that, the first quarter was over and Clemson only had 13 yards of total offense.
Then came the moment many Clemson fans had been waiting for since the season began: the emergence of Clemson's true freshman quarterback.
With 11:55 left in the second quarter, Lawrence trotted onto the field. A quarterback situation that only seemed to be escalating as the weeks have gone by had finally reached its climax.
We saw separation.
Lawrence orchestrated a 7-play, 74-yard touchdown drive in which Clemson drove down the field with ease after sputtering the first two series. Then came the throw.
A throw Swinney said he's only seen a few Clemson quarterbacks make.
On the play, Lawrence rolled to his left and fired a bullet on the run to Hunter Renfrow for the 17-yard score. Almost as impressive as the throw was the audible. As Swinney noted, Lawrence checked into a different play once he saw a different look, just as they worked on in practice.
The pass, the audible – it was elite.
"That was a laser in a very tight window, just where he needed to put it," Swinney said. "He's got an elite arm talent, there's no question about that. It's pretty easy to see."
The touchdown drive was the first of five total led by Lawrence in the game. The long-haired freshman finished throwing 13-of-18 for 178 yards, four touchdowns, and one interception.
Three of those drives came in the second quarter where Clemson took control of the game and Lawrence looked to have taken over a job.
Lawrence connected with another true freshman, Justyn Ross, who scored from 53 yards out. In only his sixth catch of the season, Ross has three touchdowns.
"I keep telling our guys, we need to throw it him a little bit more," Swinney said. "He seems to score every time he touches it."
© Brett Davis-USA TODAY Sports
Lawrence even had to face some adversity. After an interception, which led to Georgia Tech's first touchdown of the game, Swinney could have gone back to Bryant to weather the storm.
But he stuck with the hot hand after the mistake. It was a chance for Lawrence to answer and build confidence. He didn't shy away from calmly executing the two-minute drill to perfection giving Clemson a 28-7 lead at the half.
Clemson's offense racked up 480 yards to Georgia Tech's 203. Swinney noted that even though Georgia Tech leads the nation in rushing, this is the fourth year in a row Clemson has outrushed the Yellow Jackets.
Travis Etienne led the rushing attack with another 100-yard game, this time running for 122 yards and one touchdown on only 11 carries. That's just over 11 yards per carry if you're keeping score at home.
Tavien Feaster also had his best game of the season adding eight carries for 75 yards and a score.
It's a strange sentiment that Brent Venables' dominant defense was merely an afterthought at halftime due to the play of Lawrence. Heck, Clelin Ferrell scored the first points of the game and that's just a simple footnote.
After a rough first drive, the Clemson front dialed in and held Georgia Tech's offense to 24 total yards at the half when the game was pretty much out of reach. Eight fumbles, four first-half three-and-outs for the Georgia Tech offense left you wanting to turn your head.
The first half was the best half for Clemson's defense in Atlanta since, well, the last time they were here in 2016 when they only allowed 22 yards in a half.
The first half was the best half for Clemson's defense in Atlanta since, well, the last time they were here in 2016 when they only allowed 22 yards in a half.
It was just as dominant then as it was now.
There were so many positives for Clemson as it played the best game of the season, by far. One of those was how Kelly Bryant responded when he finally saw his third and final series of the game. He led a 10-play, 83-yard touchdown drive to put the Tigers in cruise control up 42-7.
Bryant finished with 56 passing yards on a 6-of-10 clip.
One could only wonder what this day would have been like if that last drive had occurred in the first two series.
But by then, it seemed like it was too late. Everyone had seen everything they needed to see from No. 16.
Immediately following Clemson's first conference victory, Swinney wasn't ready to announce any changing of the guard as far as quarterback was concerned. The coaches will grade the tape on Sunday, and will probably keep things close to the vest as they prepare for undefeated Syracuse.
But Swinney didn't have to say a word about the quarterbacks after the game. The last drive told us everything we needed to know.
Georgia Tech rattled off two touchdowns in the fourth quarter to make it 42-21 after Chase Brice took over on offense. Just like a week ago when the starting defensive line was put back in to finish strong, Swinney put the starters on offense back on the field for one more drive.
All the starters were back on the field except one – Kelly Bryant.
It was Lawrence who got the ball with the stands almost empty, the only left being fans wearing orange across an Atlanta skyline. He didn't start the game, but he sure as heck finished it.
A 30-yard rush from Etienne put the offense in Georgia Tech territory. Lawrence found Amari Rodgers for four yards, then Feaster rattled off an eight-yard rush.
Then, Lawrence put a stamp on his performance and his case for being Clemson's starter with a 30-yard bullet to Tee Higgins for the game's final touchdown.
Swinney didn't have to tell us a thing. As Austin Bryant said on Clemson social media's The Challenge video earlier this week, "There's so much clarity in that small moment."
"I have not played many freshmen at quarterback out of the gate that I didn't think earned it," Swinney added.
"He's taken advantage of his opportunities."
Never miss the latest news from Clemson Sports Talk!
Join our free email list