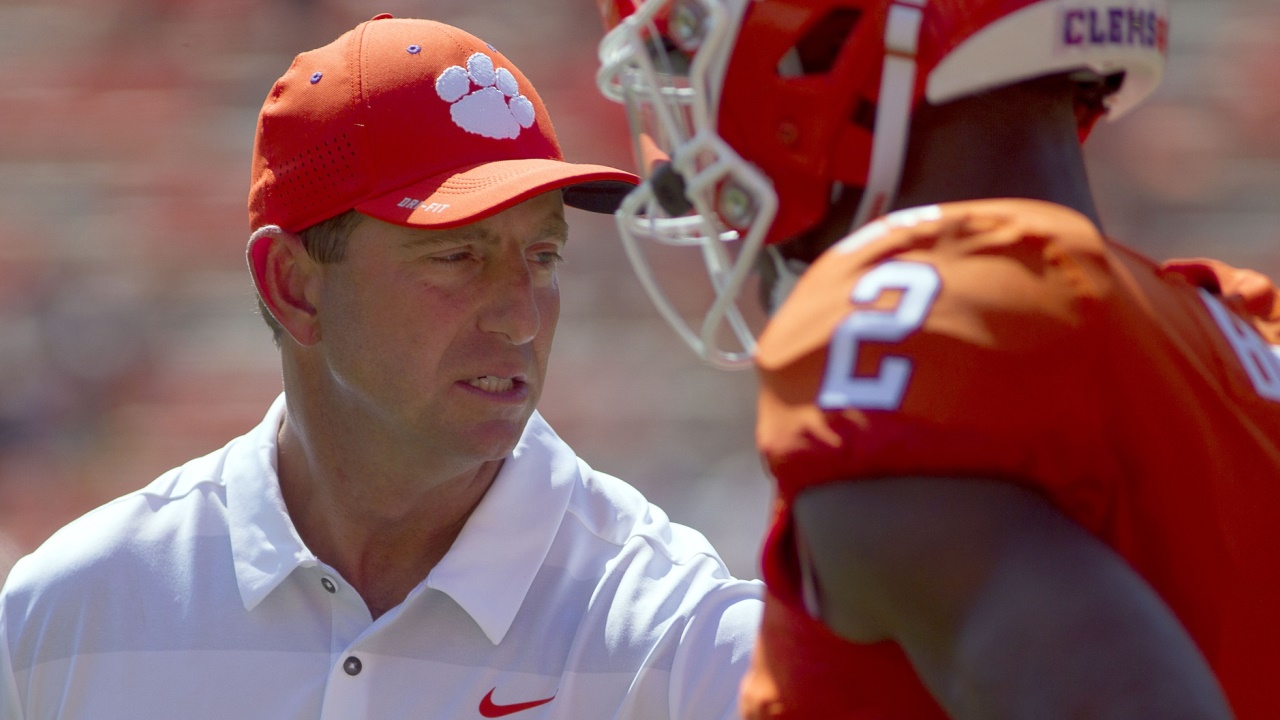 Photo by © Joshua S. Kelly-USA TODAY Sports
Clemson Football
Dabo Swinney on dual quarterbacks: "I think it's been really cool"
---
DABO SWINNEY: Good morning, everybody. As I said yesterday at our press conference, we're happy to be 2-0. Really excited about the opportunity to play at home again this week and just trying to improve. That's what it's all about, trying to get better. Huge, huge win for us under very difficult circumstances, and really proud of our team and how they performed. Certainly made a lot of mistakes, but again, early in the year, and still trying to develop our team and see those mistakes and still find a way to win. I think it really speaks to the character of our guys and their will to win.

Next challenge for us is Georgia Southern, and this is actually our first meeting with Georgia Southern in school history. Very prideful program, tons of tradition and history. They will absolutely not be intimidated to come here. They'll be excited about the challenge of coming to Clemson. They've been to Alabama, Florida, Georgia. This is nothing new for Georgia Southern, and they're off to a good start at 2-0 and should be a heck of a match on Saturday.

Q. Coming off that last week's game there, what sort of improvements are you looking for with your pass defense this week?
DABO SWINNEY: Well, first of all, we've got to be where we're supposed to be. We had just really some bad busts -- it's a combination of things. We either didn't read the signal right or didn't have our eyes on the wrong things, and just busted some base calls, so that's the biggest thing is just being disciplined, lining up properly, being where we're supposed to be. Guys can still make plays, but we can't just turn people loose and not be on the same page. So just communication and cleaning up some of the mistakes that we made and then finishing. We played two and a half really good quarters of football defensively, and just finishing, playing four quarters. And again, having our eyes on the right things and finishing some of the interception opportunities that we had, as well. We had an opportunity for probably two or three picks and didn't get them. So lots of room for improvement this week.

Q. I know everyone is kind of aware that you have two extraordinarily talented quarterbacks on the team, and I'm sure you're tired of getting questions about that from us and just generally dealing with all that entails, but I'm wondering if you're ever able to step back from the annoyance of people like me asking you about that and at least take in the fact that it's the kind of problem that many teams would be glad to have?
DABO SWINNEY: Yeah, I'm not annoyed by it at all, to be honest with you. I mean, I'm very -- it would be crazy to not ask me about it because it's kind of unusual to have two guys that are playing and really playing well. I think it's been really cool. We're only two games in, so we've got a long way to go over the course of the season, but we have a senior who is such a great leader for us, and he has played well two games and has done some things that he's needed to do, and then we have this freshman who's as talented a kid as I've ever had who's demonstrated that he can play at a high level, as well. He goes in on his first play on the road, College Station, no big deal, and throws a touchdown pass.

It's really neat. But I think the neater thing is how -- they're both competitors, but how they compete and how they support each other, it's just very refreshing, and how they don't -- they just focus on their opportunity and doing well. So I'm just really proud of what I've seen after two games, and I'm hopeful that they'll both continue to play at a high level.

Sometimes situations in games may dictate who plays more or whatever, but right now after two games, we're going to continue to play them. I don't see it as a problem at all. It is a huge blessing because I know that both of those guys can win at a high level for us.

Q. Just earlier the university announced that there are tentative discussions about Saturday's game and I guess whether they'll play it or not. First of all, have you been involved in some of those discussions with them? And do you think you guys will get to play on Saturday?
DABO SWINNEY: I do think that we're going to play on Saturday, but I have not been involved in those discussions. I just coach the football team. They tell me when to show up, that's what we're going to be there, and we're going to be ready to play. I don't get involved in all that stuff. I stay in my lane. The people that make those decisions are much more informed than me on why they would have to make those -- if they do have to move it and all that's going on. But regardless of when we play, my job is to have the team ready.

Q. If the game is postponed or canceled, do you have a plan in place for how you handle that, and how do you move on with practice and things of that nature?
DABO SWINNEY: Yeah, I mean, we would -- I mean, like I said, I don't think the game would be postponed. I think we're going to play the game. I haven't really put much thought into it beyond that. If the game time changes, then we have a plan in place for all game times. That's something that we do every week. So we'd just kind of switch our itinerary a little bit. But as far as postponing and all that, I don't think that's going to happen, but if for some reason it did, then we'd just move on to the next game. Kind of business as usual, and you just wouldn't have a game on Saturday. So I guess the guys would get a day off, and then we'd crank it back up on Sunday and get ready for the next opponent.

Q. How different is it trying to block out distractions? You guys talk about that all the time, trying to block out distractions. How difficult is it doing that when the distraction is playing on the road when you've got something like a hurricane going on?
DABO SWINNEY: Yeah, I think from our preparation standpoint, there's no distractions. I mean, we'll have the same practice today, the same practice tomorrow, the same practice on Friday. That's not going to change. The only big distraction is some of the guys on our team that are having to deal with stuff back home. Now, that's a major concern, and we're doing everything we can to help the five or six, seven guys we've got that are being impacted, to the point where people have to leave and all that type of stuff. We're trying to help minimize any distraction there as far as our players and worry and things like that, but even still, even if people get out, you still have to deal with what this possible impact could be.

As far as a football standpoint, it really doesn't -- where we are, it's really not changing anything. If we didn't have our indoor facility or something, that would be different, but we're able to get our practice in and be prepared.

Q. What do you watch to get ready for a team you've never played?
DABO SWINNEY: Well, you just watch who they've played. That's what we've done with every opponent. This is a little bit easier to prepare than last week, that's for sure. Last week was a real challenge just because we only really had one half of a game from this year, and so we spent all of our -- and it's a new staff, they come from different places, so you're having to watch all these schemes from different schools to try to figure out -- they don't really have much identity on tape from last year. We haven't played Georgia Southern, but they've played South Carolina State, they've played UMass, so two full games, and were competitive for quite a while in the games. We've got some good film to study them from this year, and then you go back and you look at last year's tape and how they finished. Again, to just try to have a good feel for their personnel, et cetera. But that's it. And the deeper you get into the season, you more you can kind of have a feel for who that opponent is. It doesn't mean you can stop them, but you can at least have a little bit more of an idea of kind of what their philosophy is, what their identity is going to be.
Never miss the latest news from Clemson Sports Talk!
Join our free email list