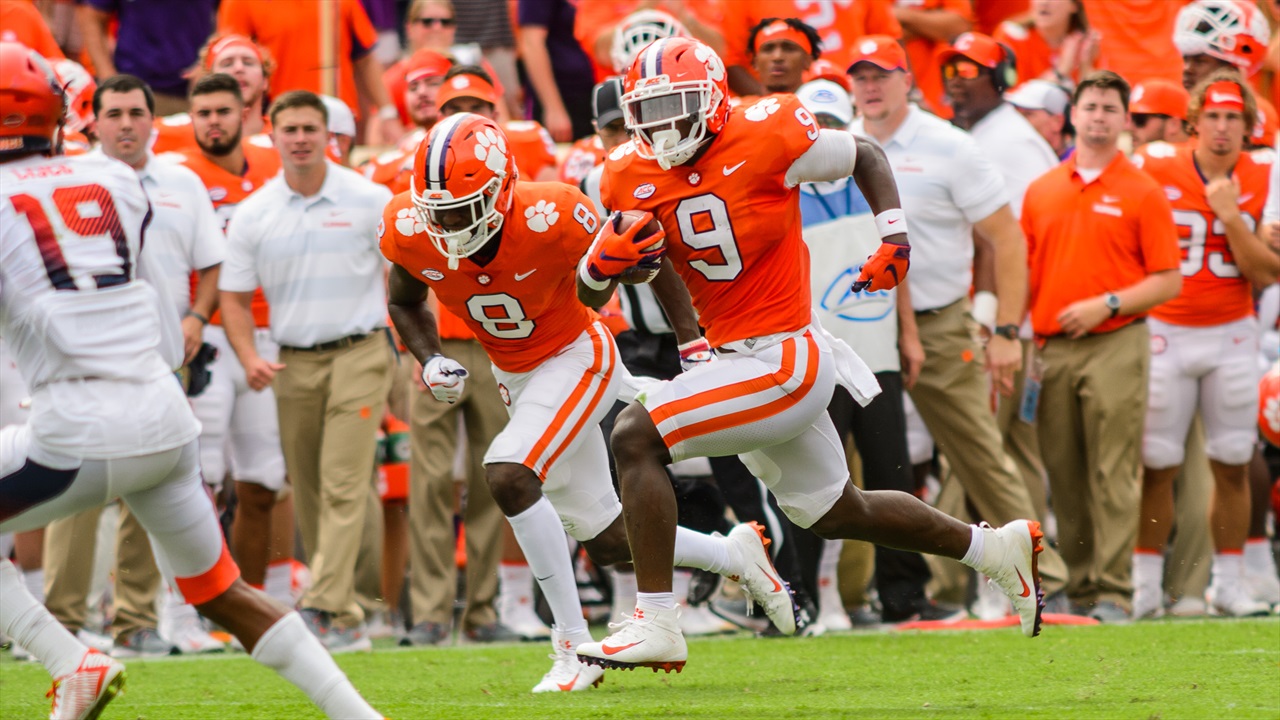 Clemson Football
No. 2 Clemson survives Syracuse, Swinney says Lawrence "doing great" following injury
---
Following a wild week at Clemson, Saturday's matchup with Syracuse delivered the nightmare scenario that fans feared following Kelly Bryant's decision to transfer from Clemson earlier in the week. During the second quarter of Clemson's 27-23 win over Syracuse, true freshman quarterback Trevor Lawrence was injuried, but Swinney provided an update in his postgame press conference.
Nonetheless, Chase Brice managed to lead Clemson to the win.
As for the game, Syracuse's opening possession advanced into Clemson territory after the Tigers called a timeout on 3rd and 3 after initially stopping the Orange. What would have been a punt, resulted in a 19-yard gain from Sean Riley. That play switched the field allowing Syracuse to keep the football.
Fortunately, Clemson's defense eventually held and forced an Andre Szmyt 35-yard field goal, but Syracuse was on the board up 3-0 with 9:49 left in the first quarter.
Before his injury, Lawrence hit Tee Higgins for a 19-yard completion to open his day, but a fumble on the exchange on the next play gave the ball right back to the Orange in Clemson territory. After a second field goal, this one from 51-yards out, Syracuse led 6-0 with 8:26 left in the 1st quarter.
Clemson's only points of the half came during a 60-yard drive, ending with a one-yard touchdown run from Travis Etienne to put the Tigers up 7-6. Etienne had a huge game rushing for 203 yards on 27 carries with three touchdowns.
The Tigers also put together a nice drive in the second quarter but stalled at the Syracuse 30-yard line. A missed 47-yard field goal kept Clemson from extending the lead.
After that missed attempt, the Orange responded with a 51-yard completion on third down as quarterback Eric Dungey found Taj Harris for a huge pickup. Dungey would eventually gallop into the end zone from a yard out, putting Syracuse in front 13-7 with 7:31 before the half.
Clemson's next drive saw Lawrence's injury occur and after that, it was up to redshirt freshman Chase Brice to deliver. At that moment, it became clear that Bryant's decision to leave his teammates behind could undue the Tigers perfect season, but Brice emerged late in the contest.
"Everything in your life is how you respond. I'll never forget this one. Some might say it's the fifth game of the year, but it's more than that. I saw a team that didn't quit," Clemson coach Dabo Swinney said.
Syracuse moved the ball down the field and knocked through a 32-yard field goal to extend their lead to 16-7 just before halftime.
Brice replaced Lawrence in the second half and the struggles for the Clemson offense continued as Brice threw an early interception. Needing a Clemson stop, the Tigers defense delivered and did not allow any points from the mistake.
Brice bounced back, helping lead two scoring drives in the 3rd quarter, both resulting in Huegel field goals trimming the Orange lead to 16-13. The second of the two drives was aided by a momentum-shifting interception by A.J. Terrell deep in Syracuse territory.
Just before the final period, Clemson forced another Orange punt, but Amari Rodgers muffed the football inside the 5-yard line setting up another Syracuse touchdown. The Orange found paydirt with a one-yard Eric Dungey run on 4th and goal to extend their lead to 23-13 with 12:58 left in the game.
Clemson would not go away quietly, leaning on Etienne and it paid off for a 23-yard touchdown run to cut Syracuse's lead to 23-20 with 11:08 to go in the contest.
The Orange converted a 4th and short on a jump pass on the next drive, but the play was negated by an ineligible man downfield penalty.
Clemson had one more chance to take the lead with under 8 minutes left and minus Lawrence it was a team effort that closed out the win.
With 2:45 left facing 4th and 6, Clemson converted after Brice hit Tee Higgins for a 16 yard gain setting up the exciting finish. On the backs of Etienne and Tavien Feaster, Clemson powered into the end zone taking a 27-23 lead on Etienne's two-yard run.
With forty-one seconds left, Clemson freshman defensive end Xavier Thomas took it upon himself to clean up any remaining fears of an upset, planting Dungey to the turf near the end zone. The Orange faced a 2nd and 30 and a 4th and 17 on their final drive before the final seconds ticked off the clock.
Clemson will head to Winston-Salem to face Wake Forest next weekend.
Never miss the latest news from Clemson Sports Talk!
Join our free email list