Dexter Lawrence
Christian Wilkins
Clemson Football
Clemson's 'Fridge' Package Delivers...Again
---
Dexter Lawrence didn't even notice the defensive tackle Louisville head coach Bobby Petrino sent in when Clemson had the ball on the goal line.
His name was Dejmi Dumervil-Jean, a freshman from Lauderdale Lakes, Florida. He trotted onto the field with his 6-foot-5, 378-pound frame that was hard to miss.
His mission was simple: stop the "Fridge" package. Turned out it was Mission: Impossible.
"Oh my lord," a wide-eyed Lawrence said when he heard the weight of the opposing player. "Wow, I bet he's 400."
"Oh my lord," a wide-eyed Lawrence said when he heard the weight of the opposing player. "Wow, I bet he's 400."
With Clemson up 35-3 in the third quarter of Saturday's 77-16 win, the Tigers found themselves yet again on the goal line. So, as head coach Dabo Swinney did a week ago at Florida State, he sent in the jumbo "Fridge" package, consists of defensive tackles Christian Wilkins and Dexter Lawrence lining up in the backfield.
In Tallahassee, it was Wilkins who got the ball and lept through the air following the blocks of Lawrence and the offensive line in front of him. This week, there was a new twist.
Picture this: Wilkins strutting around practice bragging to his fellow defensive linemen that he was given the opportunity to get the ball on offense. Not only did he get his opportunity, but he also executed just as he's done before.
But Wilkins was - and really never is - satisfied. He wanted more opportunities to touch the rock, but Lawrence had seen enough. Lawrence had to have the chance to show the world what he could do with the ball in his hands on the goal line.
"This time coach Swinney told me it was my time to shine," Lawrence said Saturday. "I also told him that Christian can't score again until I get the ball."
Swinney saw Lawrence's point. So instead of Wilkins getting the ball in the backfield, Lawrence got the ball as a fullback and barrelled forward into the end zone. No, the 378-pound lineman did not slow the wreckage as bodies bounced off Lawrence. It was like he was a bounce house at a 6-year-old's birthday party.
There's nothing better than when the big guys get to score on a college football Saturday. But for it to happen two weeks in a row with different players is the definition of fun. Lawrence said his running ability has been with him all along.
"We practiced it a couple of times. I tried to take advantage of my opportunity," Lawrence said. "I'm a natural running back, I tell myself. I stopped playing in high school, ever since then I was a running back. I know what to do with a ball a little bit."
The last time Lawrence scored a touchdown was in middle school. He remembers that moment vividly as his team lined up in the wishbone and he then crossed over the goal line. Ever since then, he had been clamoring for a chance to touch pay dirt again.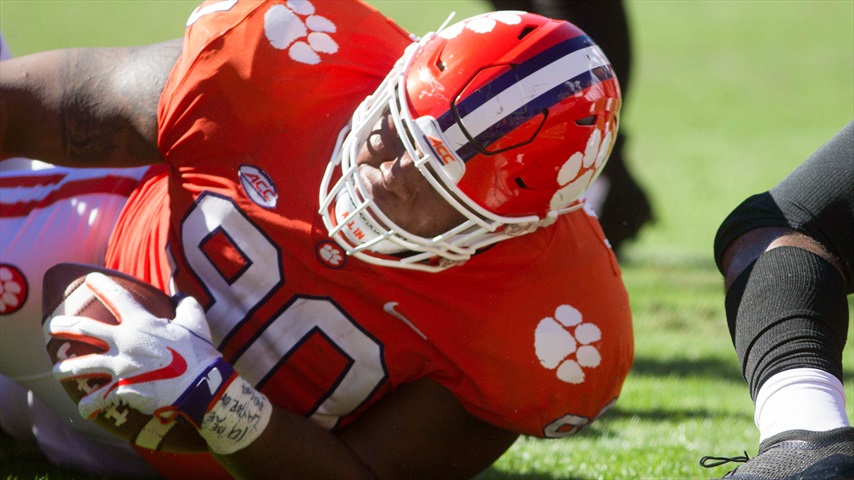 © Joshua S. Kelly-USA TODAY Sports
As Lawrence said, he considers himself a natural running back. Not only that, but also influential. He said he used to challenge his good friend Bryce Love, who has dominated plenty of previous Heisman Trophy talk as a Stanford running back, every time he got the chance.
Lawrence's little brother, Devon, is also a running back who now plays at North Carolina. Apparently, this kind of running style runs in the family.
"He got it from me too. It all comes down to me," Lawrence added.
What was just as fun to watch was the immediate celebration that ensued. Of course, Wilkins was the first one who got to Lawrence and attempted to lift him in the air as he normally does after his teammates score. But Wilkins had a heavier load to carry this time.
So the question has to be asked: whose touchdown run was better?
They did both have their own contrasting styles. Wilkins dove through the air for style points. Lawrence just lowered his head and powered through.
Lawrence said his run was a bit tougher because of the traffic he had to bulldoze his way through. He claims Wilkins' run was a walk-in due to the giant hole created after Lawrence's blocking ability.
Defensive coordinator Brent Venables chimed in on the debate but admitted he didn't see Lawrence's touchdown.
"I didn't see it so I really I can't comment, but I'm still going with No. 42. He's got a little juice in them hips. Dexter's good, don't get me wrong. It's 1A and 1B in that order," Venables said with a laugh.
As for the head coach, Swinney wouldn't say which run he thought was better - or at least not until after he watches the tape.
"Christian: more fluid. More Athletic. Dexter: just more brute strength," Swinney said. "Did he run over a guy? Was there a guy in the hole?"
"Christian: more fluid. More Athletic. Dexter: just more brute strength," Swinney said. "Did he run over a guy? Was there a guy in the hole?"
Yes, there was. But Lawrence paid no mind to Jean or other significantly smaller defenders around him. His mind was on being where he was supposed to be - the end zone.
But seriously, how difficult would that be to stop, especially when all that's needed are two yards. The "Fridge" package hasn't come close to being stopped in a game so why stop using it? Has it even been stopped in practice?
"Come on, man…" Lawrence said in disgust.
The goal line theatrics are the latest example of how much fun this team, and especially this defensive line is having so far this season. Clemson has been on cruise control pretty much since the end of the Syracuse game. The defense has been dominant, which leaves room for shenanigans later on when the opportunities present itself as the game is almost out of reach.
That's not to say we wouldn't see this package if Clemson only needed one yard with the game on the line.
No matter what happens to this team moving forward, this defensive line is smashing its goals while being destructive and leaving their mark on what will be their final season together.
"Our goal for this year was to try and enjoy every moment that we get with each other," Lawrence added. "A lot of seniors on the team and a lot of guys that aren't going to be here next year. We just try to enjoy every moment that we have with each other. Not waste anything. Laughing, having fun, dancing, just everything that comes with football."
Yes - even scoring touchdowns.
One final question that has to be asked: which defensive linemen will find themselves in the end zone next?
Never miss the latest news from Clemson Sports Talk!
Join our free email list