Photo by © Jeff Blake-USA TODAY Sports
Clemson Football
Consistency and focus on the bigger picture has changed momentum in Palmetto Bowl
---
During our time on campus on Tuesday meeting with players, a media member asked Clemson linebacker Kendall Joseph an interesting question:
"What would mean more to you being a South Carolina guy: Beating South Carolina five times or going 12-0 twice?"
Before we get to Joseph's answer, it's important that we focus on this particular question. This weekend, Clemson is going for the third 12-0 start in school history and the first five-game win streak over South Carolina since 1940.
It wasn't that long ago that Clemson was on the cusp of greatness as a program, but couldn't get over the hump against its in-state rival.
My, how quickly things have changed.
When Dabo Swinney took over as interim head coach in 2008, he won over the hearts of Clemson fans everywhere as his team beat South Carolina 31-14. It was the Tigers' sixth win in the last seven meetings against the Gamecocks, but that would be the last time Swinney would enjoy the sweet taste of victory two days after Thanksgiving for a while.
South Carolina went on a five-year run over Clemson that almost shook the program in the Upstate to the core. In part because head coach Steve Spurrier and Swinney always had their entertaining back-and-forth that we still crave more of to this day.
Another part was that the two programs seemed to both be on the rise. In the 2013 matchup, both teams were inside the top 10 as Clemson traveled to Columbia. In the end, Spurrier and his Gamecocks always seemed to get the upper hand in the heated rivalry while Swinney couldn't catch any sort of break.
Even Spurrier had to admit when his team was fortunate enough to win after Clemson turned the ball over six times in 2013.
"He called me after one of them he was like, 'Yeah, I don't know why y'all just turn that ball over every time y'all place us!" Swinney said. "And I'm like, 'Heck, I don't know either.'"
"He called me after one of them he was like, 'Yeah, I don't know why y'all just turn that ball over every time y'all place us!" Swinney said. "And I'm like, 'Heck, I don't know either.'"
But that's just about how it went for Clemson. That offseason was tough on Swinney and his staff. Co-offensive coordinator Jeff Scott told us earlier this week that there was a sense of urgency in the program after seeing Swinney get hit with what's referred to as a "five-bomb" in photos.
We'd argue that if you asked Kendall Joseph in 2014 if he'd rather beat South Carolina or lose and still go 8-4 that season, his answer then would have been a whole lot different than it was on Tuesday under different circumstances.
Now to Joseph's answer to the presented question earlier. "I'd say 12-0," he said with a smile.
"It's just another game, in my opinion. Don't get me wrong, it's definitely a pride thing with South Carolina and I definitely want to go 5-0, but 12-0 is special. That's just kind of how we are looking at it as the next game on the schedule and we'll be ready."
The question that you have to have when you look back on that five-year reign the Gamecocks had on the state compared to the run Clemson is on now is, "what happened?"
As we mentioned earlier, Clemson had trouble holding onto the ball when it played South Carolina. During the losing streak, South Carolina won the turnover margin 15-3 and outscored Clemson 62-0 in points off of turnovers.
"Man, we had some tough breaks. When the teams are pretty even, like they were, you can't overcome some of those mistakes," Swinney said.
When the lights got bright during those games, South Carolina would play its cleanest game while Clemson would fold when the pressures of adding another loss to the streak became more real.
When Clemson was going through its losing streak, Swinney would get approached by Clemson fans in the Upstate who would have one request: "we don't care if you go 1-11 as long as you beat South Carolina."
He didn't buy that. As Swinney would put it, that's bullcrap.
"You'll be firing me right out of the gate," Swinney would say in reply.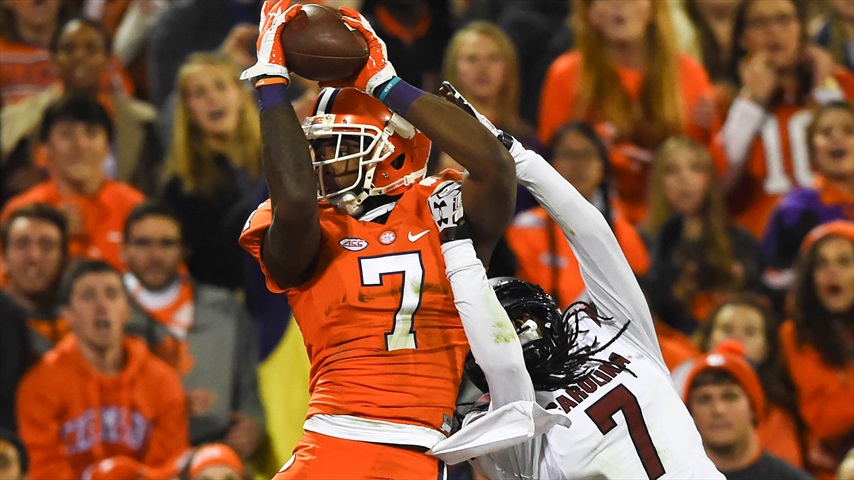 Clemson Sports Talk
One of the biggest keys in turning the momentum of this rivalry in Clemson's favor has been the mindset Swinney has instilled into his staff, players, and program. Sure, one of the team goals posted is "win the state" and the week of the Palmetto Bowl is a season in its own.
But it's not the season.
Even in the losses, although it made some fans miserable, there was more the entirety of an 11-2 season and the success of Clemson than just the result of that one game.
"Yeah, it stinks that you lost the game, but let's see a bigger picture and just keep working and don't panic," Swinney added. "That's easier said than done in the world that we live in."
And Clemson's staff didn't panic one bit while the other side may have gotten complacent and rested on its laurels of three straight 11-win seasons. The mindset for the Tigers was to focus on the bigger task at hand and if they did, eventually some breaks would fall their away.
Fast Forward five years later and it feels like an eternity since that Palmetto Bowl in 2013 where both teams were ranked in the top 10. Spurrier called it quits in the midst of a 3-8 season for the Gamecocks in 2015 while the Tigers were on their way to a 12-0 record.
The Gamecocks fell asleep at the wheel in recruiting for a couple of years and Clemson took advantage by consistently signing top prospects, a couple of which being the best players in school history.
Since 2013, South Carolina is 31-30 while Clemson is 61-7.
Since 2013, South Carolina is 31-30 while Clemson is 61-7.
The gap seems to have gotten insurmountably wide and quite the hole for current head coach Will Muschamp to have inherited. For him to go 9-4 in 2017 was truly remarkable when you look at what he had to work with.
It's interesting to look at this week in the next chapter of this rivalry as compared to previous weeks. Even during Clemson's five-game losing streak, the fan base always collectively believed that their team was good enough to come out on top that next game.
But the collective feeling we've gotten from South Carolina's fan base this year is that they gave up hope once the 7 p.m. kickoff time was announced, which has to be a first.
This week's Palmetto Bowl could make South Carolina's season with an upset win that would shake up college football. But on Clemson's side of things, the feeling is that the Gamecocks are just another team in its path en route to bigger things.
In return, that mindset Swinney has instilled has given Clemson all the momentum in this heated rivalry. And there's no clear sign that will change soon.
"You can't allow this game to define your program, even though the fans want to do that," said Swinney.
"I think as a coach, you have to look at the totality of your season. You're going to live with it, but are you making improvement? Those types of things, for me, that's what I tried to stay focused on."
Never miss the latest news from Clemson Sports Talk!
Join our free email list