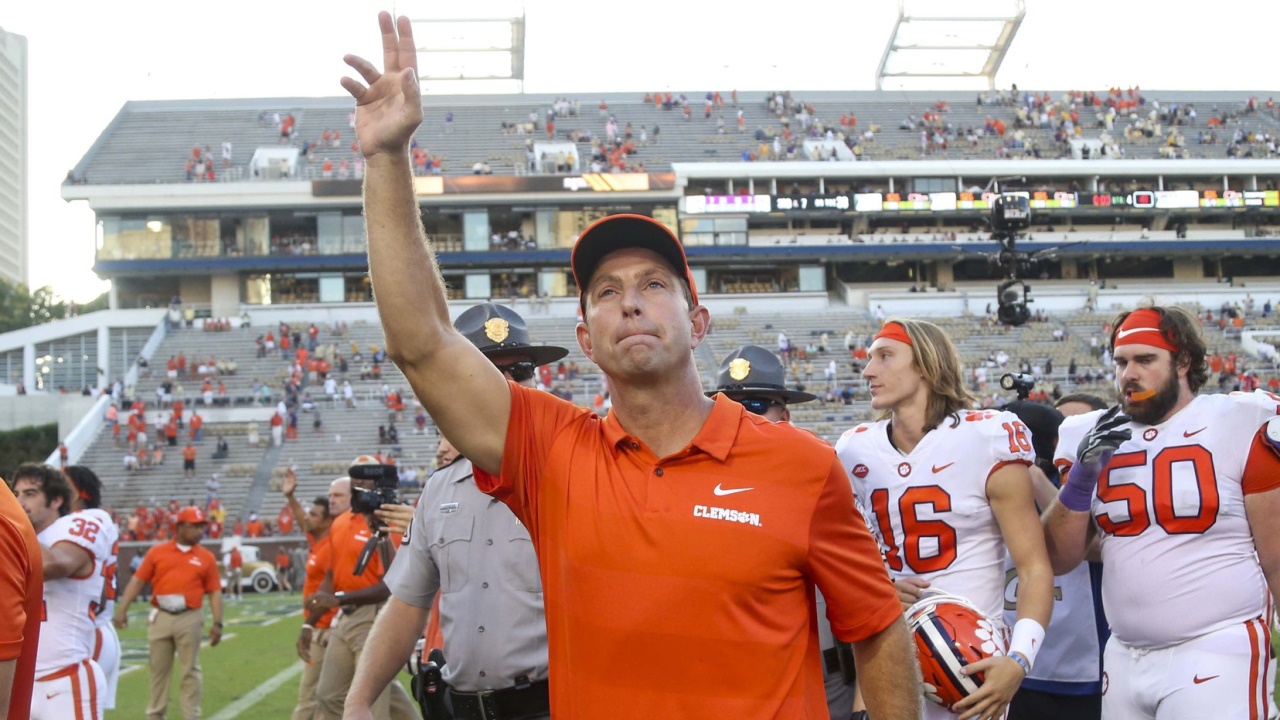 Photo by © Brett Davis-USA TODAY Sports
Clemson Football
Dabo Swinney Earns Woody Hayes Award
---
CLEMSON, S.C. — The Touchdown Club of Columbus announced today that Clemson Head Coach Dabo Swinney has earned the Woody Hayes Award, presented annually to college football's coach of the year.
Clemson has posted a 13-0 record this season, one win shy of the team record for wins set in 2015 and 2016. Yesterday, Swinney's Tigers won their fourth consecutive ACC championship, earning a 42-10 win against Pittsburgh in the ACC Championship Game in Charlotte. Clemson became the first school in conference history to win four consecutive outright titles and became the first Power Five program to win four straight conference championship games since Florida in 1993-96.
Swinney becomes the second Clemson head coach to earn the honor since the award's inception in 1977. Danny Ford was Clemson's first Woody Hayes Award winner, collecting the honor following Clemson's 12-0 national championship season in 1981.
The 2018 Woody Hayes Award will be presented during the 64th Touchdown Club of Columbus Awards on Saturday, Feb. 9 in Columbus, Ohio. A full list of all-time winners of the Woody Hayes Award is included below:
2018: DABO SWINNEY, Clemson
2017: SCOTT FROST, UCF
2016: JAMES FRANKLIN, Penn State
2015: KIRK FERENTZ, Iowa
2014: GARY PATTERSON, TCU
2013: GUS MALZAHN, Auburn
2012: URBAN MEYER, Ohio State
2011: BILL SNYDER, Kansas State
2010: JIM HARBAUGH, Stanford
2009: GARY PATTERSON, TCU
2008: MIKE LEACH, Texas Tech
2007: MARK MANGINO, Kansas
2006: JIM TRESSEL, Ohio State
2005: JOE PATERNO, Penn State
2004: URBAN MEYER, Utah
2003: BOB STOOPS, Oklahoma
2002: JIM TRESSEL, Ohio State
2001: RALPH FRIEDGEN, Maryland
2000: BOB STOOPS, Oklahoma
1999: FRANK BEAMER, Virginia Tech
1998: PHIL FULMER, Tennessee
1997: LLOYD CARR, Michigan
1996: BRUCE SNYDER, Arizona State
1995: GARY BARNETT, Northwestern
1994: TOM OSBORNE, Nebraska
1993: DON NEHLAN, West Virginia
1992: DENNIS ERICKSON, Miami
1991: DON JAMES, Washington
1989: BOBB ROSS, Georgia Tech
1988: LOU HOTLZ, Notre Dame
1987: DICK MacPHERSON, Syracuse
1986: JOE PATERNO, Penn State
1985: BO SCHEMBECHLER, Michigan
1984: DON JAMES, Washington
1983: TOM OSBORNE, Nebraska
1982: JOE PATERNO, Penn State
1981: DANNY FORD, Clemson
1980: VINCE DOOLEY, Georgia
1979: EARLE BRUCE, Ohio State
1978: JOE PATERNO, Penn State
1977: LOU HOLTZ, Arkansas
Never miss the latest news from Clemson Sports Talk!
Join our free email list