Photo by © Brett Davis-USA TODAY Sports
Clemson Football Recruiting
No-official spring visits, no problem: Swinney compares recruiting to marriage
---
---
A tad of an understatement: the 2019 recruiting class for Dabo Swinney is of extreme importance.
This year's senior class has the opportunity to leave Clemson as not only the winningest class in school history but also the winningest class of all time in college football. As Brent Venables put it Wednesday morning, when dudes leave, you have to bring in dudes to fill those gaps.
That's just what Clemson did yesterday, signing 26 players sign to their Letter of Intent, the first day of the Early Signing Day period. It is a class that possesses nine four-star caliber players and three five-star players in CB Andrew Booth Jr.‍, WR Frank Ladson‍, and WR Joseph Ngata‍.
And the class is not quite done yet with still some drama left to unfold throughout the week, including the opportunity to land 4-star offensive lineman, Will Putnam‍, later today.
When the dust settles, Clemson will have signed its ninth top-15 recruiting class in a row, something that head coach Dabo Swinney takes much pride in. This will be the biggest class Swinney has signed since 2011 and time will tell just how well he did.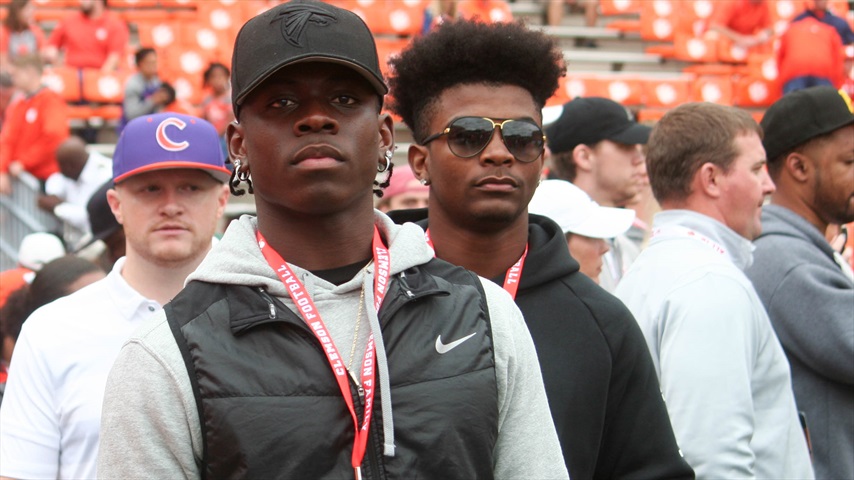 Clemson Sports Talk
Under Swinney, Clemson handles recruiting in a way that is almost entirely unique to the rest of college football. Swinney was quick to point out that even though Clemson has never had a top-ranked recruiting class, the program has been consistently one of the best over the course of the decade.
One of the practices that makes Clemson different from most other schools is the decision not to host any official visits during the spring.
Swinney said Wednesday morning that he and his staff had a "spirited discussion" when they were making their decision. Simply put, this policy comes with a bit of a risk.
We asked Swinney to expand a little more on this particular decision Wednesday afternoon.
"It's easy to get on a plane and fly (when Clemson is paying for it). You may not have any interest in Clemson whatsoever, but if Clemson calls and they want to pay for you to come and feed you and put you in a hotel well who wouldn't want to go do that?" Swinney explained. "Sign me up! Let's go, man, and get a weekend."
Swinney made it perfectly clear Wednesday what many people already knew - the program is very particular with who it hands out offers to. The head coach also admitted that ten years ago, this new policy may not have been in place.
But now that Clemson's brand has expanded like never before after four consecutive trips to the College Football Playoff, the Tigers can afford to be a bit picky with what players they offer.
As this is written, Clemson has offered 160 scholarships total for the 2019 signing class. In comparison, Notre Dame has offered 199, Oklahoma has offered 173, and Alabama has offered 285.
"Clemson is becoming an elite offer," co-offensive coordinator Jeff Scott said. "We don't want to throw out a bunch of offers. We want to make sure our offer means something."
"Clemson is becoming an elite offer," co-offensive coordinator Jeff Scott said. "We don't want to throw out a bunch of offers. We want to make sure our offer means something."
Recruiting is a never-ending process. Different schools have different opinions on how they want to manage their boards. Swinney's philosophy is that he doesn't want a player to commit too soon.
Swinney made the comparison of recruiting to marriage Wednesday. And rarely does he ever "propose" to a recruit on the first date.
"Here comes this beautiful lady walking across, 'Hey, will you marry me?' Well, she says yes. Well, she might look good, but you might hate each other," Swinney said. "Who does that? But that's what happens in this recruiting process. You just throw a million offers out there, and I don't like that.
"I want to know who we are going to be a part of. We don't sign JUCO players. We don't sign grad transfers to come in here and be one-offs. We better be right with who is coming in the door and then in our program, it's 'til graduation do you part."
Clemson has prided itself on recruiting people first over the player they may evaluate on the field. And as the program builds that relationship these days, Swinney wants to see some good intentions in return.
Some may call Swinney's decision not to hold official visits during the spring arrogant, but there is some validity to the strategy.
What Swinney wants is a player to show initiative and know the value of actually seeing the school on his own terms. An example of this was when Bryton Constantin, a linebacker signee, drove back-and-forth from Baton Rouge, La. to Clemson multiple times to visit the school unofficially.
Another example was Joseph Ngata flying from California on his own with his family to Clemson for an unofficial visit. That's the certain type of initiative Swinney is looking for when the sides want to talk about a commitment.
"I don't need any practice recruiting, and I don't like wasting time," Swinney added. "I want to be transparent and I want I want prospects to be transparent. If they're really interested in Clemson, then they're going to come here unofficially on their own and so my message to staff was if they won't come unofficially, they're not going to come for four years."
But what if there was a player who Swinney wanted to visit in the spring who couldn't afford the means to travel on his own?
This is a fair question given how wide Clemson's brand has gotten in the past couple of years. This year's signing class is represented by 14 different states, which is the most states Clemson has signed since 1989 and four more states than Swinney has ever signed in one class as a head coach.
If that were the case, Swinney would have to make an exception to his rule or miss out on that particular player, which is a luxury this program can afford at the moment. We assume those types of situations would be handled with care by the recruiting staff on a case-by-case basis.
A situation could arise like Travis Etienne's where Clemson ended up having an open spot in its 2017 class but didn't know his name until January of that year. In 2015, Swinney had never heard of Isaiah Simmons until a week before signing day. Sometimes, situations can occur on both sides of this crazy recruiting gauntlet.
Clemson Sports Talk
When Swinney gets a player's commitment, he shows the player he is committed to him and his family as well. No one wants to get left at the altar on their wedding day.
And with Clemson's ever-expanding brand reaching coast-to-coast, the no-official spring visit policy is something Swinney is going to continue to think about, although he seems set in his ways. Ultimately, there could be a time where the Tigers could miss out on a beautiful bride - the one that got away.
If you're Swinney with the program he has right now, that's the risk you're willing to take.
"I think when a guy comes unofficially, then he to me is sending you a message that you know what, 'hey, I'm interested in Clemson,'" Swinney added. "Now, he may hate it when it gets here. But at least he came on his own. That's just my personal philosophy. And so and I told the staff that I guarantee will have 20 commits by August 1 and we had more than that by that time.
"It's not that it's just to me, it's how I protect our program. It's our protect our culture. I'm not trying to be like everybody else. I want to be Clemson and Clemson's not for everybody. I understand that and I get that, but I want it to be a two-way street and I want them to want to be here."
Never miss the latest news from Clemson Sports Talk!
Join our free email list