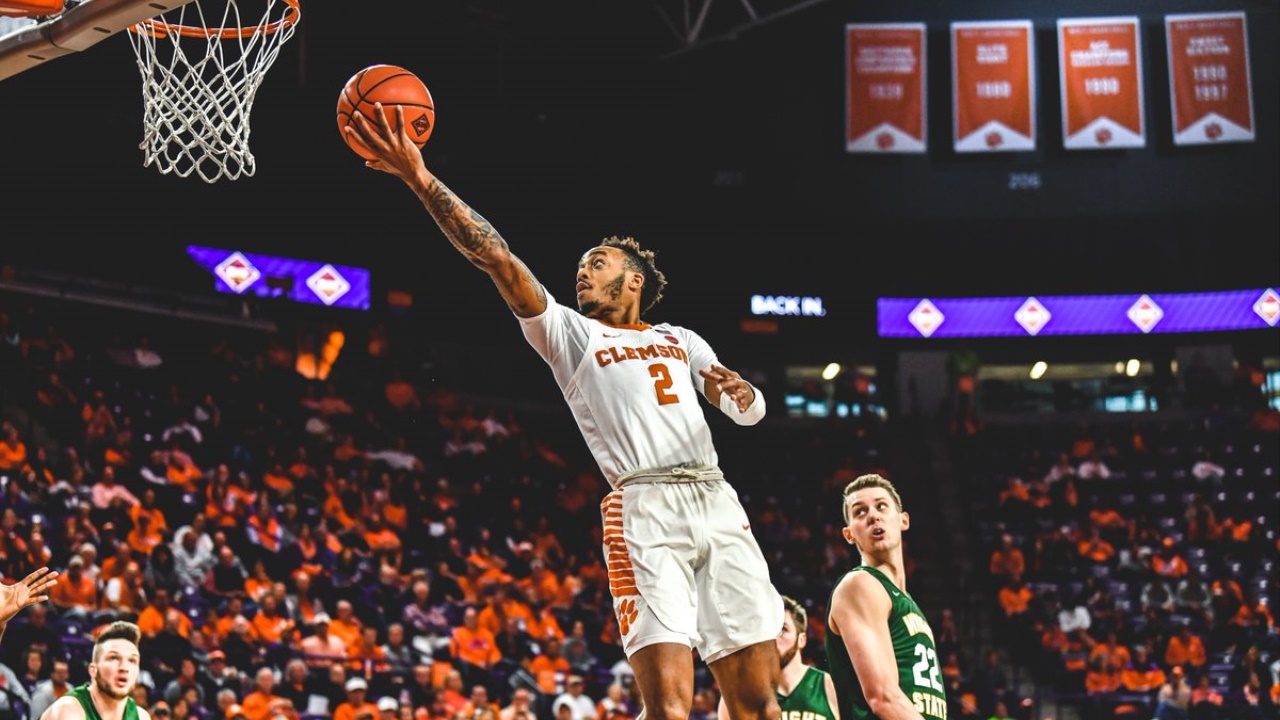 Photo by Twitter: @ClemsonMBB
Clemson Basketball
Clemson survives first-round NIT matchup against Wright State, 75-69
---
CLEMSON -- Tuesday's night first-round NIT matchup for Clemson against Wright State provided the Tigers a chance to finish the 2018-19 season strong.
It was a chance to hit the reset button, after this team has dealt with disappointing losses in the closing seconds, including last week's ACC Tournament loss to NC State.
Clemson students are on spring break this week which meant the Tigers were going to have to create their own energy in a sparsely attended contest. Ultimately, they found a way to create enough energy to survive and advance, defeating Wright State 75-69 on Tuesday night at Littlejohn Coliseum.
They also had to win without Shelton Mitchell, and head coach Brad Brownell updated his status after the game.
Marcquise Reed connected on first three shots to help put the Tigers up 8-2 at the first media timeout. David Skara and Clyde Trapp also chipped in during a 12-0 run, prompting a Wright State timeout with 13:57 left with the Tigers up 16-2.
From that point forward, Clemson was a bit sloppy giving the Raiders a chance to get back in the game. After a John Newman pass, was stolen by Wright State's Skyelar Potter leading to an easy three-point play, Clemson's lead was cut to 27-24 with 7:44 left in the first half.
The two would battle back and forth before heading to the break tied 33-33.
Clemson's struggles continued in the second half as the Raiders took a quick 47-41 lead, their biggest of the game. The Tigers were finally able to find their rhythm again after three-pointers from David Skara and Reed put Clemson back in front at 51-50 with 11:50 left in the game.
Neither team could create separation throughout the second half and you got the feeling that this game could come down to just a few plays.
Wright State's Cole Gentry hit a three-pointer with just over four minutes left in the contest to give the Raiders a 62-60 lead, putting Clemson's season on the brink. Minus Shelton Mitchell, who recently injured his knee and appears to be done for the year, his backcourt mate Reed hit three free throws, marking the 10th lead change of the game at 63-62 Tigers.
Later in the contest, two Eli Thomas free throws expanded Clemson's lead to 72-69 with under a minute to play. Wright State had an opportunity to cut into the lead on a few more trips, but left empty-handed while the Tigers closed out the win from the charity stripe.
The same in-game scenarios that plagued Clemson in the regular season carried over into the postseason, but for now, the Tigers found a way to survive.
Clemson will face either Wichita State and Furman in the second round of the NIT.
---
Notes: Clemson improves to 20-13 overall … head coach Brad Brownell won his 169th game at Clemson – leaving him just eight short of tying Cliff Ellis for the most in Clemson history … Clemson improves to 14-4 in Littlejohn Coliseum this season … Marcquise Reed notched the 28th 20-point game of his career – tying him for eighth all-time with Horace Grant (1983-87) and Terrell McIntyre (1995-99) … it was also Reed's 70th double-digit scoring game-tying him for 16th all-time with Butch Zatezalo (1967-70) and Larry Nance (1977-81) … Reed now owns 1,466 career points at Clemson and stands 12th all-time in Clemson history … for his career, Reed owns 1,995 points – just five shy of the 2,000-point club … Reed now has 584 points this season – tying Jaron Blossomgame for the eighth-most in a single-season in Clemson history … Elijah Thomas eclipsed the 1,000-point club for his career with 17 points tonight … Thomas collected three blocks and now has 179 in his career at Clemson, which stands eighth all-time.
Never miss the latest news from Clemson Sports Talk!
Join our free email list