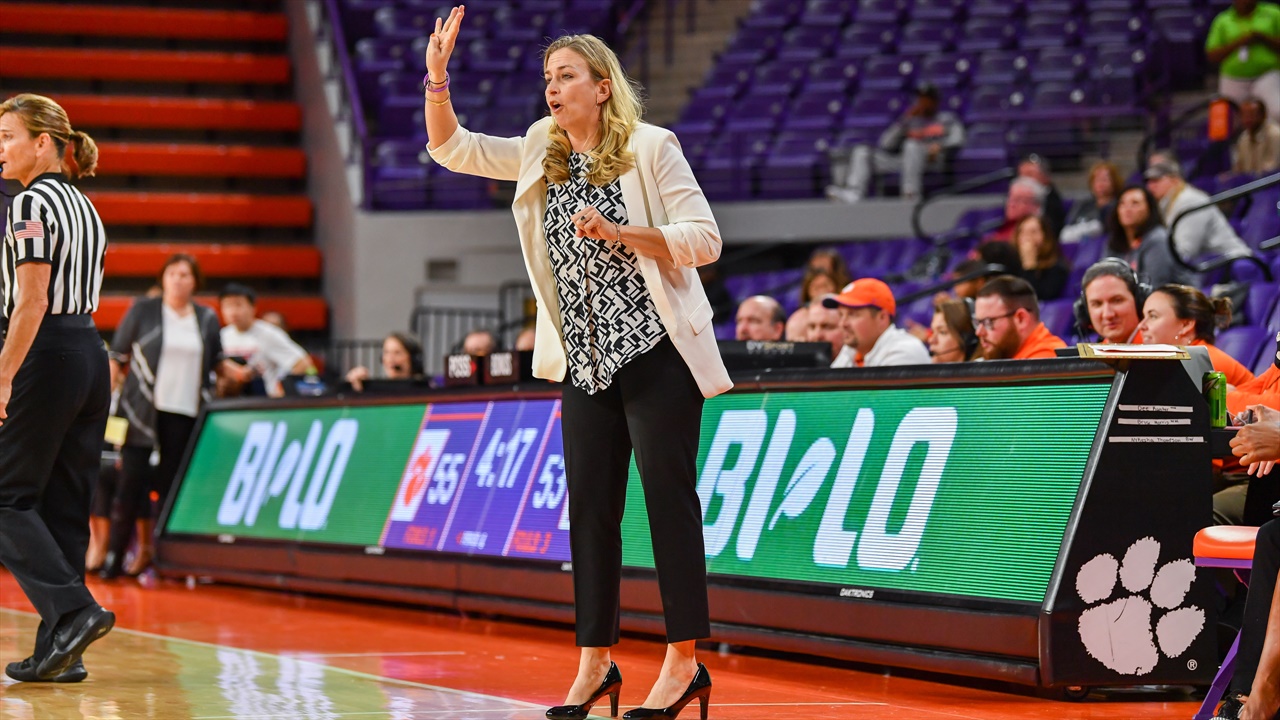 Photo by ClemsonTigers.com
Clemson Women's Basketball
Butler Adds Transfer Duo to 2019-20 Roster
---
CLEMSON, S.C. – Rounding out her first signing class at the helm of the Clemson women's basketball team, head coach Amanda Butler announced the addition of two transfer players to the program. The duo of Nique Cherry and Shania Meertens completes the seven-player signing class for the Tigers.
"I'm really pleased with this group of people who made an awesome decision to not only join Clemson but also play with each other," said Butler. "They are a hard-working, competitive group that fit into our Trust, Loyalty, Commitment (TLC) culture perfectly."
Nique Cherry
Position: Forward
Hometown: Laurel, Miss.
Previous School: Jones County JC
A 6-foot-1 forward, Cherry led Jones County Junior College to a 30-2 record as a freshman, averaging a double-double (13 points and 10.6 rebounds) during the season. Her 10.6 rebounding average placed her 14th nationally among junior college athletes for rebounds per game. Following her freshman season, Cherry earned all-state and all-region accolades and received an All-America honorable mention.
Coming out of high school, Cherry was ranked the #26 JuCo recruit in the nation by All-Star Girls Report. She averaged 18 points and 16 rebounds an outing as a senior at Heidelberg High School.
In Butler's words…
"Nique is an elite rebounder; someone who already has high-level collegiate experience. She is a die-hard competitor; is very physical and aggressive and has a winning mentality."
Shania Meertens
Position: Guard
Hometown: Winter Springs, Fla.
Previous School: Northwest Florida State College
Meertens spent the 2018-19 season at Northwest Florida State College, averaging 10.0 points per game and leading the Raiders in minutes per game (30.3). The sharp-shooter paced Northwest Florida in 3-point percentage, knocking down 42.1 percent of her shots from beyond the arc.
The guard helped her team to a quarterfinals appearance in the NJCAA Championships before falling to Trinity Valley. Meertens plays with quick, strong style of basketball, attacking the basket on offensive and causing disruptions on defense, which will suit Coach Butler's up-tempo game plan.
Prior to Northwest Florida, Meertens spent a season at Stetson where she played for current Clemson assistant coach Daniel Barber.
In Butler's words…
"Shania is a true combo guard with the ability penetrate and score. She is the consummate playmaker and will be able to play the type of full court defense that we really enjoy."
Never miss the latest news from Clemson Sports Talk!
Join our free email list