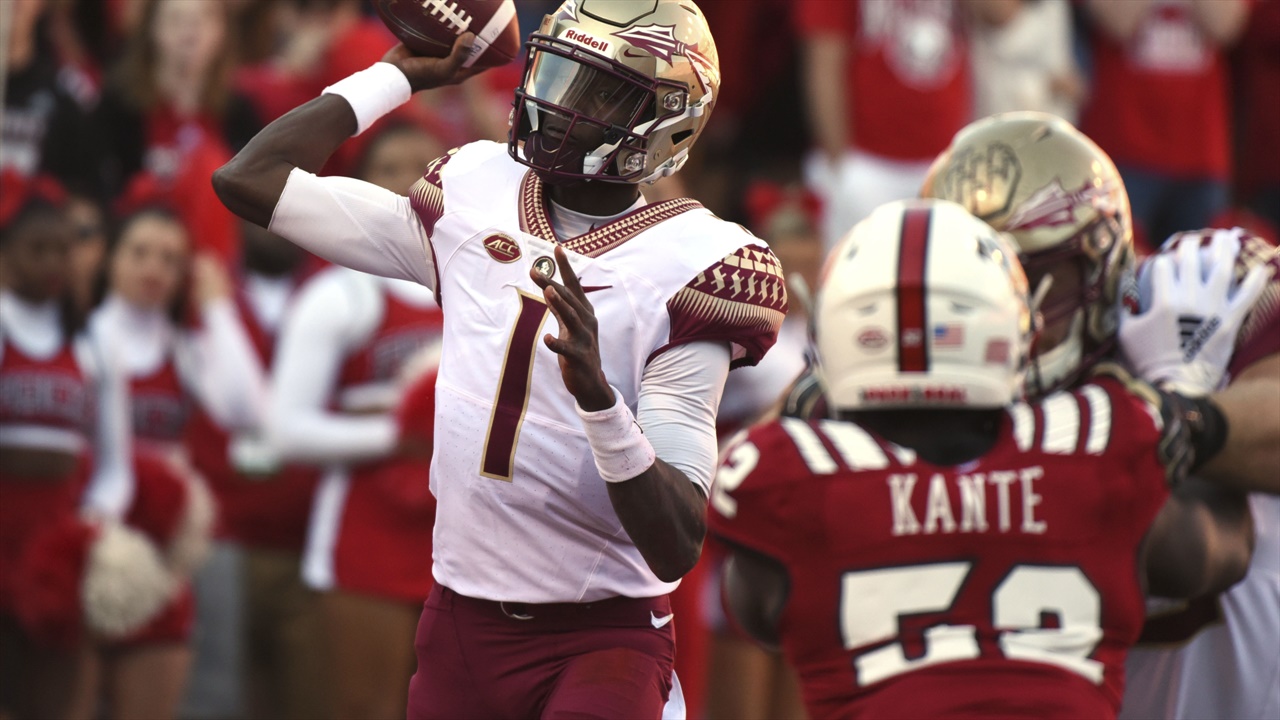 Photo by © Rob Kinnan-USA TODAY Sports
Clemson Football
2019 Opponent Series: Florida State
---
Feel the difference - The best user experience on mobile devices or personal computers. Avoid clickbait and sites bloated with advertising! Join us today for just $1 or get a full year for $63.17.
---
2019 Opponent Series
Pressed on his thoughts heading into the 2019 season, Willie Taggart said things felt very familiar as he heads into his second year at Florida State.
"I think year two, myself, a lot more confident in our football team, our coaches, administration, everything. Year two, you know a lot more. You go through year one; this is a learning experience throughout the whole thing. Now going into year two, you're familiar with everything," Taggart said at the ACC Kickoff in July.
Wide receiver Tamorrion Terry said the Noles know what it takes to get them back to playing winning football. Keep in mind FSU was playing in the first College Football Playoff five years ago.
One of the keys to a Florida State turnaround in 2019 will be the play of the offensive line, who gave up 36 sacks in 2018. If they can keep presumed starting quarterback James Blackman upright, it's a step in the right direction under new offensive coordinator Kendall Briles. It helps that three starters return on the line including Jauan Williams, Mike Arnold and Cole Minshew.
On the defensive side of the ball, Brian Burns and DeMarcus Christmas have departed from the Florida State defensive line, but starter Marvin Wilson said he learned a lot last season and has embraced his new role as an experienced leader.
"Right now, I'm teaching all the young guys more. It's more than going out and practicing and stuff like that. It's going in film (study), doing that extra work when nobody else is looking, listening to coaches, going to see everybody, who can help you evolve your game. That's the biggest thing I've been trying to do," Wilson said.
The secondary returns the most experience with Jaiden Lars-Woodbey, Stanford Samuels III, Kyle Meyers, and Levonta Taylor all back. If the defensive line can get a consistent pass rush, things will become much easier on them.
Whether or not the familiarity will translate to wins on the field is yet to be seen, but the talent is undoubtedly there for Florida State. They've recruited well, but it hasn't translated into wins, leaving many to question the Seminoles talent evaluation practices.
As for Taggart, he says that last year is entirely behind Florida State and that they look to clean up some of their issues this season.
"We learned from our mistakes, the things that cost us to be the way that we were. We've been working on it diligently since then to make sure we correct those things and don't do the same things that we've done before."
Florida State Seminoles
Head coach: Willie Taggart, second year
Last season: Finished 5-7, lost to Florida 41-14 in season finale
Returning starters: 7 offense, 8 defense

Players to Watch
Cam Akers (Running back, Jr.) - If you want to take the pressure off an offensive line that gave up so many sacks last year, Akers is someone who can contribute to that cause. The Clinton, Miss., native ran for a team-high 706 yards and six touchdowns.
Tamorrion Terry (Wide receiver, R-So.) - Terry looks to build on a solid freshman campaign in Tallahassee. He was a preseason All-ACC team member after catching 35 balls for 744 yards and eight touchdowns
Marvin Wilson (Defensive tackle, Jr.) - One of the leaders on the FSU defense. Named to the Outland and Nagurski award lists this offseason. Wilson had 42 tackles, 4.5 of them for a loss and 3.5 sacks in 2018. Look for him to do more of the same in 2019.
Last Meeting vs. Clemson: 2018: Clemson traveled to Tallahassee and handed the Seminoles the worst loss at home defeating them 59-10 as Lawrence threw for 314 yards and four touchdowns, while the Clemson defense held FSU to -21 yards rushing.
2019 Schedule
Aug. 31 - vs. Boise State (in Jacksonville, Fla.)
Sept. 7 - vs. ULM
Sept. 14 - at Virginia
Sept. 21 - vs. Louisville
Sept. 28 - vs. NC State
Oct. 12 - at Clemson
Oct. 19 - at Wake Forest
Oct. 26 - vs. Syracuse
Nov. 2 - vs. Miami
Nov. 9 - at Boston College
Nov. 16 - vs. Alabama State
Nov. 30 - vs. Florida
**Home games in BOLD
Never miss the latest news from Clemson Sports Talk!
Join our free email list