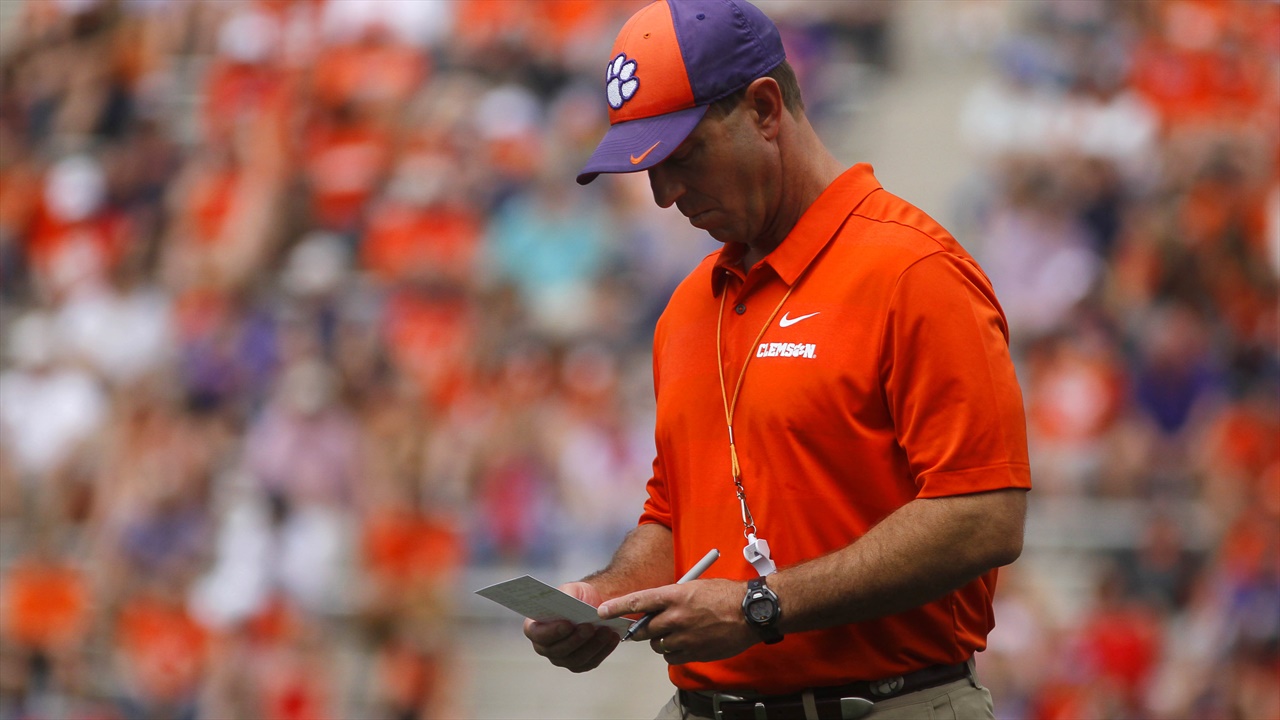 Photo by © Joshua S. Kelly-USA TODAY Sports
Clemson Football
Dabo Swinney: Syracuse Press Conference
---
A few notes and quotes from Dabo Swinney's press conference previewing Clemson's first road trip of the season to Syracuse:
"It's hard to believe it's already week three and excited about the challenge this week, taking this team on the road, obviously we've not done that yet. We've had two good opponents here in The Valley. Excited about how our team has improved at this point, we've still got a long way to go, but definitely off to a good start. We're 2-0 so that's where we want to be, but (we've) got a lot of improving to do if we're going to get where we want."
"The next goal for us is to win the division, so that starts this week. First division game for us on the road at a place where we lost two years ago. Great environment. They do an awesome job up there and you know, we got to play well. Simple as that. Got a lot of respect for Syracuse."
"They beat us two years ago and then last year had us on them out on the mat for a two count, and we were able to get up and find a way to win the game-- very fortunate. Got a lot of respect for Syracuse, our team has a lot of respect for Syracuse, Dino's done a great job up there. We're very well aware of the type of effort and energy and toughness that we will face in this Syracuse team. Last week's game got away from them, but that won't be the version of Syracuse that we'll see."
– A lot of respect for Syracuse and guys are ready to take their next step as a team on the road.
– Their quarterback is a veteran guy who has been around. No. 86 is a guy who has made big plays. All-American players who are going to play on Sundays, no doubt about it. All-American candidates in the secondary.
– We are healthy, in a good place.
– Clemson is a tempo offense, too. Shouldn't catch these young players on defense off guard. Syracuse has picked their spots when they want to go tempo. Not lightning quick.
– DeVito and Dungey are similar. Both savvy leaders who can push the ball down the field. Maybe not quite as big Dungey, but still a good player.
– The Carrier Dome is a confined space. There is an echo somewhat. They are expecting one of the biggest crowds there in a long time. Everybody wants to put their best foot forward, that's including the fans.
– I've always loved playing on the road. It takes a certain mindset. Mental toughness, coordination and communication. Everybody is against you, and that's fun.
– Let's just keep doing what we've been doing. Doing our best and trying to dominate an opponent. Let's come out ready, sustain, and finish. Last week those guys had an edge to them simply because there was a lot of talk to them. I appreciate our guys by how they handled themselves. Every week is a challenge. You either accept it or you don't. We are really trying to coach this team what it takes to win consistently because we have a room full of guys that think they know but they don't know. We got a lot of prove every week. We left no doubt the last time we went up there and they beat our butts.
– When Travis Etienne can catch the ball out of the backfield, it's a problem. The coverage has to be a little tighter. When those checkdown backs are available in the passing game, it adds a different level. Running backs taking ownership and making those easy plays is big, an intentional part of what we want to do.
– Team doesn't really talk about last year's game against Syracuse that much. The lesson was to always prepare to be the starter. Everybody needs to be locked in and prepare like they are the guy. Better to be ready and not get an opportunity than get an opportunity and not be ready.
– Been really pleased with J.C Chalk blocking, especially in his first two starts and getting quality playing time. Luke Price has come in there and is physical. Like his mentality. Davis Allen is a natural, physical guy and so is Jaelyn Lay. All four of those guys have done what has been asked of them so far.
– It's showtime now for Lyn-J Dixon. He and Etienne have a great chance to be a one-two punch. Travis can't carry the load by himself. That combo makes you better. Impressed with Dixon's progression as a complete player. He is a dangerous, explosive football player.
– We don't worry about what other teams did last week. We worry about Clemson.
– Derion Kendrick did his job the first week, but he really stepped up against Texas A&M. They went after him. He's got some swag and he brings energy. He's always talking. It's not disrespectful or a false swag. He brings mental toughness. That's one of the key ingredients of being a good corner. He's a very easy player to coach. He's a worker.
– Try not to cast a big, wide net when it comes to recruiting. Prefers to be patient at all positions. If a sophomore gets offended that we don't offer him a scholarship, then great let him go somewhere else. You aren't entitled to be here. In 2015, didn't recruit any DBs and didn't know those guys were leaving. Didn't know who Isaiah Simmons was ten days before signing day. Has really hit home runs late in the recruiting process.
– Football is a developmental game. Not trying to win any recruiting wars. My goal is to get the right people because people win.
Never miss the latest news from Clemson Sports Talk!
Join our free email list