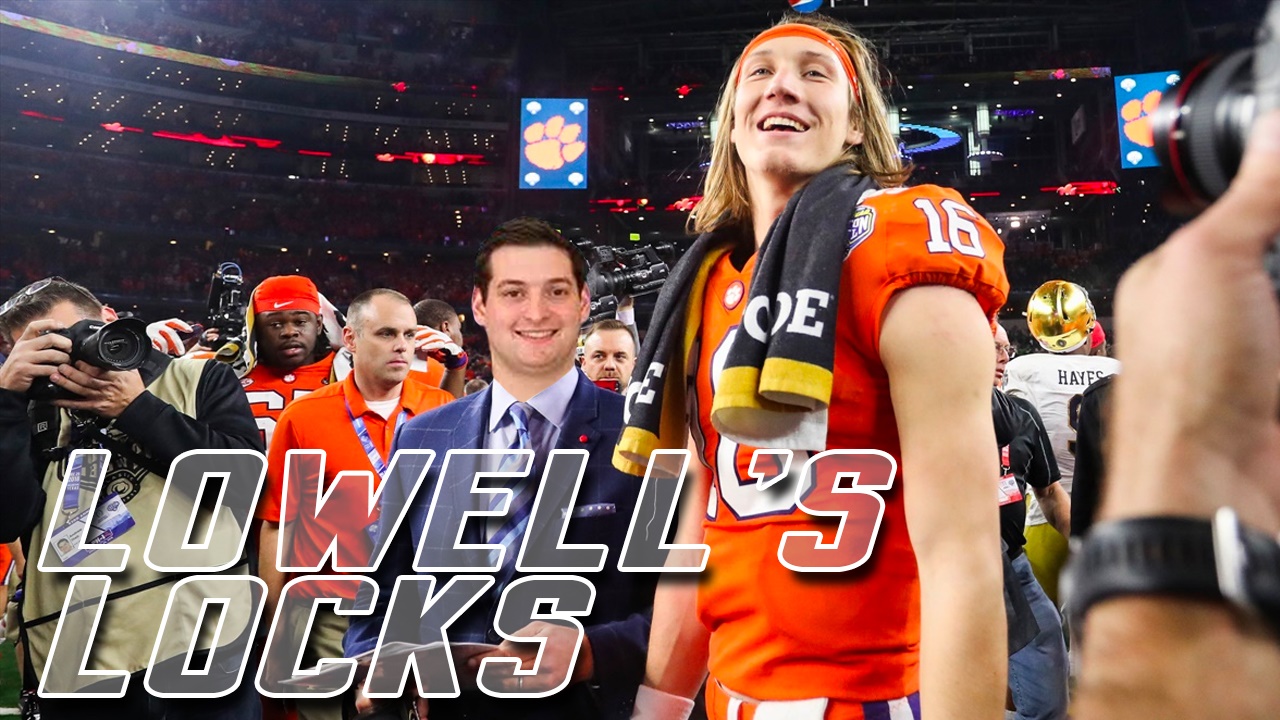 Clemson Football
Lowell's Locks: College football week six
---
Feel the difference - The best user experience on mobile devices or personal computers. Avoid clickbait and sites bloated with advertising! Get your first month for just $1 or GO PREMIUM for $63.17.
---
The good feelings from two weeks ago crashing back down last week with my second 1-5 record in three weeks. Things started off badly with my Maryland pick, who couldn't stay within five touchdowns of Penn State, and things never really improved from there. But, it's a new week, and shooters always shoot. As always, in the immortal words of Deshaun Watson, let's go be great in week six.
Friday, October 4th
#18 UCF (-3.5) at Cincinnati:
UCF, despite the loss to Pittsburgh, is still a ton of fun to watch. Freshman quarterback Dillon Gabriel is a great deep ball thrower, and that's created some explosive plays for the Knights. Cincinnati prefers a little bit slower of a tempo, and Pitt used a slow it down, run the ball formula to frustrate UCF and pull off the upset, and that's certainly a plan the Bearcats could replicate. At home, Cincinnati will start strong, but ultimately UCF lands too many big plays and hits a knockout blow late to cover.
Lowell's Lock: UCF covers -3.5
Saturday, October 5th:
#14 Iowa at #19 Michigan (-3.5):
Believe it or not, the Hawkeyes have actually owned Michigan in recent matchups, winning five of the past six games, including a 14-13 victory back in 2016. I suspect there might be a tad more scoring in this one, but not much. Wisconsin was able to bully Michigan, and the Wolverines didn't have the toughness to respond. Iowa has that same ability. Although they're admittedly less talented than the Badgers, Iowa is a ground and pound team that doesn't make mistakes. Michigan, meanwhile, has struggled with turnovers this season. I don't anticipate this being more than a field goal game either way, and it wouldn't shock me to see Iowa make it six out of seven.
Lowell's Lock: Iowa covers +3.5
#11 Texas (-10) at West Virginia:
Texas has not been kind to me against the spread this season, getting backdoored against both LSU and Oklahoma State. I'm willing to ride with them one last time against a West Virginia team that is so wildly inconsistent that it got blown out by Missouri and then crushed NC State, only to then squeak out a win against Kansas. The Longhorns cover for me for the first time this season.
Lowell's Lock: Texas covers -10
#25 Michigan State at #4 Ohio State (-20):
Vegas usually knows best, but this line just feels too easy. Michigan State almost always plays Ohio State tightly, and Dantonio has had their number a little over the past few seasons. The Spartans' defense is outstanding yet again, and the offense has some firepower this season. Ohio State is as talented as they've been in years, with Justin Fields looking like a legit Heisman candidate, but this will be the first time he and the Buckeyes face adversity this season. I do believe Ohio State ultimately comes away with the win, but in a much tighter game than Vegas anticipates.
Lowell's Lock: Michigan State covers +20
California at #13 Oregon (-18):
Cal has been a pleasant surprise, playing good defense and finding some life under Justin Wilcox, who has them competitive in every game. Oregon, meanwhile, has been a little up and down this season and that inconsistency is a little worrying. Oregon is explosive enough to pull away and win by a couple of touchdowns in a game that goes four quarters, but give me Cal to cover.
Lowell's Lock: Cal covers +18
#7 Auburn (-2.5) at #10 Florida:
Auburn has one of the best resumes so far this season, and they'll look to add to that with a road win over a top-ten team. Florida hasn't been very impressive so far this season, but there's something to be said for being able to win ugly. However, I believe the Gators are a bit of a paper tiger and ranked higher than they should be, and Auburn's ferocious defense and explosive at times offense will expose that in the Swamp.
Lowell's Lock: Auburn covers -2.5
Lowell's Locks

Weekly Results
Season Results
Week 1
3-3
3-3
Week 2
2-4
5-6
Week 3
1-5
6-11
Week 4
4-2
10-13
Week 5
1-5
11-18
Week 6
Week 7
Week 8
Week 9
Week 10
Week 11
Week 12
Never miss the latest news from Clemson Sports Talk!
Join our free email list