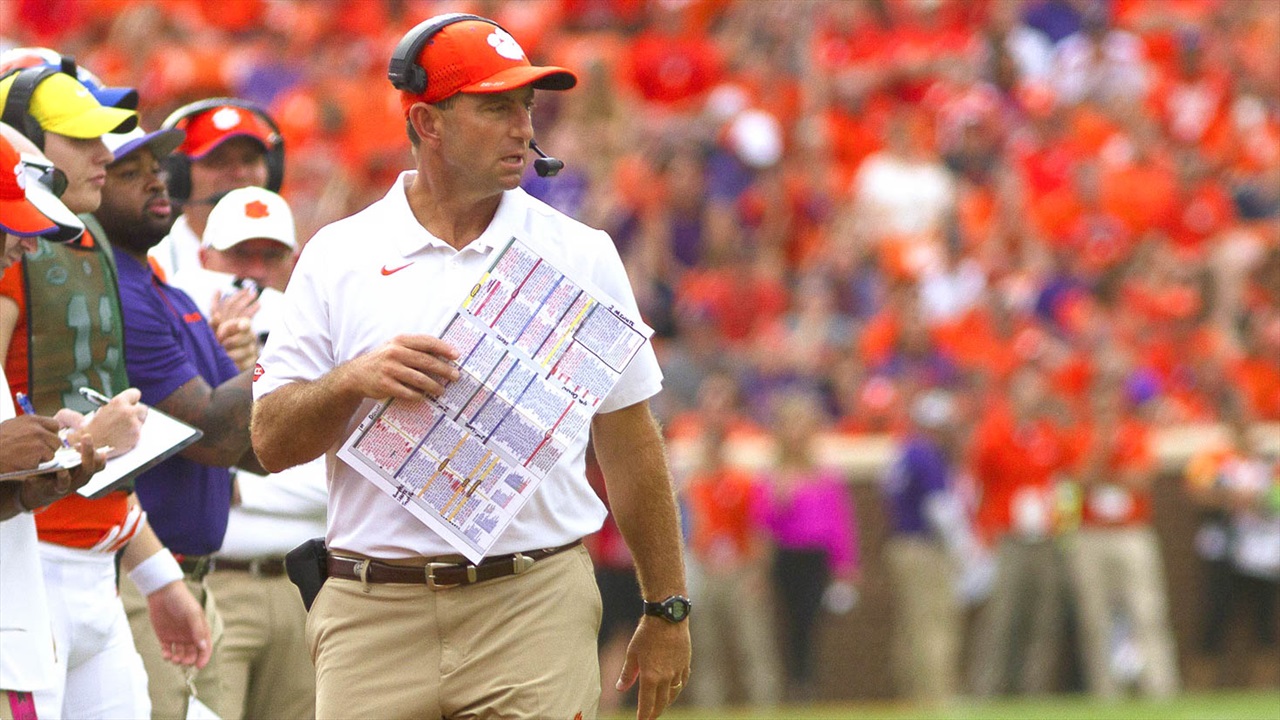 Photo by © Joshua S. Kelly-USA TODAY Sports
Clemson Football
Dabo Swinney Press Conference notes: Boston College
---
Some quick-hitting notes and quotes from Dabo Swinney's Tuesday press conference previewing Boston College:
– Really excited about back-to-back home games coming up and always look forward to checking out the homecoming floats this week. Boston College is 4-3. They've had two last-minute losses to Louisville and Wake Forest. Very competitve group. Obviously, the quarterback got hurt, but I have been very impressed with what they've done to get back.
– Watching them last week, it's like watching 1990 again. Big boy football. Excited to see how our guys will respond to the challenge. They are No. 6 in the country in rush offense. Their passing is play-action, boots, and screens. They also run tempo. Mostly 12-personnel team.
– Those two backs are 250 and 240 pounds. Maybe more. Two big backs that like contact and move the pile. They are well-coached and well-coordinated. You gotta have the mindset to win your matchup. You can't grow weary because they won't. They rushed the ball for 400+ against NC State and just wore them out.
– The biggest thing against their defense is try and stay out of third-and-long. We have to do a nice job of being efficient on offense. A lot of man-coverage.
– Knows Richard Yeargin from his days at Clemson, who started last week against NC State. Was really proud to see him get on the field after all he's been through. No. 99's dad played with me when I was at Alabama.
– Boston College is +7 in the turnover margin and we are back in the positive at +2.
– Game on Saturday night is a breast cancer awareness game. During a grant luncheon in November, will give away over one million dollars to 160 different charitable organizations locally.
– AJ Dillons is just different. Maybe more like James Connor than Dalvin Cook. He's 250 pounds and is going to go through you. Dillon will drag you. He's just a big, physical, old-school back. He's one of those backs that you see in the NFL every Sunday. This will be a challenge for those guys in the back 7 who want to go pro.
– Braden Galloway has been good. Practicing every day on the scout team and has had a great attitude. He's been very engaged with the team and has a smile on his face.
– Thinks Jordan McFadden could play right tackle next season. McFadden has played 20 snaps per game and is behind Jackson Carman.
– Statistics today say that this group on defense is better than last year, but we've got a long way to go. Last year they got better and better and better. That's the challenge with this team - there's a lot we have to fix. Our effort is overcoming a lot of the problems - 20-plus missed tackles.
– Xavier Thomas is day-to-day and the team will know more as practice continues this week.
– K'Von Wallace is a great leader and that doesn't surprise me to see him deflect some things to him. He's been a fun guy to watch mature and transform off the field. I thought the team did a good job in handling Andrew Booth and so did Andrew.
– Booth will play the second half against BC. He's freshman and has never made a mistake like that before. He's a great kid.
– Watching Isaish Simmons on tape in high school is when I knew he was capable. He looked like a young giraffe running around his freshman year. Just elbows and knees. His physicality and pure athleticism showed up quick. He needed to get in the weight room and learn a lot. There was a lot of development that needed to take place. Showed up on special teams a lot his redshirt freshman year. Redshirt sophomore year, he was shaky early. The game has slowed down for him.
– Simmons is very even-keeled. Very smart. Handles himself like a pro. Goes about his business every day. He could make all-conference for us at three different positions. He's hard on himself, but always has a great spirit to him. Can't help but smile when you are around him. He's just a happy kid. Takes a lot of pride in doing his job and trying to please Brent Venables.
– Nyles Pinckney definitely played his best game on Saturday. He's improved his pass rush and has gotten better in many ways. That stretch scheme that Louisville ran can stretch your defense n a heartbeat. Nyles did a good job of defeating the blocks, stayed on his feet, and kept the defense in check. He's had a lot of things he's had to deal with but I think he has settled in and is playing with confidence.
– Richard Yeargin was prime to be a big factor for us. He's lucky to be alive. He was out for a whole year, tried to come back, but just couldn't quite do it. He was done with football, but he was allowed a sixth year of eligibility to play at Boston College. It's wild, but I am super proud of him. The biggest thing was just making sure that he could go to a spot where he could play. It has worked out. Watching the tape, he has gotten better as the season went on. Texted him last week and told him he was going to double team him all game.
– Our offense, we're right where we were last year. I guess some people think we are supposed to score every time and never turn it over, but that's not reality. The story was about who is not here with this defense, but this year has been strength in numbers. Collectively have gotten the job done.
Trevor Lawrence throws two interceptions and that's all you see on ESPN. You don't see the 20-of-27 completions.
Never miss the latest news from Clemson Sports Talk!
Join our free email list