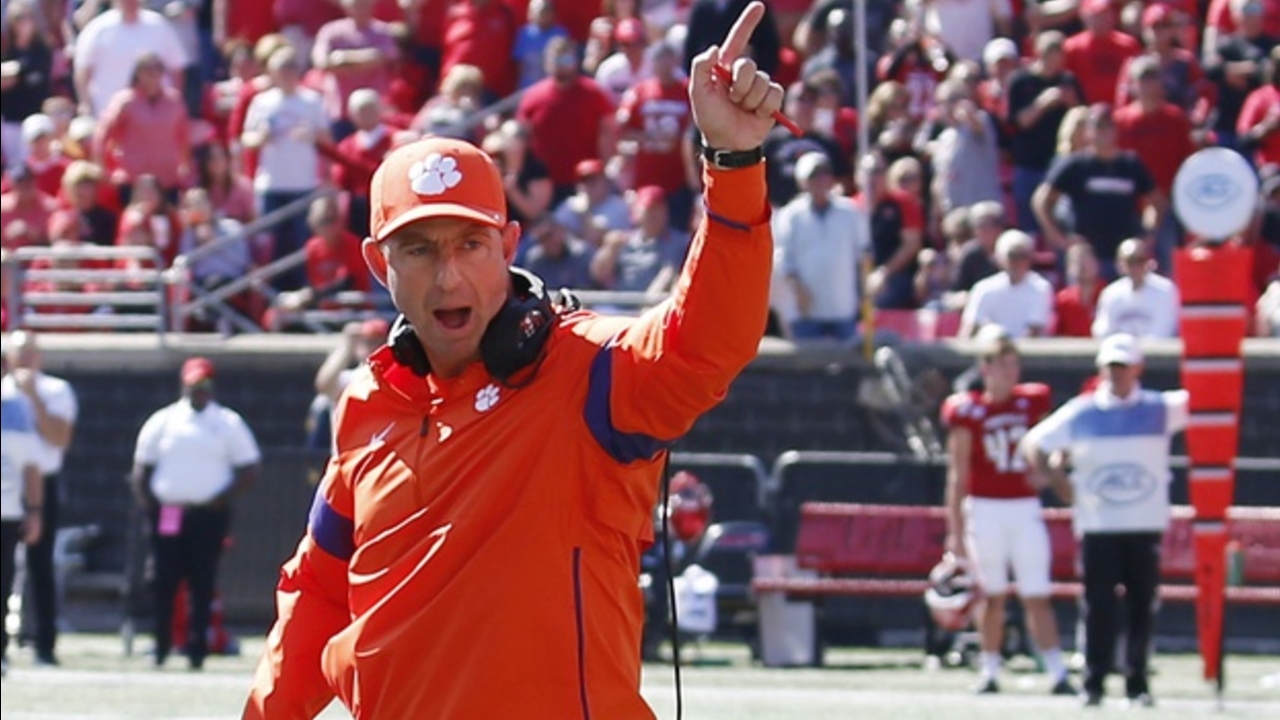 Clemson Football
Clemson kicker's confidence replenishes after sit-down dinner with Dabo Swinney
---
BT Potter didn't have to log on to social media at all last week to know he was the center of attention.
By now, you've seen the clip. During Clemson's cruise to a 45-14 win over Florida State, Potter missed a 24-yard field goal just before halftime, which sent head coach Dabo Swinney over the edge as the kicker walked to the sidelines.
It was Potter's second consecutive miss after a missed 40-yard field goal in the second quarter against North Carolina in Clemson's previous game. Swinney immediately sent Potter to the bench and in came Steven Sawicki to handle all the short field goals.
Potter knew what was coming as he approached Swinney, but the reality was Potter was more upset with himself than anything.
"I think he was pretty mad, but I think I was more mad at myself," Potter said Wednesday. "It's a routine kick, you know? It's something that I kind of took for granted and expected myself to make it. My mindset was to go out there and not miss, but it needs to be to go out there and make the kick."
The missed field goal and sideline tirade became a dominant story during Clemson's win against Florida State and the ensuing days after. Many outsiders wondered if Clemson's head coach went too far in making an example out of Potter with the entire nation watching, maybe even destroying his sophomore kicker's confidence.
Swinney said later that he coaches all his players the same, holds them up to a standard, and sometimes needs to "kick them right in the butt."
Potter was still a little upset after what went down against Florida State, but after a practice the following week as the Tigers began preparations for Louisville, Swinney sat down with the Clemson kicker for a steak dinner at the practice facility.
"We sat down for dinner one night and he told me he had all the confidence in the world in me and that really helped me," Potter said. "That's just something that people don't see and I know that he believes in me and that was definitely one of the best parts of last week. Just hearing that."
So Potter's confidence wasn't destroyed after all. He was broken down to be built back up. Swinney said Potter has the talent to be a quality kicker in the NFL, but was going to have to mature mentally before he would become the player he's capable of being.
Currently, Potter has made six of his ten attempted field goals. He's 2-for-5 between 30 and 50 yards.
The shorter kicks have been trouble for Potter because he said he was not as focused, saying "it's a cupcake kick when it's not a cupcake kick."
When he went to the bench, Potter knew he would get the chance to redeem himself at some point. He just didn't know it would come so quickly as Swinney called upon him in the first quarter of Clemson's game at Louisville.
Potter stepped in and nailed a 51-yard field goal, tying his career-long, to give the Tigers their first points of the game on the road. He's 2-for-2 on the season beyond 50 yards. After the game, Swinney gave Potter a game ball.
"I wasn't expecting to go out there for the first field goal, but when coach Swinney called me I knew I was ready," Potter added. "I practiced hard all week last week and it was just nice to go out there and prove myself."
For now, it seems like Potter has earned his starting role back. And his confidence in his leg has not waivered one bit.
He told us on Wednesday that he feels comfortable in a game kicking up to about 55 yards. In practice, the wind gets dicey and he's hit a field goal as far as 63 yards away, Potter told WCCP 105.5 The Roar
And he sure sounds as confident as ever.
"With the game on the line, put me out there from anywhere," Potter told The Roar.
The week for Potter was a whirlwind after facing the wrath of Dabo Swinney, but the kicker said it sure felt nice to respond to the adversity and embrace the challenge from his head coach.
"It felt great. I knew I always believed in myself and I knew I would get another chance. I didn't know when it would be," Potter said. "I was telling myself, 'it's going to happen so you better be ready.' Just hitting that (51-yarder) was a big confidence boost, especially the week after I wasn't starting anymore."
Never miss the latest news from Clemson Sports Talk!
Join our free email list