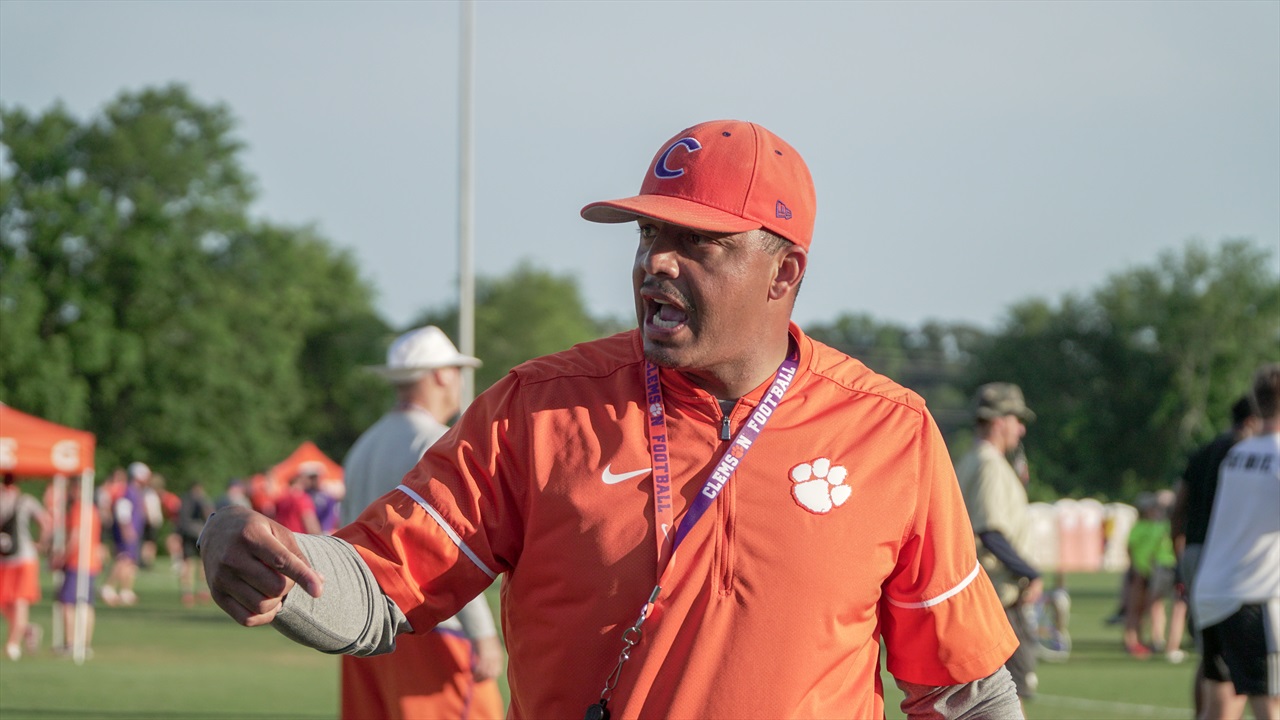 Clemson Football
Bowl Practice Update: Tony Elliott to be solo offensive coordinator, plus more staff notes
---
Clemson wrapped up its first bowl practice of the holiday season and started preparation for the Fiesta Bowl against Ohio State. Some of the more important notes after hearing from Dabo Swinney, including an update on a few staff changes that will be in place once the season concludes:
Tony Elliott will be the solo offensive coordinator once Jeff Scott takes off to South Florida for good.
There will probably be some "changes of titles and duties" within the staff. Swinney said quarterbacks coach Brandon Streeter will be more of a passing game coordinator and move his recruiting coordinator title to someone else within the staff.
Swinney did not mention any names when it came to who the new recruiting coordinator would be, but it would be one of his assistant coaches. It is assumed that Jeff Scott's father, Brad, will move with Jeff to South Florida and be his Director of Player Development. If that were the case, Kyle Richardson, who is Senior Offensive Assistant will fill that role.
"So we've got a good plan for all that stuff, got a great group of people here. It'll all settle out once we kind of finish this thing," Swinney said. "We'll get Jeff and Brad (Scott) back next week and Kyle Richardson's done an awesome job kind of stepping in for Brad there to fill that role and help us navigate.
"Brad's role is critical. He does a lot of stuff here, especially in the recruiting process. Kyle's got a great feel for all of that, so he's done a great job. We'll get those guys back and they'll finish out the season with us. Whenever we're done, whenever that time is, hopefully that's January the 14th, that'd be ideal. But whenever the time is we'll be excited about settling this staff out and some opportunities for other people. So it'll be a lot of fun."
Swinney noted how critical Brad Scott's role is to the program, saying you have to have been a coach before to be able to do it.
As far as recruiting coordinator, Swinney said it is important to have a coach who is the main liaison with the head of recruiting. Somebody who can help with planning and have a connection with the coaching staff.
With Scott gone for the next week, today was Tyler Grisham's first official practice as wide receivers coach. He looked comfortable, confident, and active during our time watching Grisham with the receivers with a whistle around his neck for the first time.
We asked Swinney what he saw out of Grisham to elevate to his new position.
"His whole life," Swinney said. "I've known him his whole life. I've coached him. He's interviewed with me for 22 years… It's what we do. You develop our staff just like you develop our players. Just a great opportunity."
Swinney said he doesn't know if Scott will try and hire away any Graduate Assistants or analysts to join his staff at South Florida. Scott is going to have to work all that out, Swinney said.
Hopes there will be an opportunity for some young guys. If Scott wants Swinney's opinion, he'll give it to him and will help as much as he can. But that's also something that Scott will have to take care of himself as head coach. Scott will be back with Clemson next Thursday to finish the season out the right way.
Said it feels like Clemson played in the ACC championship two weeks ago and it hasn't even been a week. Swinney has been gone every day on recruiting trips and it has been a blur since Saturday night.
Swinney has not met with Athletic Director Dan Radakovich about Braden Galloway's postseason eligibility. Assumes Galloway will be good to go for the Fiesta Bowl, but has not gotten any sort of "all clear" from the NCAA. The hope is he will be ready to and the team will practice as if he will be.
We hope to have more as bowl practice continues. Hope everyone has a wonderful weekend.
Never miss the latest news from Clemson Sports Talk!
Join our free email list