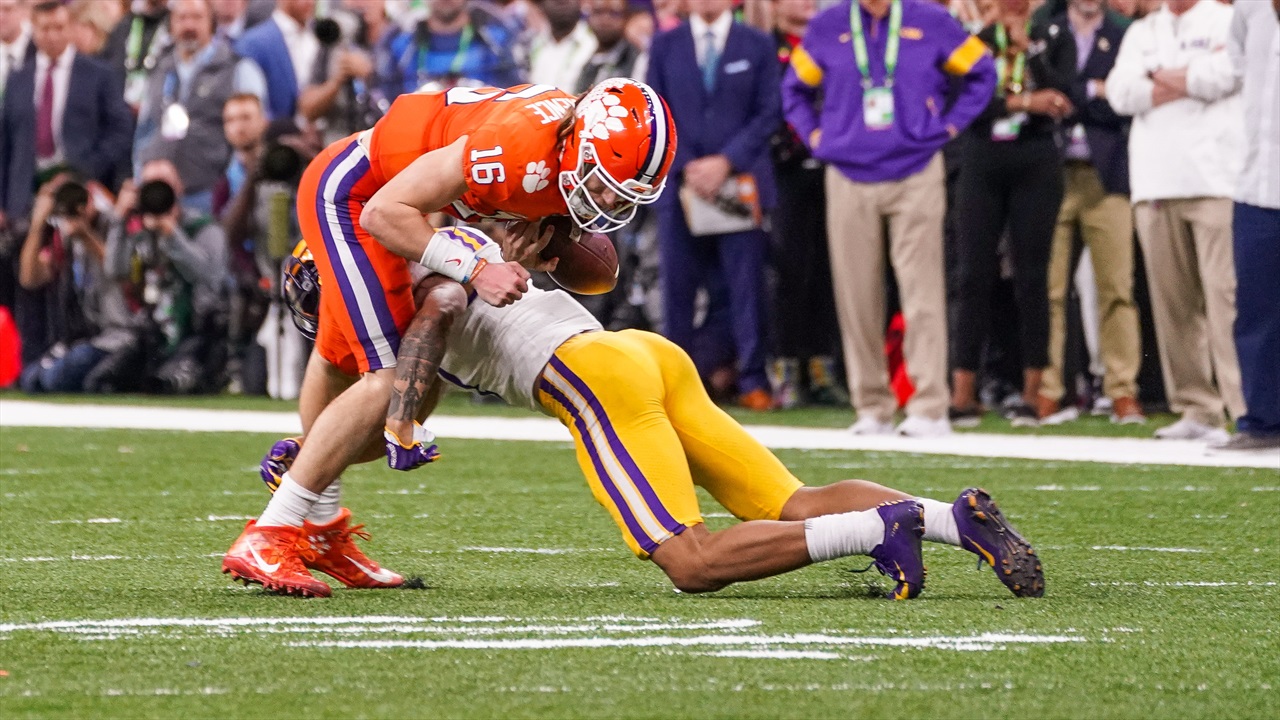 Clemson Football
Say it ain't Joe: Clemson falls short of third national championship in four years
---
NEW ORLEANS -- During Clemson's 29-game winning streak, opponents had to play a near-perfect game in order to take down the Tigers.
But in the 2019 national championship, it was Clemson who had to play a near-perfect game to keep up with LSU's locomotive offense. That didn't happen, and it had been a long time since Clemson observers felt what it was like to not play perfect and still fall short.
It took an all-time, historic offense to stop Clemson's historic run.
The Bayou Bengals dethroned the defending national champions, 42-25, right in LSU's own backyard to cap off what was a season of destiny for Ed Orgeron. It was the perfect storm, and it just so happened that Clemson was the final team standing in their path.
LSU won its first national title since 2007 while Clemson fell to 2-2 in their last four championship games.
It's wild to think that Clemson's "Best Ever" tag from a season ago had such a short life.
Let's get this out of the way: LSU, led by Joe Burrow, is the best team in the country and boasts one of the best offenses we've ever seen in the sport. This observer will be able to tell his grandkids one day that he was in the same room as the President of the United States and the man they call Joey B.
Burrow finished completing 31 of 49 passes for 463 yards and five touchdowns passes, including one rushing. As the season concludes, Burrow broke records for most passing touchdowns in a single season in FBS history, most passing yards in a BCS/CFP title game, and most TDs responsible for in a BCS/CFP title game (6).
He's the baddest man on the bayou.
"Obviously a disappointing night for us, not the way we envisioned it going," Swinney said after the loss, the first one suffered since Jan. 1, 2018 in the very same building. "I'm thankful for our team… It's just an incredible year. Two years. Won 29 in a row. It's been a long time since I stood in front of the team with a loss.
"I thought LSU played a beautiful game. I thought their quarterback was tremendous. Those receivers - man, they made some incredible plays that were really well-covered, several of them, but they just made the play. And that's what you got to do to win these types of games."
Clemson was unable to make the play offensively to keep up with Joe Brady's system that he brought to LSU from the Saints. And when Clemson couldn't find ways to convert opportunities when it had the chance, LSU made them pay.
And when it looked like Brent Venables' scheme was working to perfection as his group fought tooth and nail to keep LSU at arms length with two three-and-outs to start both halves, Burrow and his boys kept coming back with answers.
Every. Time.
Clemson's offense looked crisp early as it jumped out to a 17-7 lead in the second quarter after a 36-yard Tee Higgins reverse score capped a 96-yard touchdown drive that looked entirely too easy.
LSU didn't flinch and scored 21 unanswered points to head into the locker room with a 11-point lead. The designated home team had 270 yards of total offense in the second quarter alone.
The story of the game came down to LSU making the plays that Clemson had gotten so accustomed to making during this run. Clemson looked sloppy at times and endured gut-punch after gut-punch that could only hold up so long before the game got out of hand.
The easiest theme of the game to point to was third downs. Clemson destroyed Alabama in last year's title game on third down, making terrific play after play. That looked awfully a lot like LSU on Monday night as its offense converted four third downs on 14 attempts, but each of those four conversions were massive.
Clemson gave up third down conversions on third-and-19, 10, and 11 which helped LSU maintain a 10-point lead after Clemson cut the game to 28-25 after the halftime break. The third-and-11 43-yard conversion to Chase led to Jamie Skalski getting called for targeting on the next play.
Derion Kendrick's pass interference on third-and-19 gave LSU another crack at scoring before the half, which they took full advantage of. It was just that kind of night for Clemson's corners.
Those LSU receivers were spread out all over the field and Burrow spread the wealth like a peanut butter sandwich. Ja'Marr Chase had 221 yards and two touchdowns while Justin Jefferson had 106, each with nine catches.
LSU had four plays of 35 yards or more and two more than 50, each receptions by Chase.
Clemson's offense sputtered, and in the second half looked at times like the offense we saw in the Sugar Bowl during Clemson's last loss two years ago - inconsistent and out of sync.
Trevor Lawrence did not have his best game by far in what was the first loss in his collegiate career. The sophomore quarterback finished 18-of-37 passing and 234 yards. Thirteen of Lawrence's 19 incompletions were due to overthrows.
After Clemson scored on its first possession of the second half with a Travis Etienne three-yard rush, the offense had 16 plays for 32 yards before a 3-play drive for 45 yards ended with a Trevor Lawrence fumble.
Lawrence came to the sideline and tossed his helmet to the turf as reality started to sink in.
"I just didn't have a good night," Lawrence said. "I was just off a little bit, especially in that second half. Missed a lot of throws and really didn't give us a chance to get back in the game.
"It just sucks when you put so much into someting like this group has and you fall a little bit short. We're going to start practice in a couple weeks and we are going to be ready again and start over."
Last season's national championship night belonged to the golden boy, Lawrence, but this year he had to experience coming in second and the little silver linings that come with it.
The immediate thought that comes to mind is Lawrence will be fueled for a revenge tour for the entirety of next season as Clemson looks to win three out of five national championships, which would still classify as a dynasty in our opinion.
This may not surprise folks, but Clemson isn't going anywhere and neither is that "underdog" card.
But Monday night belonged to Orgeron and his team of destiny as 'Burreaux' rode off into the sunset with a victory cigar in hand. It belonged to one of the best offenses we've ever seen.
All Clemson and Dabo Swinney could do as they walked off the field, heads held high, was tip their caps.
Never miss the latest news from Clemson Sports Talk!
Join our free email list