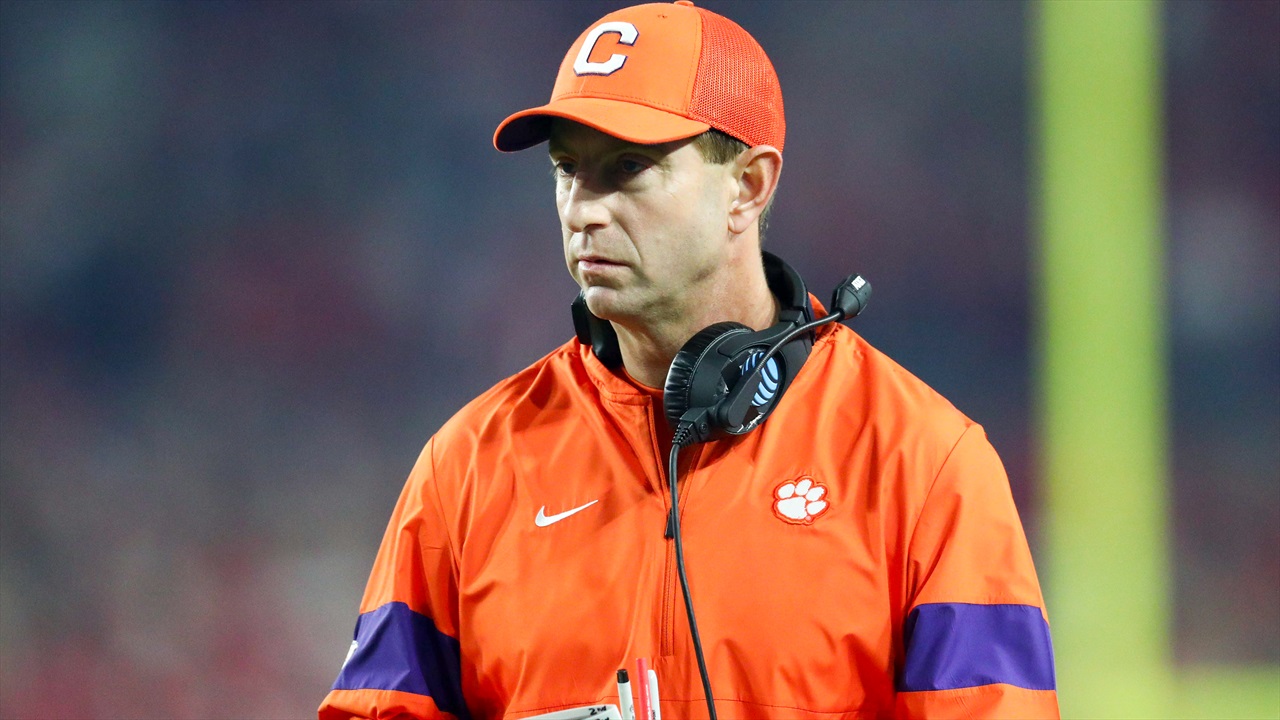 Photo by © Mark J. Rebilas-USA TODAY Sports
Clemson Football
Dabo Swinney on response to COVID-19: "Proud of our university and our leadership"
---
---
Dabo Swinney sent a message to Clemson Tiger fans everywhere earlier today as the COVID-19 virus continues to slow the country to a crawl.
The majority of Clemson's players were already at home when the University began shutting down earlier this month.
Swinney noted that the school has made great decisions for the benefit of the students and the community.
"Super proud of our university and our leadership. I think that Clemson has done a great job in establishing protocols that needed to be put in place to keep us all safe-- to keep our community safe."
As for Clemson fans, Swinney said he misses everyone.
"The biggest thing is I miss all y'all, you know, sorry that we didn't get a chance to finish up what we love to do. I really hope everyone is safe. I know that this is a time of uncertainty, but it's also a time where we all have an opportunity to grow. I'll have an opportunity to reconnect in different areas of our lives, but also just keep all these people in your thoughts and prayers that are have been very negatively impacted. Think about the waiters and the waitresses and the supply chains, it's just a domino effect, people losing jobs, and so forth. (We) Just lift them upkeep our focus on the right things, football will take care of itself."
As for the team, Swinney said everyone is doing well, and they've kept up with the entire team in some way, shape, or form. Being connected, according to Swinney, is critical, and he's been learning new programs like Zoom.
"Our team's in a good place. We all are missing sports in general and all those things," Swinney noted.
He also said that watching what was taking place in America reminded him of the privilege we have living in this country.
"Hopefully, when we do get our lives back on track, we'll have even more of an appreciation for the privilege that we have of living in this country and all the information, knowledge, and the great and wonderful doctors and nurses that we have out there. It's amazing what's going on right now in our country and all these great people that are serving so many. So, just pray for our leadership, pray for guidance. Pray for all the medical people-- that everyone stays safe. I'm certainly not an expert on what's going on, I wouldn't even try to be, but I think that we can definitely learn from the experts and the protocols that people put forth out there to try to help us overcome this challenge."
Swinney reiterated what everyone is saying about minimizing the effects of this very contagious virus.
"Stay clean, wash your hands-- a lot. And be very mindful of where you are. Hopefully, you're home safe, but if you are out, stay out of groups and try to stay away from sick people and those type things-- and if you are sick, stay home; For sure. Maybe we can kick this thing in the tail and get back to our lives here at some point.
Swinney wrapped things up by reminding everyone to do their part to help the cause.
"God bless you all, love you, and I hope to see everyone real soon. Hopeful that we will all be back in the Valley celebrating this September, another great game day, but till then stay safe and follow the protocols that have been put forth by a lot of smart people out there. Let's do our part. God bless and Go Tigers!"
Never miss the latest news from Clemson Sports Talk!
Join our free email list