Clemson Football
'Those guys set the building stones for the Clemson program'
---
---
Early this month, before COVID-19 put a halt to college sports, we sat down with former Clemson center Sean Pollard to talk about his upcoming run at a career in the NFL. Pollard, who made his way back to Clemson for Pro Day, gave us an inside look at being a part of Dabo Swinney's program and much more.
With Clemson's recent success on the field, former players are now able to flex their muscles about a program that they poured their time and efforts into during their time at Clemson. According to Pollard, it's special to hear from those guys about what's been going on recently for the Tigers.
"The thing that we hear is just the pure pride they have being able to talk about Clemson, even the guys in the NFL locker rooms," Pollard noted. "They can talk a little bit because we are who we are now."
Pollard was quick to note that the players who have recently had so much success, including winning national titles in 2016 and 2018 recognize that they are a part of something much bigger.
"The biggest thing is you have to realize, being someone who's reaping the harvest, that those guys that came before us, are ones who set the building stones for the Clemson program. If you don't realize that, like other current players, that these people (former players) put a lot of blood, sweat, and tears to be able to build what we have nowadays, then you're just doing it wrong."
For Pollard, it's fun to hear from those former players because they know where the program has been and where it can continue to go with Dabo Swinney at the helm.
"It's nice to hear former players come back and talk about how times used to be. How happy and excited they are to see where Clemson football is-- and is going. It's just amazing. It makes you realize how important this team is not just to former players, but to the community."
Anytime Pollard is out and about, people stop to show their appreciation for what the team has accomplished even though, as he put it, he's 'just a football player.'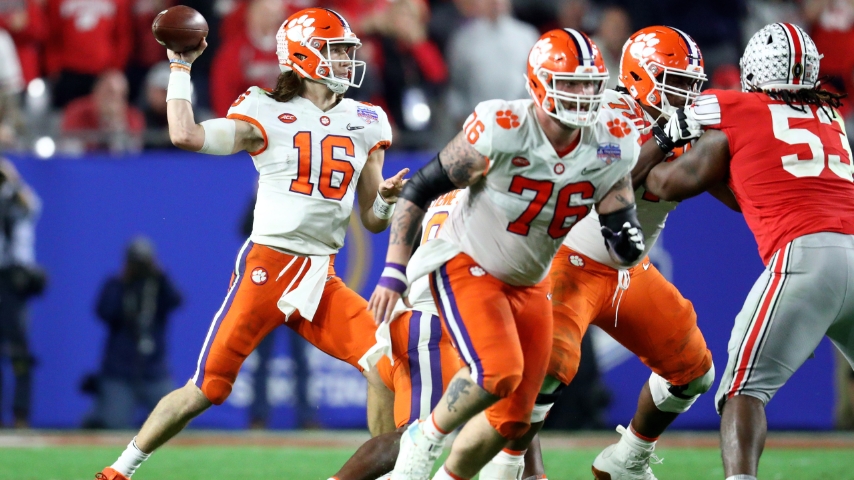 © Mark J. Rebilas-USA TODAY Sports
"You walk out anywhere in South Carolina, and someone who is a Clemson fan...how gracious they are. How respectful and how nice they are. They talk to you to just say, 'thank you,' and you're like, 'Well, I'm just a football player,' but it brings so many people so much pride to be able to talk about the Clemson Tigers in a positive light. It's just amazing being part of a team like that." Pollard noted.
While Pollard was in town for Pro Day, he did get some time to catch up with several former players as Clemson football held a reunion to celebrate Dabo Swinney's tenure as head coach. While Pollard didn't make it to the event, he said everyone was excited about it.
"What I've heard from the event, it was amazing. I know some of those guys haven't been back in Clemson in probably 10 years. It was more of like a family atmosphere in a sense of just like sitting in a family room talking to the family at a family reunion. It was awesome that they were able to even do that. In another 10 years, when I'm the old guy, I will hopefully have some kids and a wife coming back to that and he (Coach Swinney) is gonna reminisce. It will be awesome."
As for where he leaves the program after his time in Tiger Town, Pollard said things are in good hands on the offensive line and also at the top of the program.
"You gotta tip your hat off to Coach Swinney and his staff because he said, 'I'm going do this right from the start because when I first got the job, I didn't know if I was going to keep it. I made sure that I was going to do it right.'"
"You gotta tip your hat off to Coach Swinney and his staff because he said, 'I'm going do this right from the start because when I first got the job, I didn't know if I was going to keep it. I made sure that I was going to do it right.'"
Doing it right has paid off immensely and now Pollard gets to become one of those former Tigers who gets to come back and eventually talk about the "good ol' days" when he was playing on the offensive line for some of the best teams in Clemson history.
So what's made it work? According to Pollard, it's all about Swinney's approach, "God 1st, family 2nd, education 3rd, and then football."
"He (Swinney) tells these recruiters nowadays that if you come here, you're going to do well, but you're also going to grow as a person. I think that challenges parents. It's not all about football at the end of the day, even if you play in the NFL for 10 years, you're 31-32 years old, you're still young, you've got your whole life to live. So it's not all about ball. I think it's what's put Clemson above most other teams in the country, if not all of them."
Never miss the latest news from Clemson Sports Talk!
Join our free email list