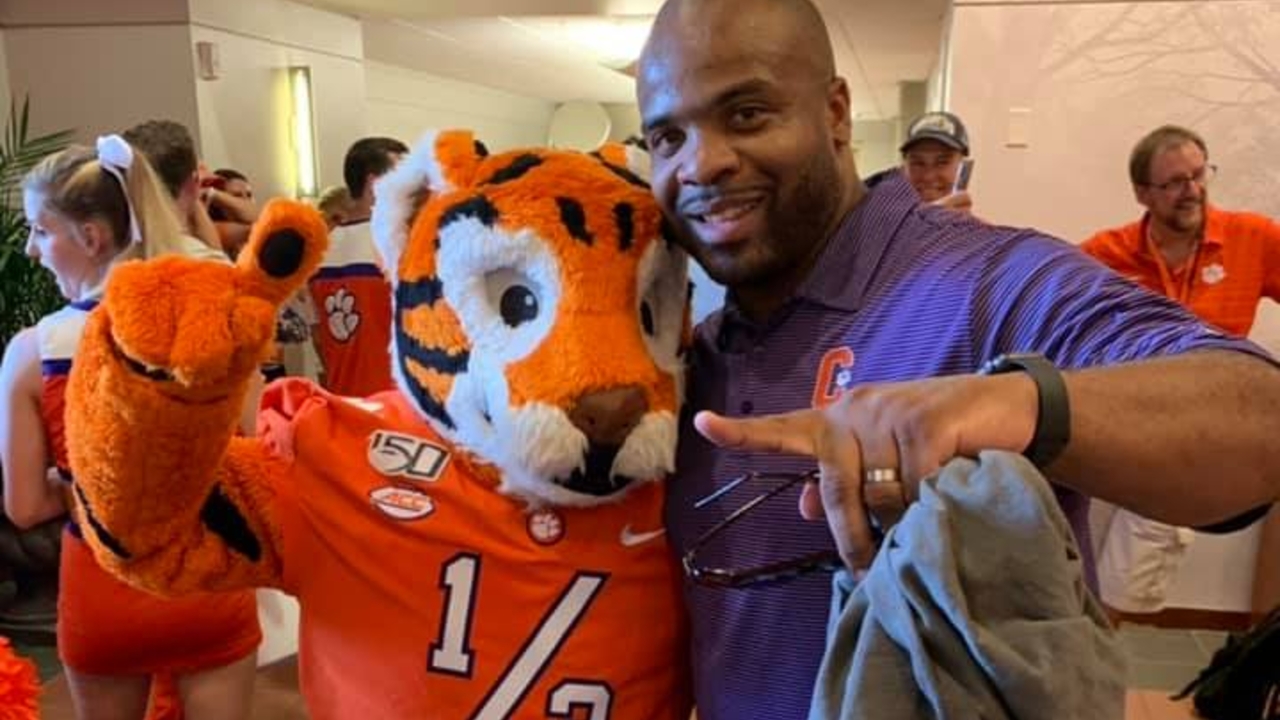 Clemson Football
School of Hard Knocks: Robert Carswell's Life in Education and Football
---

---
During his time at Clemson, former Tiger defensive back Robert Carswell prided himself on being a student-athlete, in that order. Now, as a second-grade teacher at Lake Carolina Elementary School in Richland County, S.C., Carswell is using his passion for education to shape young minds.
"I'm loving going into school every day, working with a bunch of seven-, eight- and nine-year-olds and going outside and playing and racing with them at recess," Carswell said. "It's a really cool and rewarding career."
With schools being closed for the remainder of the academic year due to the COVID-19 pandemic, Carswell has taken the transition to online learning in stride.
"I'm gonna tell you, the good thing about my classroom is I'm really tech-savvy," Carswell said. "We've been doing an online platform in class where I can differentiate my assignments to my students, so we were basically tailor-made for something like this already."
When it comes to helping his child with schoolwork, Carswell found that the challenge is much greater than he could have anticipated.
"It's hard to try to discipline the 'you' out of your child."
"It's hard to try to discipline the 'you' out of your child," Carswell quipped. "I see myself in my child so much. She loves to procrastinate just like me, but she doesn't quite have that gear mastered where, when you're back is against the wall, you can pull it out. I just got to work on that with her."
What Carswell was working on as a youngster was making sure he was ready to play football. From an early age, the Gary, Indiana native fostered a love for football. Carswell grew up 35 minutes away from Chicago, so he naturally fell in love with the Chicago Bears during the height of their popularity in the mid-1980s.
"I remember those Bears doing the Super Bowl Shuffle and [William] Refridgerator Perry; I was a big fan of his growing up before I even knew anything about Clemson," Carswell said.
Carswell's first hands-on experience with football came when his family moved to Georgia, where his father worked at the high school that he would eventually attend.
"My dad worked at the high school that I eventually ended up going to, Stone Mountain High School," Carswell recalled. "He had a connection with the coach, and I was able to be the waterboy you know, running out on the field on Friday night. If you go back and look and you can see me running out there doing little moves, trying to emulate some of the players that I looked up to."
Carswell saw some great high school players that went on to play football at some of the biggest programs in the country, and he knew he had a chance to add his name to the list of Stone Mountain High greats.
Carswell's high school career started at a different position than what he played at Clemson. As a freshman, Carswell played tailback and wore number six, a number inspired by another team that he loved as a child.
"I wanted to be a big-time tailback," Carswell said. "It's documented that I was a huge Notre Dame fan, and I wore number six in high school because of Jerome Bettis. I had dreams of running touchdowns for the Irish.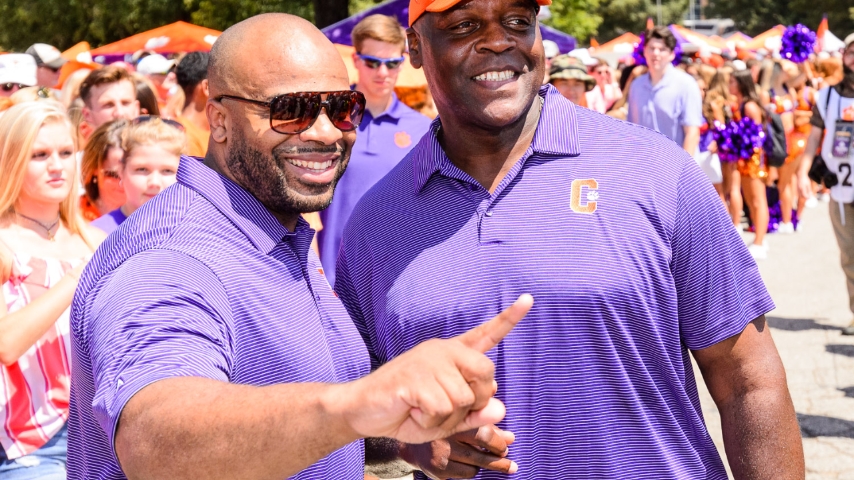 Clemson Sports Talk
While he dreamed of being a college running back, it was with the help of his high school coach that he made the move to defensive back so that he could pursue a collegiate career.
"Coach told me, 'Hey man, you're not a tailback, and we're going to move you to cornerback.' He said that if you make that move the cornerback you have an opportunity to get your education paid for," Carswell said.
Clemson was not an early participant in Carswell's recruiting process, but the Tigers' persistence in recruiting was the deciding factor in his decision to attend Clemson.
"In Georgia, I wasn't a real big Clemson fan, and so it came down to my last visit. It was between Virginia and Clemson and I just remember the persistence of Coach Bisaccia," Carswell said.
As soon as Carswell stepped on campus, he knew he made the best decision.
"When he got me on campus, that was one of the best moves I ever made because you can feel the family environment."
"When he got me on campus, that was one of the best moves I ever made because you can feel the family environment," Carswell said. "You can see the culture of football, and the education stood for itself," Carswell said.
When it comes to education, Carswell learned at an early age that school comes before sports no matter the level of athletic talent.
"'I'm gonna tell you, I was fortunate coming up," Carswell said. "You got your village coming up; they say it takes a village to raise a child. I was fortunate to play for some great coaches, have some great teachers coming up, my parents and all that stuff just kind of played a role."
Carswell vividly remembered a specific instance of when that village made its presence felt in his life, both in athletics and education.
"If you talk to my dad to this day, he'll remind you about this," Carswell said. "When I was in the third grade, I was doing really well in Little League football. I was scoring touchdowns and doing really well on defense. My report card came out and I think I had two B's on my report card. We were going into the playoffs for the little league area championship in Stone Mountain and my dad made me go out and explain to the team how I let them down. He made me quit the team. Now he wasn't big on making you quit, but he said academics come first in our house, and that was kind of instilled in me as a young child."
Carswell's father did not let him play little league football for the rest of that season and all of the next season because of his grades.
"I had to prove myself academically," Carswell said. "I never again let my grades fall like that because that had such an impact on me. To this day when I talk to my kids, I tell them about what my dad did. It kind of raises some eyebrows, but my dad was hardcore.
Carswell carried that emphasis education with him on his five official visits. Carswell said that only two of the schools he visited, Notre Dame and Clemson, focused on academics as much as athletics, and that influenced his decision.
Now a graduate of Clemson, Carswell has taken what he learned on and off the field to his classroom to help the children he teaches.
"I try to build relationships with my students and try to tell them that this is something that I live."
"I try to build relationships with my students and try to tell them that this is something that I live. I went out and got the big head of a third-grader. My dad pulled me off the team, not just for that year, but the following year."
Carswell also stresses to his students the importance of not focusing on one plan for their lives.
"We talked about making sure you have a plan B," Carswell said. "I just try to convey that to my students so I can pass on to the next generation everything that I learned so they can have it better."
Carswell has also used the principles that Clemson head coach Dabo Swinney has used to build the football program with his students.
"I'm down there [Clemson] with my notepad," Carswell said. " Some of the things he [Swinney] says, I actually take that, and I tell my class that, at the first day of school. I use a lot of Coach Swinney quotes."
One of the times Carswell specifically admired Swinney was the time that he suspended Deon Cain before the Orange Bowl in 2015 against Oklahoma.
"Talk about practice what you preach," Carswell said. "I mean any other place, they would have said 'this is no time to be teaching a lesson,' but Coach Swinney said this is the exact time to teach a lesson."
Throughout his life, Carswell has learned his fair share of lessons, and he hopes that he can pass those lessons on to the next generation.
Never miss the latest news from Clemson Sports Talk!
Join our free email list