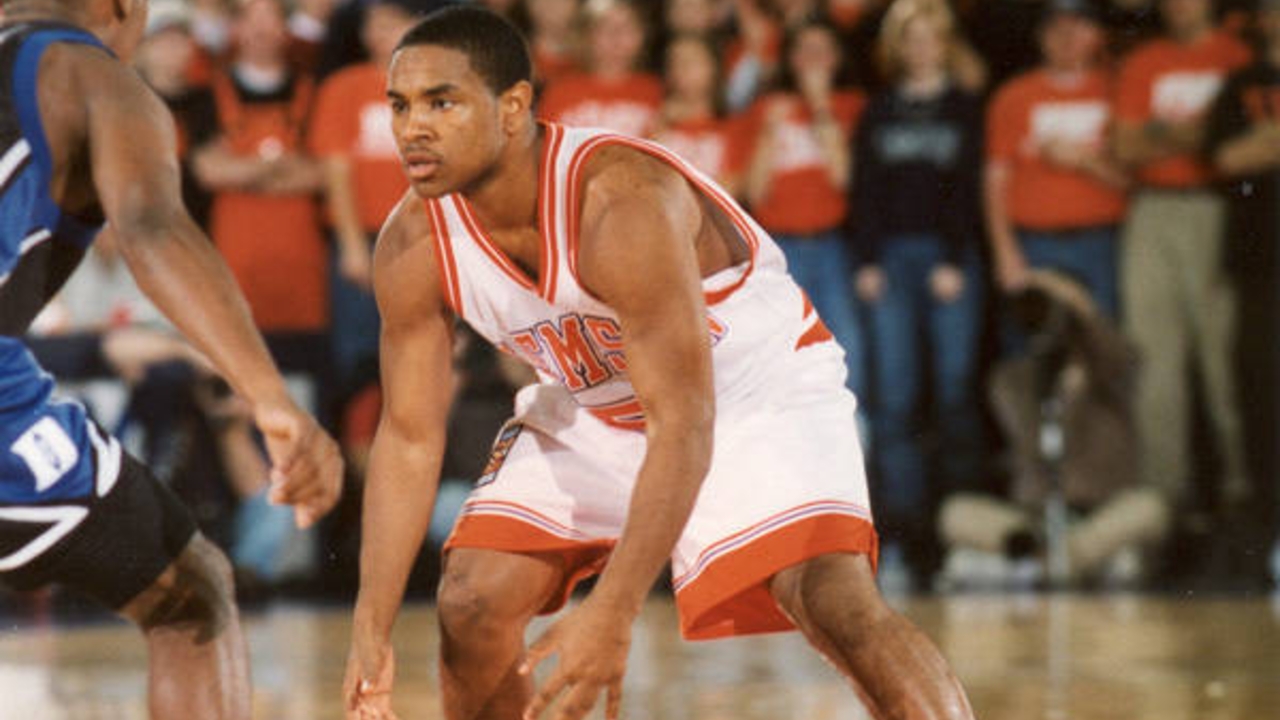 Photo by ClemsonTigers.com
Clemson Basketball
Terrell McIntyre: "It was always my dream to play in the ACC"
---

---
In the history of Clemson basketball, few names and careers are as respected or admired as that of former guard Terrell McIntyre. McIntyre currently stands as the second-leading scorer in Clemson history with 1,839 points. McIntyre also is second in career three-point field goals made and third in assists.
Despite being known as a successful player on the hardwood, McIntyre's first memories of sports happened on the left side of the diamond.
"My earliest memory in sports, really, is baseball," McIntyre told ClemsonSportsTalk.com. "That was the first team sport that I played. I thought I was going to be a baseball player, to be honest with you. I played t-ball, little league, and I was a left-handed shortstop, believe it or not. Nobody could tell me that I wasn't going to be Ozzie Smith."
As a high schooler, McIntyre also garnered attention from schools for his exploits both on the court and the gridiron.
"I played three sports all through high school," McIntyre said. "I was getting football offers from some Divison I schools that wanted me to play both [football and basketball]."
Through all the practices, games and seasons, basketball—particularly ACC basketball—always stayed at the forefront of McIntyre's mind and heart.
"It was always a dream of mine to play in the ACC."
"It was always a dream of mine to play in the ACC," McIntyre said. "Even though I was good at other sports, I always loved basketball. You watch college basketball now, everybody's game is on TV, professional and college. Back then, the NBA was on Sundays and Saturdays, and one to two days during the week, it was Raycom Sports and ACC basketball. That's all we watched. I grew up wanting to be in that league, so that was a dream come true to make it to the ACC."
As soon as McIntyre arrived on Clemson's campus in 1995, his main objective was to learn and absorb as much as he could from second-year head coach Rick Barnes.
"As a freshman, you're holding on to everything that your coaches say," McIntyre said. "We were a disciplined team because we were so young that anything that Coach Barnes or any of the assistants said, we were doing it. It didn't take a lot of pushing; we catered to everything he said because we did have seven freshmen and one sophomore. We were a young team my freshman year, and we just went out there and played, oblivious to everything around us. On the court, we just followed the game plan. Then, before you know it, the wins started coming, and we didn't even know what we were doing, to be honest."
As a 5-foot-9-inch guard, McIntyre was often the smallest guy on the floor, but instead of a detriment, he made his height a source of motivation.
"I was always the underdog," McIntyre said. "I took a lot of pride in being the smallest scholarship player in the ACC. I took a lot of pride in that because I knew there were a lot of people my size and stature that dreamed about playing and didn't get the opportunity. I wanted to make the most out of every opportunity that I had, and when I got the chance to play big minutes, I was like, 'Man, I'm not looking back for anybody.'"
When it comes to current Clemson players, guard Al-Amir Dawes often reminds McIntyre of himself both in his play and his spirit.
"I did for a couple of reasons, his heart number one," McIntyre said. "I had heart as a player, and you could see the heart that he [Dawes] has. I didn't pass the eye test to a lot of people. I think once you play and be around a person for so long, I tend to grow on people, grow on coaches, grow on my teammates, and they start to believe and I build that trust. Al is the same way. He did some things this year that surprised us, to be honest, that we didn't know he could do as well as he could."
Being able to relate to Dawes' play brought many smiles to McIntyre's face during this past season.
"It felt good to see that. For him to surprise a few of his coaches, that knew how talented he was and the potential that was there, but did not have any idea of the heart and the way that he can defend on the ball at that level. That surprised us," McIntyre noted. "That's one thing that I did there [at Clemson], surprised people with some of the things I could do that they didn't think I could do."
On the subject of heart, McIntyre's heart was always set on winning above any individual recognition or awards.
"I played the game to do whatever it took to win," McIntyre said. "I didn't know about where I landed in Clemson history until my senior year when we got our jerseys, and they had all the accolades on it. I had no clue. That wasn't anything that I cared about; I just wanted to win. Whatever my team needed me to do, whether it was to get people involved or score, I was willing to do. Winning was all I cared about. I didn't care about individual accolades."
---
Stay tuned for Part II of our conversation with Terrell McIntyre, including the full audio!
Never miss the latest news from Clemson Sports Talk!
Join our free email list