Clemson Football
On the record: Bob Gillespie
---

---
Earlier this summer, we sat down with longtime sports journalist Bob Gillespie to talk about his life in sports covering both Clemson and South Carolina. During Bob's incredible career, he had a chance to cover some of the most significant sports stories in the Palmetto State.
From his beginnings in the business, through his memories of the Joe Morrison and Sterling Sharpe at South Carolina, plus Dabo Swinney building a monster program at Clemson, Gillespie shares some wonderful memories from his time in as a journalist.
Sterling Sharpe and his interactions with him:
"Sterling was probably the most dynamic receiver I ever saw at South Carolina. He wasn't a big guy, good size, but not overly large or anything like that. But he was fast. He was quick, and he was extremely smart. I saw him make plays at wide receiver that you just go, 'wow, that's amazing stuff.'"
"There's been a lot of great receivers that came along at South Carolina since him, but to this day, I think he has a special place. Had he been able to play a little longer in the NFL? There's no question he'd be in the Hall of Fame, as well. His brother, like you said, Shannon, would probably tell you. Sterling was the best athlete in the family until he had those neck injuries that forced him to retire."
"He shut down basically, for a long time. He just wasn't talking to them, and not only was he not talking to them, he comes home to South Carolina, he wouldn't talk to the local media. He just had nothing to do with anybody. I can clearly recall a time walking through an airport going to catch a plane, and he's coming from the other direction I see him, and I go, 'Hey, Sterling. How's it going? And [he'd] just cruise right on by."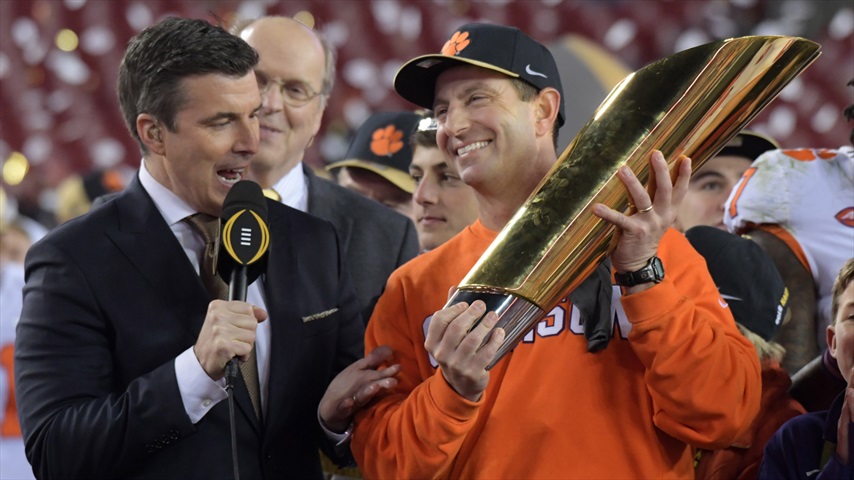 © Kirby Lee-USA TODAY Sports
On Dabo Swinney and the success he's had at Clemson:
"I did a story for The State. It was basically, what is life like for Dabo Swinney six months after he played for the national championship? He was very cooperative. He wasn't the most accessible, but his wife was fabulous on the phone. I base a lot of who people are on what other people who are around them tell me, and I don't mean the assistant coaches. [They] are going to tell you how brilliant and wonderful and what a great human being he is, but just people who work around Clemson that [have] gotten to know him. And almost to a man and a woman, everybody likes this guy. Not only likes him but respects him, and not just respect him as a person, but respects him as a leader. Now again, there are going to be naysayers anytime, but everything I have been able to ascertain is, he's the real deal."
"I mean, he can coach for another 15, 20 years easily. He seems to enjoy it enough that he could, and by the time that ends, the only way Dabo Swinney doesn't coach until he retires at Clemson is if he wants to do something else. There's no way. You win two national championships; you're bulletproof. Unless you do something stupid or something illegal, and I don't see that happening."
Never miss the latest news from Clemson Sports Talk!
Join our free email list