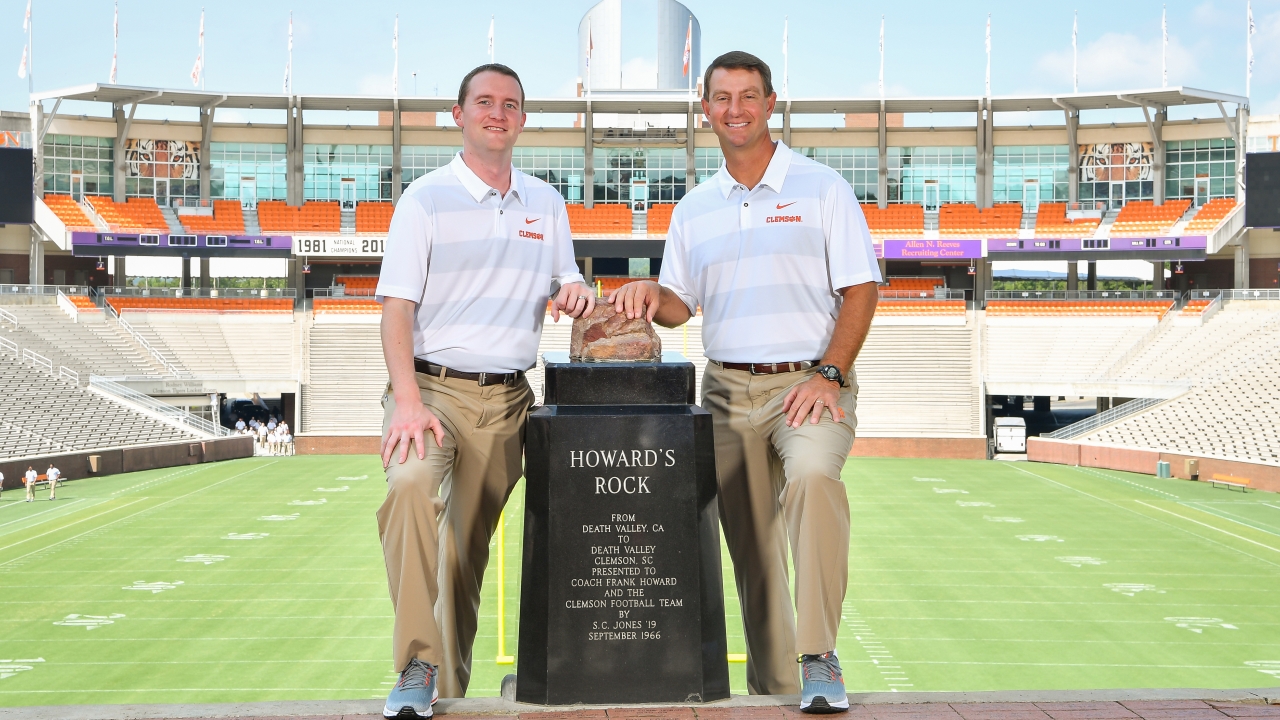 Clemson Football
Ross Taylor: Dabo Swinney's SID shares his start in sports
---

---
Before Ross Taylor arrived at Clemson, most football fans in Tiger Town probably had seen his face at least once. Back in 2015, following the Washington Redskins victory over Tampa Bay, Kirk Cousins famously shouted, "You like that?" towards the camera. In the background of that now-famous meme is Ross Taylor, never realizing how far that image would travel.
"Oh, there's no doubt, Clemson could win the next 30 consecutive national titles, and I can be standing in the background of the trophy ceremony for all 30 and I will forever be known as the guy that is kind of suppressing a smile on the back of that meme," Taylor said.
At that moment, Taylor's phone started buzzing, but he didn't realize why.
"The funny thing was [that] we didn't know it was rolling. So the way that happened, if you notice on the video, he kind of walks around the Comcast SportsNet set up. Because usually, that stayed down until the entire team got in the locker room, then they would set up for postgame," Taylor recalled. "So we're thinking they're off the air, and they're in the studio right now, not knowing that camera was rolling."
That lesson has come in handy at Clemson, as Assistant Athletic Director for Football Communications, now that Taylor coordinates and schedules media appearances, along with program record-keeping for the Tigers.
"I tell our players this every August, 'guys, you never know when cameras are rolling. You never know when you're gonna go viral entirely by accident,' I'll pull that up and just kind of prove it firsthand. But it was funny because he was doing it in jest with a reporter that he had a great relationship with. I had no idea what was happening."
Growing up in Texas, a football-loving state, Taylor initially found hockey to be interesting as the Dallas Stars were all the talk when he was younger.
"I'm probably a massive anomaly in that respect. Obviously, football in Texas being number one, but right there for me was hockey. The Stars moved from Minnesota to Dallas in '93 when I was four years old, and so I kind of grew up with that franchise," Taylor said. "My dad and I were able to, three or four times a year, sit on the very top of Reunion Arena. The Stars win the Stanley Cup six years into their tenure in Dallas. I grew up with that franchise."
Taylor's relationship with the Stars drove him towards a career that's seen him working on both sides of the media.
"I grew up wanting to be a sports writer. My parents would send me to bed before I could see the end of games, so I had to wake up and read the Dallas Morning News and fell in love with sports media that way."
Eventually, Taylor picked up an opportunity to work for the very paper he read as a child.
"Coming out of high school, actually got an internship with the Dallas Morning News. So I spent about ten weeks as a general assignment sports writer. For a long time, [it] was really just one of the gold standards of sports pages throughout the country and turned out a ton of talent."
Spending time at the paper allowed Taylor to learn more about the business, and allowed him to cover several unique events.
"My first byline in the Dallas Morning News as a general assignment reporter was previewing a long-distance boomerang contest. These guys throwing boomerangs that look like question marks."
"My first byline in the Dallas Morning News as a general assignment reporter was previewing a long-distance boomerang contest. These guys were throwing boomerangs that look like question marks. I'm just out in some field two days in advance of the competition; I'm sure I probably had like 17 ticks on me," Taylor recalled. "So when everybody tells you, it's glamorous, and you're eating free food in Major League ballparks-- not quite the same."
Another assignment for Taylor was covering Sammy Sosa, as the slugger was chasing his 600th home run. While there was plenty of media on site for the event, Taylor's responsibility that day was different than you might expect.
"I had a couple of interactions with some of the "big wigs" there. I was alongside [Tim] Cowlishaw for one Rangers game. Frankly, I was just there in case somebody caught Sammy Sosa's 600th homerun. Try to go track that person down. Sure enough, he didn't hit it that game. They called in somebody from the bullpen with a little more experience than me for the next game when he inevitably hit it."
Those opportunities led Taylor to see the other side of the business, and he quickly fell in love.
"I did it for ten weeks and loved the process. I still love getting a chance to write and do some radio and just little things here and there on the content side, but some of the most positive memories I have of my time at the morning news were working with some of the PR folks."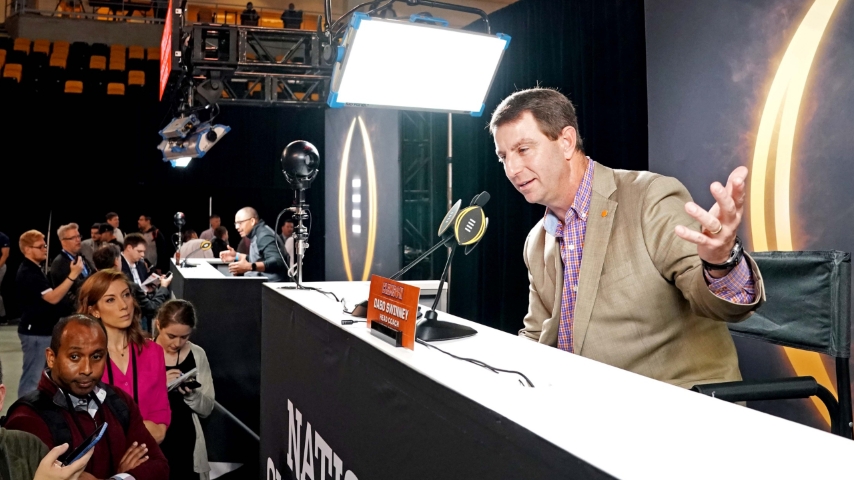 © John David Mercer-USA TODAY Sports
"The public relations people that I had really positive interactions with were so passionate about getting great stories told," Taylor noted. "They loved the athletes they were working with and wanted to make sure that they were highlighted appropriately. That was the first time that this side of things ever got on my radar. So I went to Missouri and studied journalism, but I always had an idea that I kind of might transition this way and just use my skill set another way."
During Taylor's junior year at Missouri, he began sending out feelers to several franchises in strategic markets where he knew he had free places to live, back home in Dallas, or with a relative in the D.C. area.
"During my junior year, I was looking for a little bit of experience on this side of things. [I] reached out to all four major teams in areas where I knew I had places to live. So I hit all eight of those teams, and most of them said, 'Thanks. No thanks,' oddly enough, it was the two NFL teams that got back to me."
Taylor joined the Redskins in the summer of 2010, Mike Shanahan's first season. After a short stint in Washington, Taylor finished up at Missouri and was working with a PR firm in St. Louis while still figuring out what he wanted to do. Two weeks out from heading to intern with the Fiesta Bowl, the Redskins called him back as the NFL lockout was about to end in 2011.
Taylor spent seven seasons in the NFL, giving him plenty of experience at a very young age making him an ideal candidate at Clemson upon Tim Bourret's retirement in 2018.
In Part II of our story with Ross Taylor, we learn more about his initial meeting with Dabo Swinney and one of the most significant driving forces behind Clemson's success.
---
Premium subscribers will be able to read Part II as well as hear the entire interview with Taylor. Join today for just $17.76 during our Independence Day sale!
Never miss the latest news from Clemson Sports Talk!
Join our free email list