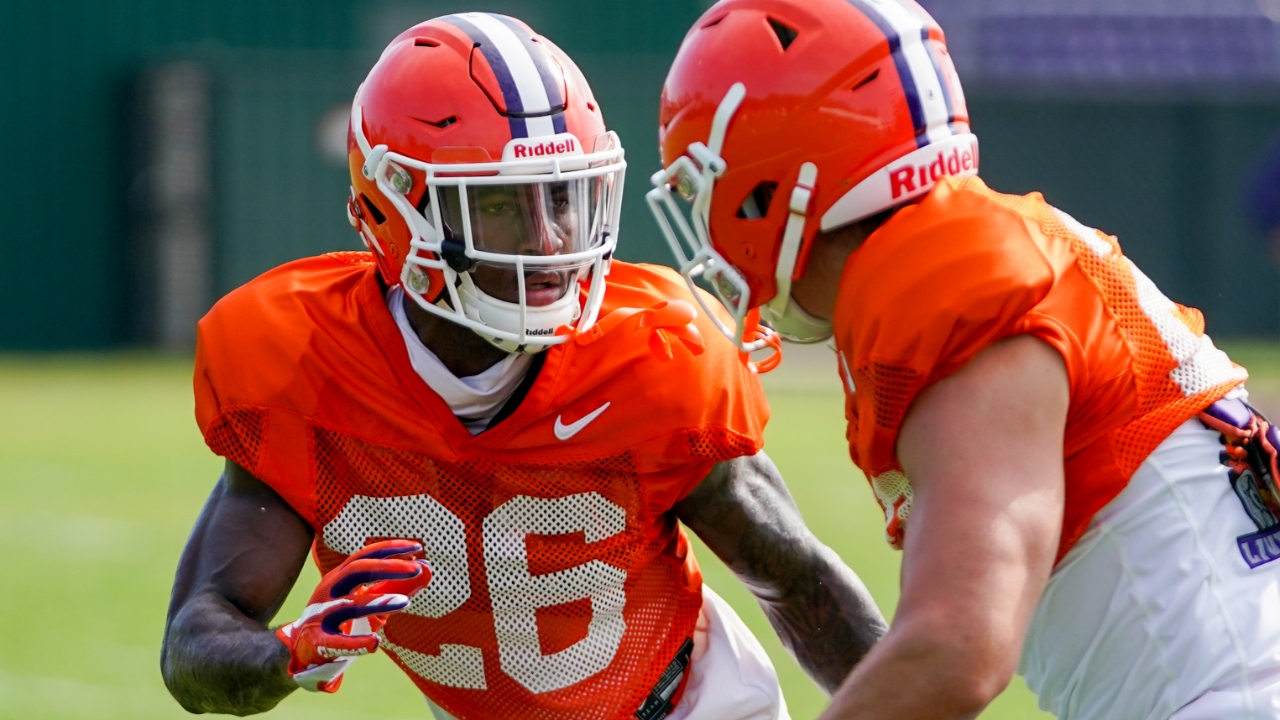 Andrew Booth Jr.
LeAnthony Williams
Amari Rodgers
Clemson Football
Pushing Clemson to the top: Depth and talent at an all-time high in Tiger Town
---

The MOST DIGITAL CONTENT covering your CLEMSON TIGERS. Sign up for your FREE account today!
---
Happy Friday everybody we hope you all are doing well. We thought we'd take a quick look at some of our thoughts on how camp has gone for Clemson, now turning their attention to Wake Forest on Monday.
There's really a lot to cover.
First the offensive line, this is an area that I think a lot of people had some concerns about coming into the season, given the fact that you lost four starters, up front, outside of Jackson Carman.
But if you go back and we've tried to keep this in everybody's thought process over the summer is the conversation we had with Sean Pollard. Pollard was excited about Clemson's offensive line and felt like some of the young guys, who perhaps aren't household names like Cade Stewart and Matt Bockhorst, are going to be fantastic.
"Obviously, Jackson Carman, but Matt Bockhorst could have been a starter last year. Bockhorst is going to be a baller. Cade (Stewart) is gonna ball out at center. He's smart, strong. He's a lot more athletic than people think. I think he ran a 4.98 at the end of summer, at 310 pounds like freakish athletic," Pollard said.
What you've heard from Dabo Swinney, especially when talking about o-line coach Robbie Caldwell, is how versatile these guys up front are becoming. Versatility is a term that we typically use to define the role of guys that are playing linebacker or playing in the secondary, but we're hearing it more and more from Clemson on the offensive line, and that's important.
Another thing we want to get to is the emergence of names on the defensive side of the ball at linebacker and in the secondary.
One thing that doesn't get enough talk is how hard it can be to judge who's going to end up playing linebacker because it can be situational. It can also be determined by what you see on a week to week basis depending on which player you really feel like gives you better options. Teams that want to play in space, you might prefer quicker linebackers. Teams that just want to pound the ball, as Boston College has in the past, you might want to go with some of the bigger, more powerful linebackers.
Then they're just guys like Isaiah Simmons, who you never take off the field. Hopefully, Mike Jones Jr. can take some of those critical snaps.
The good news is at the linebacker spot right now from Clemson, we've heard great things about James Skalski and then Baylon Spector making his name known as well. We love a guy like Vonta Bentley, a "thumper," but names like Kane Patterson and Keith McGuire Jr also continue to creep into these conversations. That's positive as depth and health are key at that spot.
Plus, in this year, where every player gets a chance to get another season back, that means that you can not only build depth for 2020 but also experience for 2021 and moving forward.
Then in the secondary, we sort of outline this yesterday-- Holy smokes! We can't get over what we continue to hear out of this group. Whether it's Derion Kendrick, who's a Preseason Thorpe Award guy, to LeAnthony Williams, who Dabo Swinney just seems to love, they are loaded. Mix in Mario Goodrich, Andrew Booth Jr, and Sheridan Jones-- this is a very capable group.
While the emergence of Malcolm Greene probably shouldn't catch us by surprise, it still does to an extent. Mix in Fred Davis, and you are just adding to the depth and talent in the secondary. Dabo Swinney said on Wednesday that it was a great time to be the cornerback coach at Clemson, and he's right, but it's also a great time to be Brent Venables. His squad is loaded right now, and with the new redshirt rule in place, they can unleash every player that they feel can help them be successful in 2020.
Offensively, we can talk about the backup quarterbacks and running backs, but the starters there are known commodities. What we continue to harp on and follow is what's happening on that offensive line, where the linebackers and secondary are because those are positions where people had some questions coming into the season. And really what we're seeing is that any questions are mitigated by depth.
Y'all have a great weekend.
Never miss the latest news from Clemson Sports Talk!
Join our free email list