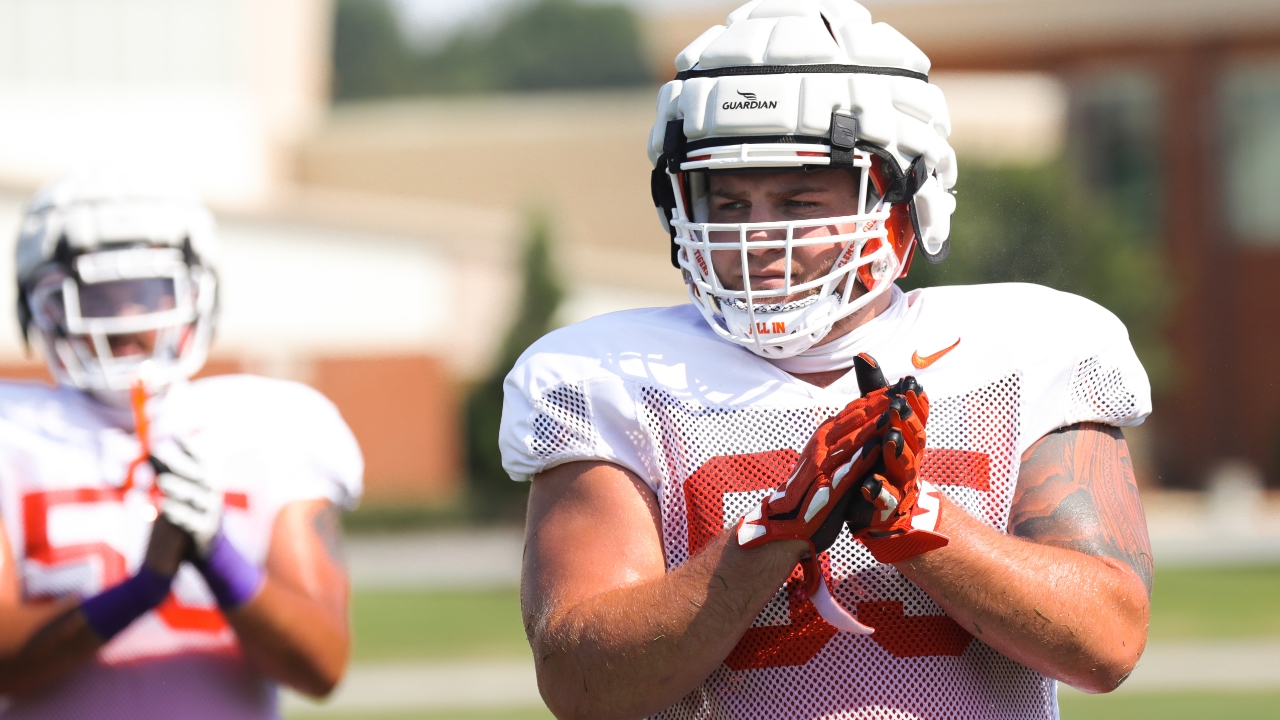 Photo by Courtesy of Clemson Athletics
Clemson Football
Bockhorst: Clemson offensive line lacking experience, but up to the task
---

The MOST DIGITAL CONTENT covering your CLEMSON TIGERS.
---
In speaking with the media recently, Clemson offensive guard Matt Bockhorst referred to a so-called "elephant in the room" in regards to the upcoming season.
The elephant he was speaking of? The Tigers are heading into the 2020 season replacing four former starting offensive lineman.
As was to be expected following the departure of Gage Cervenka, John Simpson, Tremayne Anchrum and Sean Pollard, Clemson finds themselves staring into the proverbial unknown at the core of the offensive side of the ball.
But according to Bockhorst, reflecting words we heard from former starting center Sean Pollard a few months ago, Tiger faithful should have nothing to stress about this fall.
"I don't think any of us are worried," said the junior guard. "I think that we have a lot of strengths as a group, and I think we are great at communicating. That's something that is so often overlooked for offensive line plays."
Jackson Carman, by far the most experienced lineman currently on the roster, will anchor the offensive line at left tackle. Carman, a junior, is the only returning member from last year's starting lineup, having taken home third-team All-ACC Honors in his first full season as a starter.
Bockhorst, having moderate experience mostly as a backup, will line up next to Carman at left guard, while graduate senior Cade Stewart will get the nod as starting center.
Redshirt sophomore Jordan McFadden will be making the switch from left tackle to starting right tackle this season, while the least-experienced member of the starting offensive line, sophomore Will Putnam, will get the nod at right guard.
Combined, the five of those players have a grand total of 17 career starts in a Clemson Tiger uniform, and 15 of those starts belong to Carman.
On an offensive line with as little starting experience as the one Clemson will place on the field this season, there's no question that sound guidance will be needed.
"I think the opportunity for leadership roles, especially on the offensive line, is very abundant this year," remarked Bockhorst. "Myself, Cade and Jackson have tried to take the lead on a lot of that."
Bockhorst went on to comment specifically on the work ethic of Carman, referring to his change of physique as "incredible."
"One thing people might not know about Jackson is that he came in pretty heavy when he enrolled," Bockhorst said in as polite a manner as possible.
"The job that he has done, especially this offseason during quarantine… that dude deserves a lot of respect. He's worked really hard to get his body where it needs to be."
"The job that he has done, especially this offseason during quarantine… that dude deserves a lot of respect. He's worked really hard to get his body where it needs to be. And I think that the younger guys see the work he's put in, day in and day out, and they have a lot of respect for that."
Carman will steer a Tiger offensive line that was considered to be one of the best in all of college football last season. Considering the once-in-a-generational talent that is the one-two punch of QB Trevor Lawrence and RB Travis Etienne, it would be easy to overlook the job that offensive coordinator Tony Elliot and offensive line coach Robbie Caldwell have done with the Tiger frontline.
But all five members of last year's offensive line were given All-ACC honors for a reason. Clemson boasted one of the best, if not the best, offensive lines in the entire country. Replacing 80 percent of that group is an unenviable task. However, Bockhorst believes these Tigers are up for the challenge. The key? Establish their calling card early and often.
"I think that we've really tried to establish a culture of finishing aggressive and nasty. It's no secret that's kind of been my brand throughout high school and college. And it's something that Jackson, Cade, [Will} Putnam and [Jordan] Mcfadden; we all want to collectively be that type of group… but we will see if the rubber hits the road on Saturdays."
Bockhorst and his unit, along with the rest of the Tigers, will get the chance to prove themselves beginning this Saturday at 7:30 ET in Winston-Salem, as the Tigers open the season traveling to take on the Wake Forest Demon Deacons on ABC.
Never miss the latest news from Clemson Sports Talk!
Join our free email list