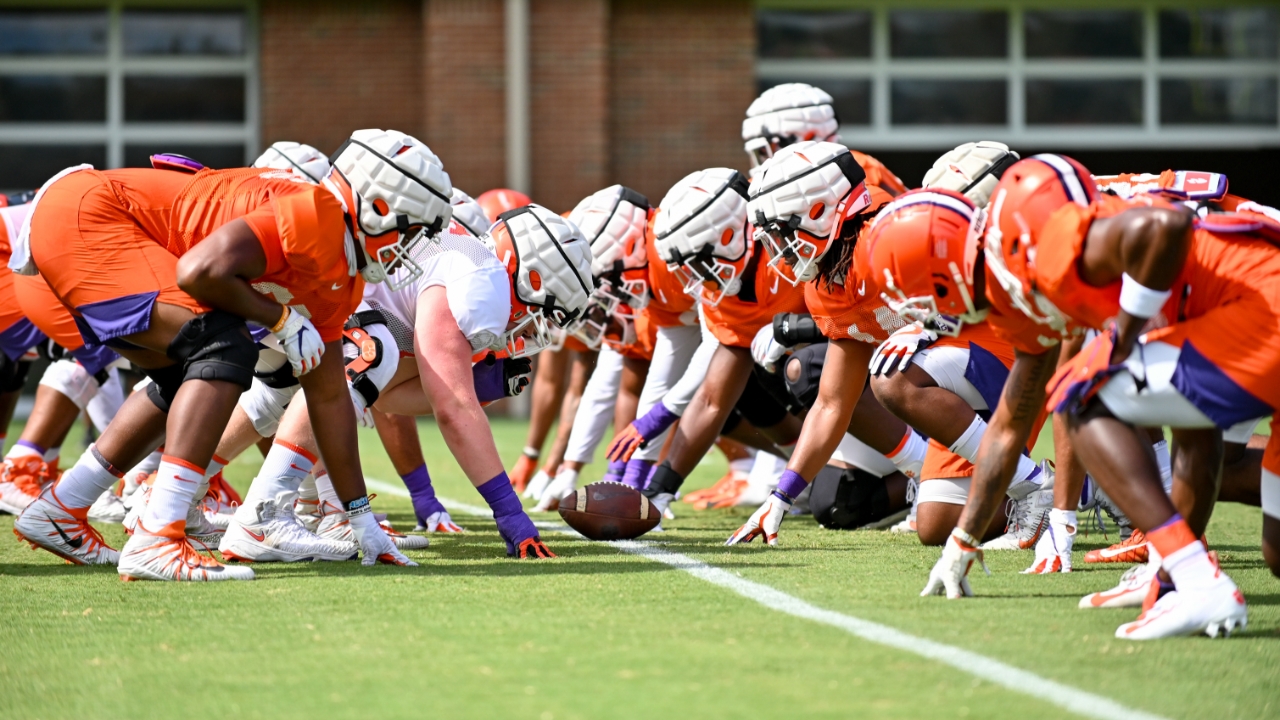 Photo by Courtesy of Clemson Athletics
Clemson Football
Cade Stewart is ready to lead Clemson's offensive line with talent, few starts
---

The MOST DIGITAL CONTENT covering your CLEMSON TIGERS.
---
The Clemson offense will take the field today at Truist Field in Winston Salem, NC against Wake Forest without four starters from the 2019 offensive line. Gone are center Sean Pollard, right guard Gage Cervenka and NFL Draft picks Tremayne Anchrum Jr (250th overall, Los Angeles Rams) and John Simpson (109th, Las Vegas Raiders).
Center Cade Stewart is the most experienced member on the offensive line, not by starts, but in seniority. He redshirted as a freshman in 2015, got backup snaps and one start at tackle in 2018, and became a graduate this past May.
After logging 27 snaps as Pollard's backup in 2019, Stewart will get his first start at center on Saturday against the Demon Deacons. The redshirt graduate is part of an offensive line culture at Clemson, where cross-training and versatility are important to offensive line coach Robbie Caldwell.
The bulk of his playing experience is at center, a position he feels is more natural for him and he is excited about moving forward.
"I think it is," Stewart said when asked if center is a natural position for him. "You know, I've definitely gotten accustomed to it. You know, between last year, the spring and now this season. I've really grown as a football player because it's a lot different than the other positions, I would say, and it's more mental. You get to know a lot more things. But I've definitely thrived, and I'm really excited to see how the season [is] gonna play out."
During his time on the Clemson campus, Stewart, who played at nearby Daniel High, watched Jay Guillermo (2016), Justin Falcinelli (2017-18) and Pollard man the center position. Guillermo is coaching at Western Carolina, Pollard is pursuing an NFL career, and Falcinelli currently out of football. Each were solid players and citizens at Clemson and have been available for Stewart when he needs them.
Stewart talks about following in their footsteps and his relationship with them.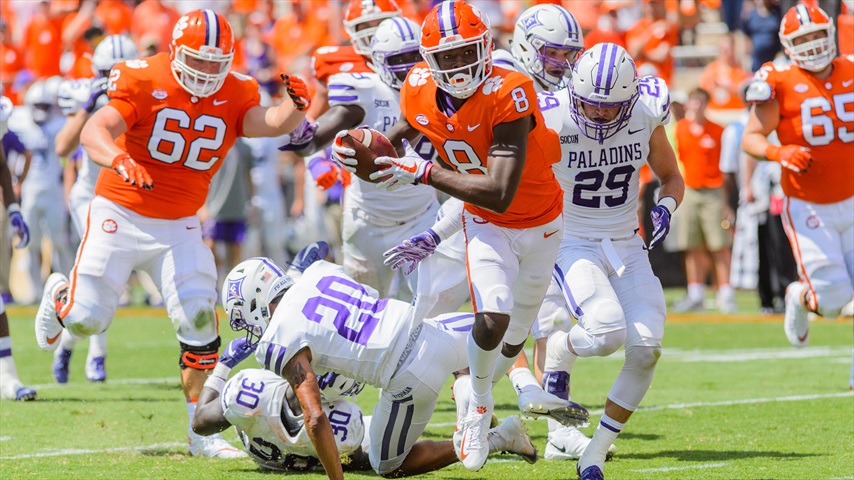 Clemson Sports Talk
"This is a great experience and it is truly humbling because, you know, those are some really incredible men as well as football players," he stated. "You know, so anytime I have any problems I can always turn to one of those guys, because they've been like a big brother to me. So just to be able to take over the reins and really take charge is a truly great experience I get to experience this year."
Stewart will be taking charge of a group led by left tackle Jackson Carman, an NFL prospect, and with Jordan McFadden at right tackle, Matt Bockhorst, left guard and Will Putnam, right guard.
To his immediate right will be the youngest starter, Putnam. Putnam, a true sophomore from Florida, has 192 career snaps over 11 games.
"He's talented. He's special. He's a young guy. I think he's a sophomore," said Stewart of the Tampa native. "And he's just came along so far since he first got here. I mean, it's night and day, and he's just, you know, he is so attentive, and he's so hungry to learn and to just help his team out as much as he can. It's really good to see him come along. He's going to be an incredible player. But I'm just excited because every day, he comes out here and he's got a great attitude, he's hungry for more and you just love to see that about a young guy."
Putnam is young but not the youngest in the offensive line room. Clemson brought in a six-man offensive line class with Walker Parks, Paul Tchio and Mitchell Mayes, all in the top 10 at their respected positions in the 2020 recruiting class. The top Clemson signee was Parks, a top 50 overall recruit from Frederick Douglas High in Lexington, KY, who is currently listed as the backup to Carman. The former number two recruit in Kentucky has impressed Stewart and notably, the freshman's discipline stands out.
"I would say, he's disciplined. He's a very disciplined guy," Stewart said. "You tell him, 'Hey Walker, you know, this is what you need to do, this is how you need to do it.' You know, he's doing it that way. He's good. He's very disciplined in that sense. He learns very quickly. He's definitely dove in and really taken advantage of his opportunity. And he's gonna thrive here, he's an incredible player. He's going to do great things. But I would say yet his discipline is really what's helped him elevate his game and really hone in on the details."
Parks is not the only freshman that has caught Stewart's eye. At center, he gets a close look at the defensive line signees from the class.
Bryan Bresee, the number one defensive player, leads that group and it includes defensive end Myles Murphy and tackles DeMonte Capehart and Tre Williams.
"Oh man, they're super talented players," Stewart said of the freshmen. "They definitely have grown a lot since whenever they came here either December, or the fall. They are incredible athletes. There's a reason why they have that many stars or whatever they had. They're truly special and you're going to hear a lot about them in the coming years. They are some talented players."
Bresee is listed as a co-starter on the two-deep roster at tackle and Murphy, the backup to K.J. Henry. Both players have received praise from Stewart, various coaches and players throughout camp. As expected, Bresee is asked about often by media and Stewart, when asked, gave his assessment of the former five-star recruit.
"He just has a motor man. He just goes," Stewart said. "He's relentless to that ball, you know he's not gonna let no one slow him down. He just goes. He has that he's just aggressive all the time and I think that's what makes him so super special. It's just his drive and his motor."
Stewart was also asked how Bresee compared to former Clemson All-Americans and first-round 2019 NFL draft picks, Christian Wilkins (13th overall, Miami Dolphins) and Dexter Lawrence (17th, New York Giants).
"No one's here for distractions or nothing. So I think it's a great idea, and a great, great thing that we've had. There's always silver linings in everything, and I think this is one of them."
"He definitely has the qualities of both Dexter and Christian. He's a big strong guy," said Stewart. "He can move and bend really well. I wouldn't. I don't want to compare him to, you know, those two guys because I was a freshman. And so, they were pretty good players back then, and I had to learn a lot really quickly. You know what he is coming along really well i think he's gonna make a name for himself in no time. He's an incredible player, and he's gonna do some great things here."
Lining up against Bresee and working on chemistry with the other starters hasn't occurred as often as Stewart and coaches would have liked this offseason. With no spring game and less practices due to the pandemic, reps were invaluable but Stewart is not worried about a lack of chemistry.
According to Stewart, chemistry should be fine due to most of their time through the years as backups and surprisingly, because of the virus too.
"Absolutely," he said when asked if the team's COVID-19 influenced isolation helped with chemistry among the group. "Like, I've said, I mean besides Jackson, we all played on the second group, all week during practice over the last 2, 3, 4 years. So we've been able to really develop a great chemistry, because, you know, many of us were on that second group, repping with that, over the last [years], so the chemistry is just great, and I think with this virus we've been able to even enhance that chemistry, because you know it's just us that's all we've got." Stewart also said.
"No one's here for distractions or nothing. So I think it's a great idea, and a great, great thing that we've had. There's always silver linings in everything, and I think this is one of them."
On Saturday, the offensive line will be watched by many because of their lack of starts, 17 total, 15 from Carman alone, and because they are responsible for opening holes for Travis Etienne and protecting Trevor Lawrence.
Never miss the latest news from Clemson Sports Talk!
Join our free email list