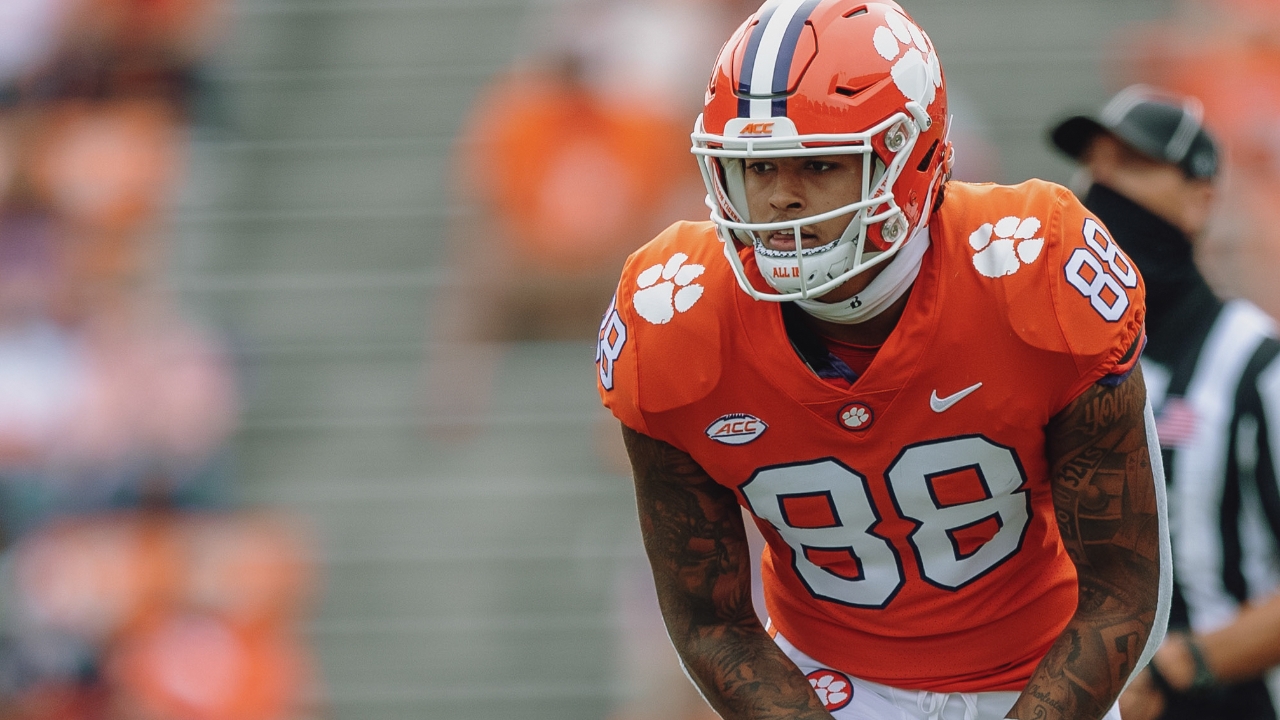 Photo by Courtesy of ACC Media Portal
Clemson Football
Braden Galloway: "Football is what I do, not who I am"
---

Feel the difference - The MOST DIGITAL CONTENT covering your CLEMSON TIGERS! Avoid clickbait and sites bloated with advertising!
---
Clemson tight end Braden Galloway was ecstatic as he prepared to fulfill a lifelong dream. His Tigers were set to face off against Notre Dame in the historic Cotton Bowl, with a trip to the 2019 CFP National Championship on the line.
But just days before the game was to be played, Galloway was brought in for a semi-routine drug-test being conducted by the NCAA. Following his test, Galloway was delivered arguably the most crushing news he'd ever been dealt: his had come back positive.
Ostarine was the banned substance that had been detected within his system, and Galloway — along with two other Tigers — were suspended a year from play, per NCAA policy.
Galloway hadn't been a huge contributor during the 2018-19 season, hauling in just five receptions for 52 yards and a touchdown up to that point. As had been par for the Clemson course, tight end roles were minimal within the Tigers' high-flying offensive attack.
But for Galloway, it wasn't necessarily about the contributions he wanted to make on the field. Not being able to suit up and be with his teammates for those final two games took a massive toll on the then-freshman.
"That was definitely one of the lowest points of my life," Galloway said in reflection.
And while Galloway had been a stand-up athlete and student for the Tigers the whole season, there was no way in which he could appeal or contest the suspension. For an entire year, he was left limited in his ability to make an impact on the field or memories off of it.
It was incredibly difficult for Galloway to give up an entire year playing the sport he had come to love so dearly. It was a bit of a newfound passion, as he hadn't played football competitively until his junior year of high school. Yet by the time he finished his two-year high school football career, he had more than made his mark on the gridiron. He was scouted as the No. 1 tight end in South Carolina, officially enrolling at Clemson in 2018 after the Tigers extended him an offer.
"I didn't really play in high school much until later on," explained Galloway. "Getting here and being excited to play, then getting that year taken away kind of hurt me."
Reeling mentally from the reality in front of him, Galloway found himself staring down two separate paths. He could either allow this setback to define what was a promising collegiate career, or become a better player — and a better man — because of it.
"I just really relied on my mom and relied on my faith," Galloway opened up at a recent media availability. "There were times everyday where I was struggling. I had to realize: football is what I do, and it's not who I am."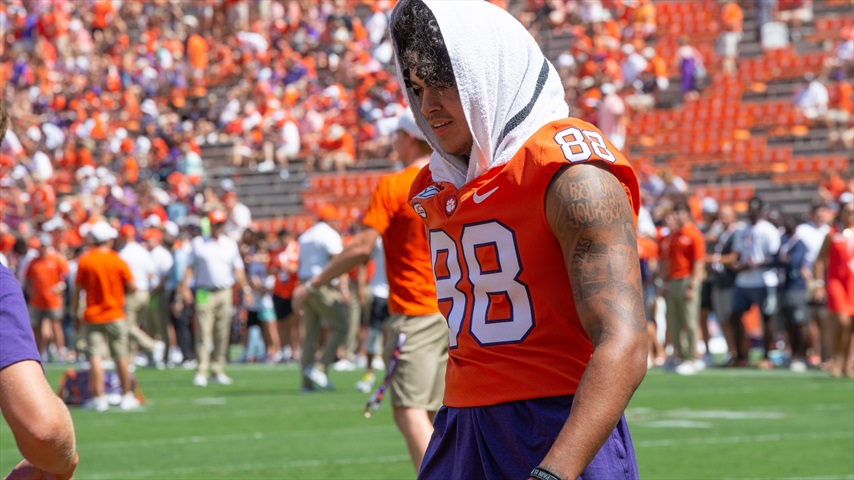 Clemson Sports Talk
Along with his parents, Galloway mentioned that he found time to seek the counsel of Dan Lian, associate pastor at NewSpring Church in Anderson, S.C.
"I still, to this day, eat lunch with him at least every other week," Galloway said. "He keeps my spirit healthy, he keeps my mind fresh. He just gives me good perspective. It's just a blessing to have people like that in my corner whenever you're going through something like that."
Galloway was unable to rejoin his brothers on the field until over a year after his positive test, when Clemson readied up for another semifinal in 2019, this time against the Ohio State Buckeyes. Immediately following his reinstatement last year, however, Galloway maintained his innocence.
"I know I did nothing wrong, so no matter what media outlets say, I know I did nothing intentionally that put that in my system. And I've taken probably 15-20 drug tests since the one I failed and haven't failed any other."
Galloway has been able to reflect on the situation as a whole and found purpose in it even throughout the tribulation. Despite his personal growth through it, however, he would never wish such a feeling of hopelessness upon anyone else.
"I just hope and pray that nothing crazy happens like this again," Galloway said. "I don't wish this on any player…You haven't done anything wrong, and you just have to take the consequences. I wouldn't wish that on anybody, but we finally got through it."
Galloway owned the entire process, and has seen his hard work pay dividends on the field. Against Wake Forest in the season opener, Galloway came down with a career-high five receptions for a total of 60 yards.
As the season progresses, Galloway hopes to continue playing an essential role within the Tigers' offense. He'll get his next opportunity at home on Saturday at 8 p.m. EST against the Virginia Cavaliers.
Never miss the latest news from Clemson Sports Talk!
Join our free email list
PRESENTED BY