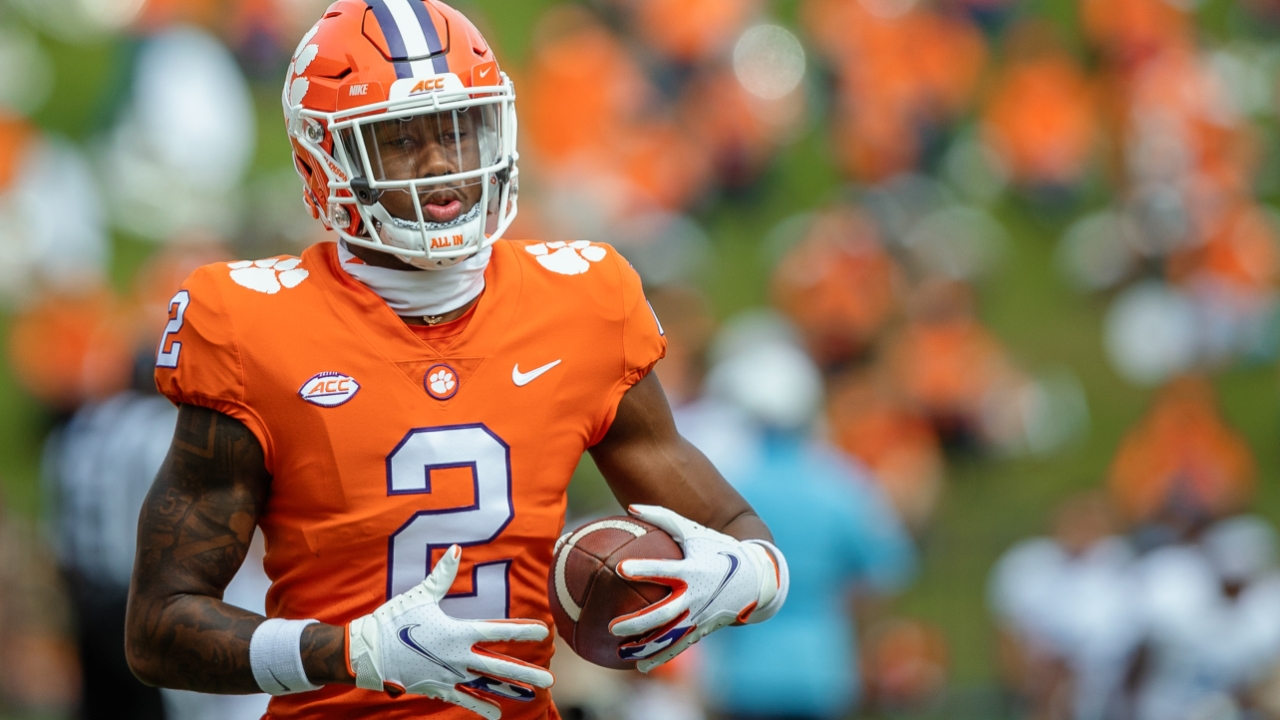 Photo by Courtesy of ACC Media Portal
Clemson Football
Paw Predictions: No. 1 Clemson vs. No. 7 Miami
---

Feel the difference - The MOST DIGITAL CONTENT covering your CLEMSON TIGERS! Avoid clickbait and sites bloated with advertising!
---
No. 1 Clemson is back at home again, this time for a top ten matchup featuring #7 Miami, and Clemson is a 15 point favorite. See how some of the national outlets are viewing this game below.
Game Preview:
https://www.youtube.com/watch?v=RHnexojzqZ8
---
247 Sports, 38-20 Clemson/34-17 Clemson
What they said:
Hummer: This line is moving toward Miami and has dropped to 14 already in a lot of places. I get it. The Miami hype is real, and D'Eriq King might be the best passer Clemson has faced in the ACC since Lamar Jackson. But I just think Clemson is better, particularly in the trenches, where Miami will struggle to block a deep and talented Tiger front. Don't expect a sleepy Clemson here. The Tigers will be ready to go at home. … Clemson 38, Miami 20.
Crawford: Is Miami ready for the spotlight and all Saturday night's game at Clemson entails? I don't think so. The Hurricanes' three wins aren't all that impressive and they're not used to the proverbial moment. Perhaps the entire team reads this and uses it as motivation, but I'll happily a little more than two touchdown with the nation's top-ranked team and feel good about it. I'm interested in seeing how much pressure Miami can put on Trevor Lawrence and if the Hurricanes can slow down the Tigers' passing game. ... Clemson 34, Miami 17.
---
The Athletic, 27-17/37-30
What they said:
Bruce Feldman- The 'Canes are much improved, especially on offense. They're playing faster and with a ton of confidence. I just think they need to play a near flawless game to knock off the Tigers on the road, and I suspect Clemson will force a few key mistakes in the second half to pull this one out. Clemson 27, Miami 17
Stewart Mandel- Clemson's ridiculous offense is no secret, but Clemson's 2020 defense still feels like a work in progress. I do expect 'Canes QB D'Eriq King to give the Tigers all sorts of problems, as Miami does a great job protecting him. But four quarters of Trevor Lawrence and Travis Etienne will eventually be too much to overcome. Clemson 37, Miami 30
---
What they said:
Clemson is the clear favorite to win the ACC and arguably the best team in the nation. Miami has taken a significant step forward in Manny Diaz's second year in charge. For the Hurricanes to pull off the upset, D'Eriq King has to have a huge game and both sides of the ball have to win battles at the line of scrimmage. Stopping Trevor Lawrence and Travis Etienne is going to be a major challenge for Miami's defense but a few timely stops would be all Diaz's group needs to stay within striking distance. The guess here is King gives Clemson's defense some trouble, but the Tigers eventually get a handle on the 'Canes offense. And on the other side of the ball, Lawrence and Etienne put this game away in the second half.
---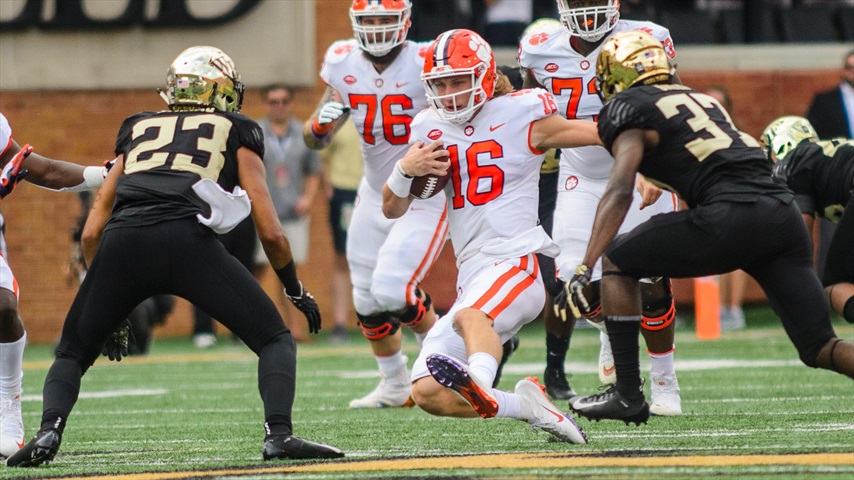 Clemson Sports Talk
Bleacher Report, Clemson covers -14
What they said:
In 2019, Clemson went the entire regular season without playing a top-10 team. This year, the Tigers' schedule is a bit more difficult, as they have ACC matchups against No. 5 Notre Dame and No. 7 Miami, with the latter set to take place Saturday night.
The Hurricanes are also 3-0 to open the season, and over the past two weeks, they've taken down Louisville and Florida State in ACC play. But they have yet to take on a team as strong as the Tigers, who have shown no signs of slowing down in this dominant stretch for the program.
Clemson hasn't lost a game to an ACC opponent since Oct. 13, 2017, when it lost at Syracuse. And that streak is unlikely to come to an end, even though Miami is a quality opponent. Tigers junior quarterback Trevor Lawrence has impressed so far, passing for 848 yards, seven touchdowns and no interceptions as he looks to win the Heisman Trophy in what should be his final college season.
The Hurricanes won't have a way to slow Lawrence and the Tigers, and Clemson will find a way to pull away late and cover the 14-point spread. The game may be competitive early, but the Tigers are too talented all around for Miami to end up within striking distance late.
---
What they said:
Clemson's defense might not be mature enough (yet) to fulfill the full "Big Game Dabo" playbook of letting the defense lead the way, but he's got the best backfield duo in the country to anchor what should be a patient rushing attack. In fact, it's experience in big games on big stages like this that will ultimately be the difference, as Trevor Lawrence and Travis Etienne can lean on handfuls of different games and situations for mental advantages against a Miami team that is still on its way back to the top of college football. I expect Clemson to establish the run and lean on it to avoid mistakes and keep D'Eriq King off the field.
---
College Football News, 38-17 Clemson
What they said:
Welcome to Clemson.
It's not fair to suggest that Clemson is bored or wasn't taking the first part of the season seriously, but now it's time to flip the switch in primetime.
This is a Miami program that's looking for its – arguably – most important win since surviving the 2002 regular-season finale against Virginia Tech to cement a spot in the BCS Championship against Ohio State.
Miami will have a few good early drives, and Clemson will flex its muscles with the defense rising up and stopping the Hurricane offense in the second half.
Never miss the latest news from Clemson Sports Talk!
Join our free email list