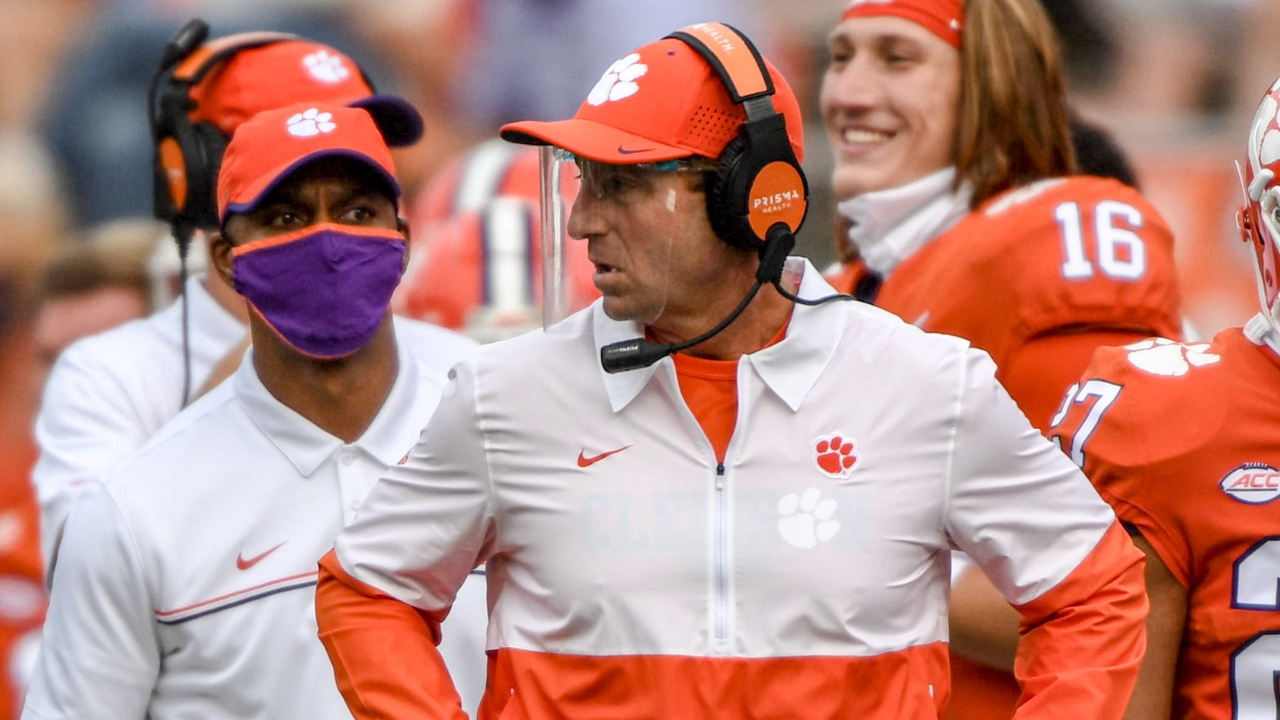 Photo by Courtesy of ACC Media Portal
Clemson Football
Clemson entering "Primetime Phase" according to Swinney
---

Feel the difference - The MOST DIGITAL CONTENT covering your CLEMSON TIGERS! Avoid clickbait and sites bloated with advertising!
---
Opening Statement:
"First of all, just again, just want to say how proud I am of our team (with) the performance we had last week. Their preparation, and really glad that we got some experience with a noon game because it looks like we're gonna have a couple of those. I think that'll be definitely helpful as we get into this week. Because it is a little bit of a different clock, in your preparation. Proud of our team and how they performed."
"Getting ready for Syracuse, we're excited to be back at home here for a couple weeks and close out the month of October, right here in Clemson. Our Primetime Phase of our journey each year. So I think that's a that's a blessing for us to be back here. And looking forward to a great day on Saturday."
On Syracuse:
"Syracuse is a team that, the biggest thing is, it's so easy to look at their record and, just say, 'oh, well, you know, they're not a good team,' or something like that-- that's not how we operate. You know for us, every game is the biggest game, that's just how we go about it-- always have. But when you look at it, North Carolina, the games 10-6 in the fourth quarter and North Carolina popped a couple of plays, Pittsburgh, same thing. Pittsburgh's good team, close game, till all the way to right there, at the end. They come back and beat Georgia Tech by three scores. And then again, Duke game, very tight game, and then bam, bam, right in the fourth quarter game kind of got away from them."
"This is a team that we have a lot of respect for. For sure, their style of play offensively creates challenges with they're a tempo team, a lot of RPOs, a lot of pop passes, a lot of screens, and everything that comes off of those type of plays. A lot of shots down the field. They're gonna throw the ball down the field 10 times 40 yards or more."
On Breast Cancer Awareness:
Says that 42,000 women will die this year from breast cancer. It's the most common cancer for women. "One of our goals is to make it uncommon."
On Travis Etienne:
"I think he's helped himself immensely because again, they value those great backs. They value them and he's a great back. They value complete backs and he's a complete player. There's really nothing he can't do. He's a game-changer. It's a position where usually it's by committee, but if you look around the league and you see those great ones they're highly valued."
On Taisun Phommachanh:
Should be fine once he gets over the soreness part. Fortunate it was his left hand. — "D.J. is a lot better."
On players growing up at Clemson:
"Y'all have heard me say many times, football's a developmental game, and we're a developmental program. You know, we really are. I mean, you're gonna occasionally you see a guy walk in here, that's bam, you know, right away. But most of the time our guys come in here and, and they put the work in. I mean, it's not just defense. It's the same thing on offense."
Dabo Swinney was asked another question from another New York media member about Trevor Lawrence:
"Man, we're popular in New York these days."
A caller from Canada wants to talk about Ajou Ajou:
Swinney: "Man, we have gone international."
On Clemson's consistency:
"We always say the fun's in the winning and the 'fun is in the winning'. But the real joy and the true thrill comes from having a chance to go win again. And that's different. That's what drives the best of the best, is a chance to go win again. That's what we get excited about every week. We start over every week, man-- as coaches let's go again. Just loving what you do and I think loving who you do it with. And you know, all those things are on display each and every day in our program and each and every week. Now, when you watch these guys play."
Never miss the latest news from Clemson Sports Talk!
Join our free email list