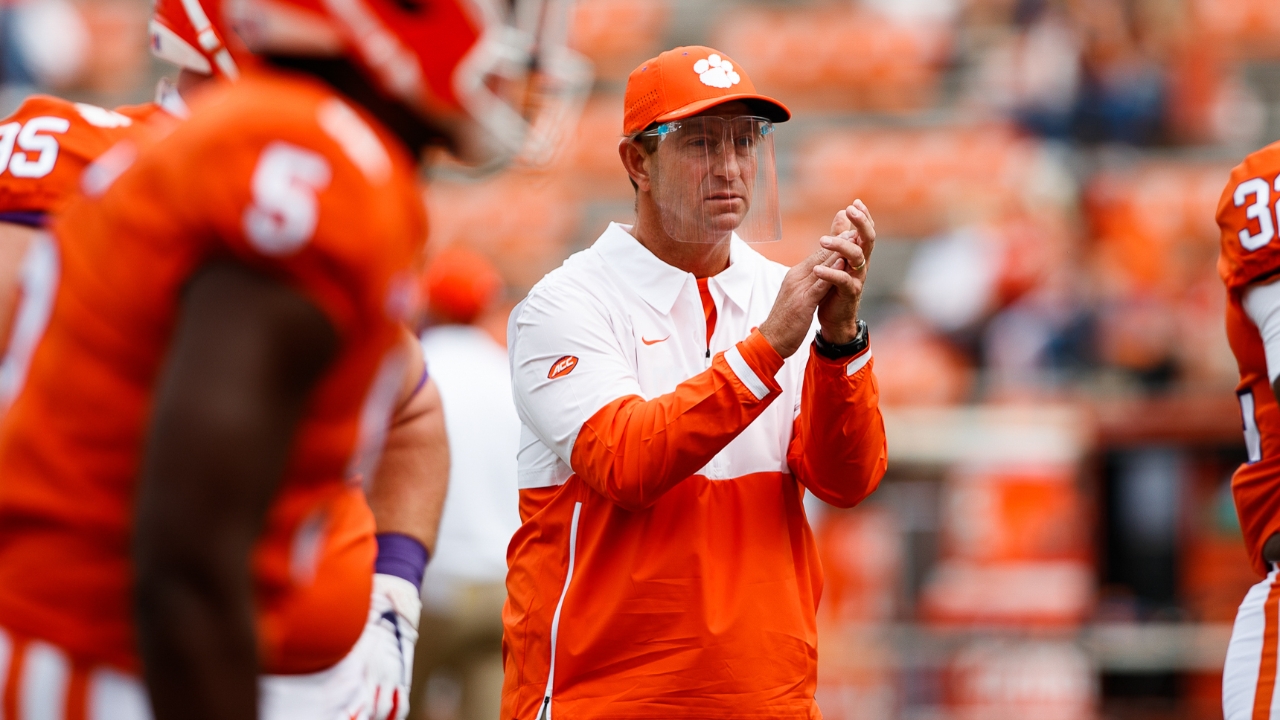 Photo by Courtesy of ACC Media Portal
Clemson Football
Dabo Swinney delivers positive comments about Clemson's young talent
---

Feel the difference - The MOST DIGITAL CONTENT covering your CLEMSON TIGERS! Avoid clickbait and sites bloated with advertising!
---
The Tigers just left the practice field today and here are a few quick unedited notes. The No. 1 ranked Tigers have as much depth as anyone in America and Dabo Swinney spoke highly tonight of several young players. We've got many more stories coming this week for our PREMIUM SUBSCRIBERS!
On the running backs behind Travis Etienne and Lyn-J Dixon:
"They're just all kind of right there together. You know, I got confidence in all of them. I don't really have a pecking order, other than those first two guys right now. The rest of them, we trust them and try to get them in there. I always ask Tony, 'Hey, who's your first guy you want in there?', I try to help him with the rotation down on the field."
"Those guys have all taken advantage of their opportunities. Chez (Mellusi), really pleased with him. He's run hard. He's gotten better and better. Still cleaning up a few things protection-wise. (Mikey) Dukes is taking advantage of his opportunities is going to be a good player. Named Kobe (Pace), he's a guy to fall in love with when you watch him run the ball. He's a very natural runner-- physical. Got a great presence and demeanor to him. He's an exciting young player for sure. So we got a good group."
On Tayquon Johnson:
"That whole second group is getting better. Tayquon is a really promising, young guy. Moving him over there, obviously, we didn't get a chance to finish spring practice or anything like that, and didn't really have a normal summer. But I'm really proud of him. He's a work in progress. He's a redshirt freshman. But he's one of the most powerful guys we've ever had come through here. And if he will really put the work in, mentally and physically, and nutritionally, as he matures he could be a special player. He's got very good athleticism, but he's still working himself into being the type of offensive lineman that we want him to be. But he's got all the tools. He's got everything he needs to be a great player, not a good player."
On Walker Parks playing both sides of the line at tackle in one drive:
"Yeah, I don't know how many guys we've done that. Obviously, Mitch (Hyatt) came in and started pretty much from the get-go and Jackson (Carman) played left and right tackle, but I don't know that he did it in the same series. That was something that I really wanted to get done. I told Walker at breakfast that morning that I was gonna get him in there early. I asked him that I said, 'hey, you comfortable playing right as well?' and he said, 'absolutely I'm comfortable,' and I said, 'well that's a good answer,' so we were able to to get Jackson out for a few plays and then roll Walker over there, get Jordan out. That's something that again that we wanted to do early, to get Walker going, Walker's really progressing. He's gonna be a great player."
On how Taisun Phommachanh and D.J. Uiagalelei have done this week:
"They've done well, I'm really proud of Taisun, first of all, I really didn't know if he'd be able to practice-- I mean, he had surgery on Sunday and he had these little screws-- so I knew he was pretty sore in his left hand. But he practiced all Tuesday and all today. So I'm really, really just proud of him for pushing through. They did a nice job of kind of how they built the protection on top of his hand. And then D.J.'s had a good week."
Never miss the latest news from Clemson Sports Talk!
Join our free email list